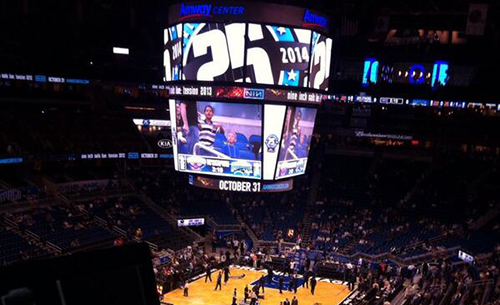 As the ball bounced on the court for the final time, and the buzzer sounded, the preseason was gone, just as fast as it had started. For the second time in less than a month, the New Orleans Pelicans took down the Orlando Magic 101-82 Friday night. The outcome improved the Pelicans to a hot 7-1 and knocked the Magic down to a woeful 2-6 in the eight-game preseason.
The game, which was the final chance for a handful of players to impress coaches and general managers, was in the Pelicans' hands almost all night. Outside of a 17-5 Magic run to end the first half, the Pelicans dominated on both ends of the floor. While there was sloppy play from both sides, the Magic's blunders on the defensive end cost them a chance at picking up a win to close out the preseason.
Going into the night, the Magic still had a handful of unanswered questions. Who was going to be the team's starting power forward come season's tip on Tuesday? Who would earn the last roster spot of the four camp invitees and this year's second-round pick? What kind of impact would the team's first round pick, Victor Oladipo, have at point guard? What's Tobias Harris' role with the team? Could center Nikola Vucevic prove last season wasn't a fluke? While some of these are still unanswered, we did get some answers.
Head coach Jacque Vaughn stayed tight-lipped as to who would start the season at power forward following the game. His options -Andrew Nicholson, Jason Maxiell, Tobias Harris and Kyle O'Quinn – all bring something different to the table. Nicholson has a refined post game, and has added a three-point shot this offseason, which can help spread the floor and allow for better penetration and more kick-out opportunities. Nicholson struggles some on the defensive end, however, and was not a consistent rebounder last season, finishing with an 11.7 total rebound percentage, per Basketball Reference.
On the other hand, veteran Jason Maxiell brings a grit and toughness to the team. Maxiell was brought in as a free agent this offseason to help as a veteran presence in the locker room and add a toughness factor the team lost after Glen Davis went down with a season-ending foot injury. With Davis' status for the season up in the air, Maxiell could be in for a expanded role with the team. He'd add a more defensive presence next to Vucevic, but would hurt the team with his lack of an offensive game.
Possibly the team's best scorer, Tobias Harris, could slot into the role as well. After being acquired by the team mid-season last year from the Milwaukee Bucks, Harris thrived, averaging 17.3 points and 8.5 rebounds per game. However, Harris' ability to play both forward positions, could be something that coach Vaughn looks to use off the bench, to allow for more production from the second unit.
The final option would be second-year big man Kyle O'Quinn. O'Quinn spent most of his time last season as a backup center, but the team experimented with him and Vucevic starting together this preseason. The high energy O'Quinn would be better suited in a back-up role, at either the power forward or center spot.
As Solomon Jones, Manny Harris and Romero Osby all proclaimed after the game, they hopped to hear as soon as possible on who made the cut and got the final roster spot. Their wish was granted, as the team announced that Jones would make the final spot, waiving Harris and Osby, along with Kris Joseph and Mickell Gladness. The news came as a surprise after the team spent their second round pick on Osby, a hard-working physical forward out of Oklahoma.
Jones, an Orlando native, said post-game that he had felt he has shown the team what he would bring to the table over the eight-game exhibition schedule. The journeyman big played in seven of the team's eight preseason games, putting up 4.6 points and 4.3 rebounds per contest. While Jones didn't put up flashy numbers Friday night, he showed a high energy level, grabbing six of the team's 20 offensive rebounds. He said he knows he's just a role player, and that it would be an honor to play for his hometown team.
Outside of Osby, the other three players cut didn't get consistent playing time in the eight-game tryout. Osby put up averages of 5.0 points and 3.5 rebounds this preseason. After the game he told me that he had interest from a handful of teams in the draft, including the Indiana Pacers who told him they would draft him at 53 were he still on the board.
With Victor Oladipo, the team brought in a player who had the versatility to play both guard spots, but was a natural shooting guard. The team has been preparing him to play the point this season, and his development continued Friday night against former NBA All-Star Jrue Holiday. Oladipo struggled at times, but showed signs of picking the position up with relative ease.
As there will be with starting anything, there will be a learning curve for Oladipo. How the confident Indiana product takes that curve remains to be seen, but he won't back away from anyone. He's finding ways to score more, as was evident last night with his six attempts at the free-throw line, even though he was struggling with his shot. Oladipo has his work cut out for him right off the bat, facing the gritty George Hill on opening night versus the Pacers, followed by the wizard of Minnesota in Ricky Rubio and finally Holiday for the third time in a month.
For the rebuilding Magic, can center Nikola Vucevic prove that his breakout 2012-13 season wasn't an anomaly for what we can truly expect? He was up to his board-crashing ways again Friday, grabbing a team-high seven rebounds in just 18 minutes of action. Vucevic, who was sporting a sleeve on his left elbow, struggled early with a few uncharacteristic turnovers, but turned it around making five of his seven shot attempts.
The expectations could be high for the seven footer from Montenegro after last season when he put up 13.1 points and 11.9 rebounds per night. He only averaged 6.5 rebounds per game in the preseason, but played an average of 20.5 minutes per game compared to 33.2 last season. He's not much of a threat to score in the post, averaging just 0.68 points per possession (PPP), per MySynergySports, last season. Vucevic has a mid-range jumper he loves and if he's able to drain it at a more consistent pace, he could see his points go up this season.
The preseason was not a pretty one for the young Magic team, but with the regular season right around the corner, new opportunities arise, along with new questions. It could be a long season for Magic fans, but the team's potential to land another high draft pick sheds more light on an already bright future.