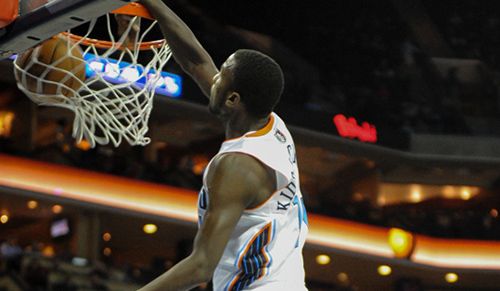 Since taking over as general manager of the Charlotte Bobcats, Rich Cho has had the difficult task of rebuilding an inept roster. He's put together a solid foundation of young talent through the draft by selecting Kemba Walker, Bismack Biyombo (traded to Bobcats at the NBA Draft), Michael Kidd-Gilchrist, Jeffery Taylor and Cody Zeller. The signing of center Al Jefferson has been his most important roster move to date. To continue to upgrade the roster, Cho will have to devise a plan for possible trades, the 2014 NBA Draft and free agency. The Bobcats' biggest needs are at the shooting guard and small forward positions. Here is a look at what options Cho should consider moving forward.
TRADES:
Cho should consider calling teams that have talented, expendable players—players that can potentially contribute at a low price. Some players with manageable contracts and salaries that he should look at:
1. Evan Turner – Philadelphia 76ers, SG/SF
Turner has played well at times for the 76ers, but hasn't quite lived up to their expectations. The 76ers are tanking the season in anticipation of the 2014 draft and may look to trade Turner. He's gotten better every year and appears to be ready for a breakout season. He has the ability to score, pass and rebound. He also is good defender. Cho should give the 76ers a call and see what it would take to acquire him.
2. MarShon Brooks – Boston Celtics, SG
In his rookie year with the now-Brooklyn Nets, Brooks looked like a promising young player. He was chosen to participate in the Rising Stars Challenge and named to the All-Rookie Second Team. The Nets traded for All-Star shooting guard Joe Johnson in the summer of 2012, which instantly made Brooks an afterthought. Last season he played sparingly and had a steep drop in production. He was traded to the Boston Celtics in the deal that sent Paul Pierce and Kevin Garnett to the Nets. In Boston, Brooks will compete for playing time at backup shooting guard with Courtney Lee and Jordan Crawford. Since the Celtics are rebuilding, Cho may be able to acquire Brooks for a second-round pick. He would instantly challenge Ben Gordon and Jeffery Taylor for playing time at shooting guard.
3. Jeremy Lamb – Oklahoma City Thunder, SG
Lamb has not seen the court much in his NBA career. He has been buried on the bench with the Houston Rockets and the Thunder. Lamb, a former lottery pick, is very talented and needs the opportunity to play. Lamb would bring athleticism and scoring ability to the Bobcats. The Thunder likely want a first-round pick and/or for the Bobcats to take on Kendrick Perkins' bad contract in a trade. So this deal may be more difficult to make.
4. Derrick Williams/Shabazz Muhammad – Minnesota Timberwolves, SF
Williams has been a disappointment with the Timberwolves, but played well last season. He is eligible for a contract extension at the end of the year, so he will look to elevate his game even more. If he doesn't play well or gets injured in the first half of the season, the Timberwolves could look to move him.
The Timberwolves selected Muhammad 14th overall in the 2013 draft. He comes to the NBA with some baggage after having some off-court issues at UCLA. If Muhammad doesn't play well or clashes with head coach Rick Adleman, he may get buried on the bench behind Williams and Chase Budinger, when the latter returns from injury. If this happens he'll be a candidate to be traded. Muhammad is a talented offensive player and would be a great addition to the Bobcats roster.
2014 FREE AGENCY:
The 2014 free-agent class will be filled with superstars like LeBron James and Carmelo Anthony, but the likelihood of a top-tier free agent wanting to play in Charlotte is virtually nonexistent. Here are some targets that are realistic for Cho and the Bobcats:
1. Lance Stephenson – SG
Stephenson had a breakout year last season. He played very well in the playoffs and helped the Indiana Pacers came within one game of the NBA Finals. Stephenson would be a great fit for the Bobcats, bringing playoff experience and leadership. He is a great defender and has improved his shooting throughout his career. At age 23, Stephenson still has plenty of room to improve his game. He could become a fixture in the backcourt with Kemba Walker and Gerald Henderson for years to come. Cho should have Stephenson high on his list come the summer of 2014.
2. Loul Deng – SF
Deng is a two-time All-Star and would bring some much needed scoring to the perimeter for the Bobcats. He also is a great defender and leader. Deng has had some injuries, which should concern Cho and the Bobcats. But if the team can get Deng at a good price, they have to pursue him. Deng could also mentor Michael Kidd-Gilchrist.
3. Danny Granger – SF
With the emergence of Paul George, the Pacers could let Granger leave after this season. Granger missed all of last season with a knee injury, but if he can show that he is healthy again, he'll have some value as a free agent next summer. The Bobcats could use a veteran small forward that can score and defend—Granger can do both. Cho will be able to offer Granger an attractive contract and the opportunity to start again.
4. Brandon Rush – SG
Rush is coming off an ACL tear and will look to reestablish himself as one of the best three-point shooters in the NBA. In 2011-12, Rush shot 45.2 percent from behind the arc. He would give the Bobcats a plus defender and shooting threat that can spread the floor for Al Jefferson, Gerald Henderson and Kemba Walker. If Rush is healthy, Cho should look into sign him to a multi-year contract.
2014 NBA DRAFT
The upcoming NBA draft is regarded as the most talented since LeBron James, Carmelo Anthony, Dwyane Wade and Chris Bosh joined the league in 2003. The Bobcats will be a lottery team this year and will have to depend on lady luck to get another top five pick. Here are five players that they should consider.
1. Andrew Wiggins – Kansas, SG/SF
Heading into the season, Wiggins is the consensus No. 1 overall pick. He is very athletic and can score at will. If the Bobcats get lucky and win the draft lottery, Cho will make the easiest draft choice of his career.
2. Jabari Parker – Duke, SF
Parker is the second-best NBA prospect behind Wiggins. He will be a star at Duke and will be a contender for the Naismith College Player of the Year award in college basketball. He is also a player to build a franchise around.
3. Wayne Selden – Kansas, SG
Selden is very athletic and already has an NBA body. He and teammate Andrew Wiggins make the Jayhawks national title contenders. He will be overshadowed by Wiggins but will be in the conversation as a top-five pick. Selden will be drafted high based on his upside. Cho is looking for a franchise player so drafting Selden off potential will be a risk worth taking.
4. Glen Robinson III – Michigan, SG/SF
With the departure of Trey Burke and Tim Hardaway, Jr., Glen Robinson becomes the No. 1 option for the Michigan Wolverines. He will have a breakout season and work himself to being mid- to high-lottery player.
Cho will continue to look for ways to improve the roster. He will need to find as many quality deals as possible. He's got his work cut out for him, but if the Bobcats can win the draft lottery, his job will be a lot easier.
Photo courtesy of bwjcaptures/Flickr