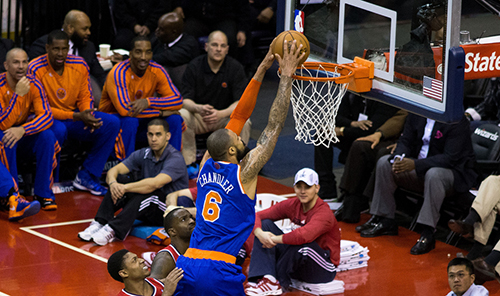 Yep, these are the New York Knicks. After cruising to a 25-point lead over the Brandon Knight-less, Luke Ridnour-less, mostly point guard-less Milwaukee Bucks, the Knicks took the liberty of making the game interesting. The beginning of their decline can almost entirely be attributed to announcers Mike Breen and Walt Clyde Frazier, who first jinxed this game by showering Felton with unusually high praise. Upon realizing that nothing awful had happened yet, they soon pointed out that "sometimes teams lose their edge" when they go up by a lot. Moments later, Felton's hamstring tightened up and this is the music we tighten up with!
No, but seriously, it was awful. Felton looked to be in a lot of pain, and as soon as he came out we got a painful glimpse of how quickly this season could turn to poo if he isn't well. Beno Udrih got the ball stolen and fell down on consecutive plays, Melo spent almost an entire 24 dribbling at half court, and thanks to a total lack of offensive continuity, the Bucks got out in transition and started making a run. Oh, and by lack of offensive continuity, I mean turnovers. Lots of turnovers. The Knicks had a grand total of seven turnovers in the first half, and finished with 22. It shouldn't come as a surprise then, particularly to anyone who's watched the Knicks ever, that with about a minute to play, the Bucks had eliminated their massive deficit and gone up by one.
That's when Tyson Chandler said, "No. No, you wily deer." On the next possession, he dunked with an insane ferocity, bringing the Garden to its feet. Following that, he made a beautiful contest to force a miss, resulting in a Melo hoop. The next possession, he just slapped the ball away from Zaza Pachulia, leading to yet another Melo bucket. On the next offensive play he accepted the finest of alley-oop passes from Felton, putting the Knicks up five. And as if being the catalyst or finisher for every scoring play wasn't enough, on the following play, he decided to throw in a monstrous left-handed block on Nate Wolters, the trajectory of which resulted in a fast-break, game-icing layup for Felton.
Damn, Tyson.
It's easy to sleep on Chandler after his lackluster performance in the Indiana Pacers series last year, but if he can continue to perform at this level (read: stay healthy), the Knicks will not be fun to play against.
Notes!
– Woodson avoided the Metta-or-Bargnani starting lineup drama and instead opted to start Prigioni at the 2 and push Shump to the 3. This was their starting lineup for the playoffs last year, and since they've had a lot of success with it, I have no complaints. Woodson said he'll tinker with the starters based on the opponent, but for smaller teams, this appears to be the way to go. Curious to see what'll happen tonight against Chicago's lineup of big bigs, but the smart money is on Shump playing at the 2, Melo shifting to the 3, and Metta starting in lieu of Prigioni to ease Anthony's burden on defense.
– Based on his depressingly mediocre play the last few games, it's hard to believe Woodson was ever considering starting Bargnani at the 4. Granted, he's adjusting to a new team and is still somewhat in preseason mode thanks to an earlier, workout-preventing bout of pneumonia, but still, yeesh. His three-point shooting has been atrocious, he can't rebound and he somehow turned the ball over three times last night despite barely touching it. The Knicks fans are already getting restless, and, although I can't blame them, I remain optimistic that by midseason he'll have figured out his role a bit more. My hope is that they'll find a way to position him at the top of the key rather than behind the arc—his midrange jumper has been consistently effective, and with the threat of actually driving to the hoop from there, he'll be able to keep defenses honest. Please have a good game soon, Andrea.
– Speaking of new guys, Beno Udrih didn't really get to play that much. I understand the temptation to play Prigioni over him at most junctures—he's a better passer and better defender—but at the same time, Pablo cannot be logging 37 minutes a night. He's too old, and they're gonna need him down the stretch. Beno was relatively efficient in his 11 minutes, recording two assists, a rebound and a nice driving finish, but didn't have the chance to really develop a rhythm. Woodson doesn't have much wiggle room here: He either has to start letting Udrih take some of Prigioni's minutes, or forgo the dual point guard lineups in favor of another arrangement. Something to keep an eye on.
– I usually don't mention Melo in these unless he does something really spectacular, but every once in a while it's appropriate to reflect on how screwed the Knicks would be without him. The league's reigning scoring champ shot a tic under 50 percent, made two HUGE buckets in the fourth quarter to salvage the win and led the team in both points and rebounds. Bless you, Carmelo Anthony.
– Kenyon Martin only got to play five minutes tonight, but managed to get three rebounds, three points and an assist in that window. Woodson mentioned the idea of alternating him and Amare based on the opponent, which leads me to question why he'd play Kenyon against the Bucks instead of tonight against the Bulls. Can't argue with the result, but isn't Kenyon more suited to play against the Bulls than Amare? Maybe he'll play Kenyon tonight and say, "rules were meant to be broken," and then rip off his shirt. Who knows.
– How 'bout the rookie? Tim Hardaway, Jr. made the most of his 15 minutes, notching two assists and knocking down his only two shots, one of which was a quick-release three that sent the Garden into a frenzy. I really like this guy.
Hey, we're 1-0 without J.R. Only four games until the madness resumes.
On to Chicago!