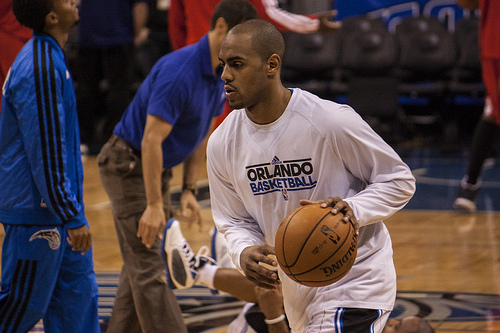 In his second season with the team, Arron Afflalo appears to have found his comfort zone with the Orlando Magic. The team acquired Afflalo from the Denver Nuggets as part of the Dwight Howard blockbuster last August. While his first season was less than ideal, this season has gotten off to a much better start for the sixth-year guard from UCLA.
Through seven games this season, Afflalo is averaging career highs in points (19.7), rebounds (5.1), assists (4.4), steals (1.0) and three-point percentage (47.1%). While the sample size is small and the season is long, this is a good sign for Afflalo, who struggled at times last season, especially with his shot. The three-point shooting is a huge improvement over the poor 30 percent he shot last season.
This is Afflalo's shot chart from last season: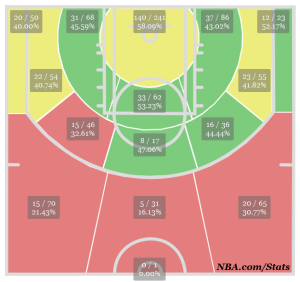 Afflalo found himself with the biggest role he's ever had last season and his shooting numbers showed it. He struggled with his shot selection at times, forcing it to try to help the young and rebuilding team out. He shot his lowest percentage from the field since his second season in the league, finishing at 43.9 percent on the year. He's been one of the best three-point shooters in the league since he came into the league, but he struggled from the wing and above the arc last season, shooting a combined 40/166 from there last season, a dreadful 24 percent.
This season's shot chart: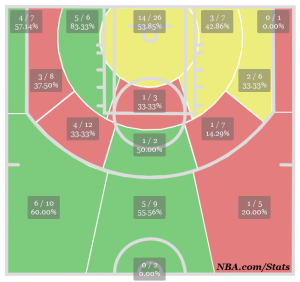 Compared to last season, the beginning of this season has been much better for the guard. He's shown an array of different moves, including being willing to go down in the post and post-up on smaller guards. In the team's first seven games, Afflalo has had a possession finish in a post-up 22 times. He's shot 12-of-19 (63.2%) and is scoring 1.18 points per possession (PPP) on post-ups per MySynergySports. Afflalo is also currently second in the league on spot-up plays, averaging 1.21 PPP, shooting 11-of-27 from the field, all made three-pointers.
His shot chart shows that he's been slightly favoring the left side of the court, taking 53 shots on that side of the floor compared to just 26 on the right side. He's been getting to the rim at a good rate and is converting his chances once he gets in there. Afflalo has also been setting up teammates at a high rate, currently sitting at a career high 20.1 assists percentage.
He's also been a decent perimeter defender this season. As a team, the Magic currently sit fourth in the league in defensive rating, giving up 94.9 points per 100 possessions. This is nearly a 12-point improvement from last season's abysmal 25th finish, giving up 106.7 per 100 possessions. The season is still young, but the early improvement is a great sign of things to come for the young Magic team.
While the sample sizes are small, and he will most likely see some of his production decline once Tobias Harris returns from an ankle injury, the hot start from Afflalo is a welcome sight to Magic fans everywhere. Now the question on Afflalo remains: Will he be on the team long-term? General manager Rob Hennigan has stated that he has no intention of trading the versatile wing, but teams looking for a three-point shooting boost could make an offer that Hennigan and the Magic could not say no to.
You can read more on Afflalo and the Magic here
Image courtesy RMTip21/Flickr