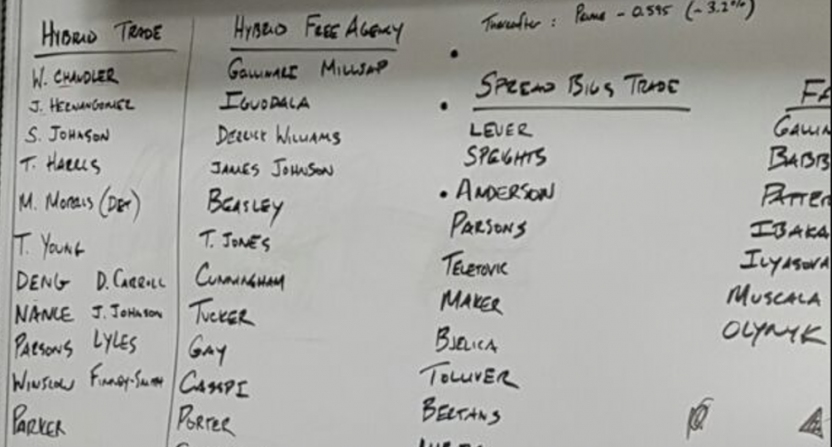 But why and how? It's like a stupid conspiracy that no one cares about.
When Stephen Curry is doing carpool karaoke and Russell Westbrook is passing The Big O, Oscar Robertson's season triple-double record, the eyes of the NBA are scattered west with a few winks to the Cleveland Cavaliers and Boston Celtics in the east. And to the south, the bottom of the barrel Orlando Magic come along and do something superbly head-scratching, or is it smart – none of us can really tell. Should we even try to make sense of it? Sure. Maybe. Who cares?
Whiteboardgate
Last week, the Orlando Magic, while promoting the signing of some D-Leaguer nobody knows, managed to leak their whiteboard plan for offseason/endseason listed targets. That's right, behind the no-name player in the Instagram photo was a massive hybrid list of hubris takes, makes, and mistakes. Apparently, it was this dude's agent that posted the photo, but one would hope any photo like this would have a publicist's touch and a GM's okay.
Besides the fact that the photo was published, the intelligence-insulting array of who they are gunning for in this pit is remarkable. Michael Beasley. Rudy Gay. Aaron Gordon for Dario Saric? This is who they traded to the Philadelphia 76ers on draft night in 2014 for the unreliable Elfrid Payton. The only way this list could be worse is if they were trading for Helen Hunt and Peter Dinklage, while trying to sign Larry Hughes and his jump shot.
This has hit a nerve in the Magic fan community. 407mph, an Orlando Instagram fan page is calling to arms the city because of the one line that suggests trading the most popular player, Aaron Gordon. Rob Hennigan, the Orlando GM, has downplayed the whiteboard notations, but Jeff Green, who had a big X next to his name, has already been "shut down" by the team due to his sore lower back.
A Very Orlando Magic Thing to Do
Let's be real, this mistake is too mistake-y. It is embarrassing, but it could all be a ploy to trick the competition and the media, maybe gain some coverage. The only thing is, the Magic brass aren't that sly. They've crapped the bed many times when it comes to trades and signings.
Let's be honest, they need to fire Hennigan. Outside of Orlando, no one cares about this so-called leak. And that right there is the true lesson. A professional sports organization leaks their plans, whether by accident or intentionally, and only a handful of fans and reporters barely bat an eye. It is unfortunate, but that says a lot, currently, about where the Magic are as a team.