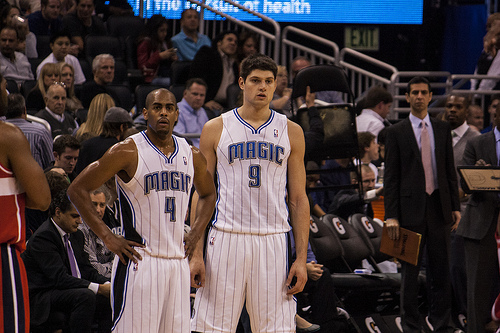 After three straight tough losses, the Orlando Magic returned home to take on an injury ridden Milwaukee Bucks team. The Magic fought and clawed all night, coming out victorious 94-91 thanks to a career night from Arron Afflalo. Afflalo stuffed the stat sheet, tallying a career high 34 points while grabbing eight rebounds and dishing out six assists. Three other Magic men — Nikola Vucevic, Maurice Harkless and Victor Oladipo — joined Afflalo in double figures.
Milwaukee, coming in after a loss to the Heat in Miami Tuesday night, were as shorthanded as they could be, with only eight players available. However, the Bucks fought all night, leading for a good majority of the game including a 19 point lead in the second period. The Bucks got double figure scoring nights from four guys, led by O.J. Mayo's 25. Caron Butler added 20 before going down late in the fourth period with an apparent shoulder injury. Kris Middleton had a career night as well, scoring 19 points, grabbing eight boards and dishing out four assists.
Magic Game Notes
Arron Afflalo's Huge Night
Coming into the night, Arron Afflalo was putting up career numbers nearly across the board, averaging 19.5 points, 5.0 rebounds and 4.8 assists per game. On Wednesday night, Afflalo set a new career high with 34 points on the night. He shot a smoldering 11-15 from the field, including 8-11 from three. In the third period alone, Afflalo knocked down five straight three point attempts, which tied the franchise record for most three-pointers made in a quarter, which was last done by JJ Redick. Afflalo also missed tying the franchise record for three-pointers made in a half by one, knocking down seven in the second half. The record of eight is held by two players, Tracy McGrady against the Cleveland Cavaliers in 2004 and Jason Richardson against the Bucks in 2012.
Defense Steps Up
After a first period that saw them give up 36 points, the Magic buckled down defensively. The Bucks failed to score more than 20 points in a quarter the rest of the way, and scored only 37 in the second half. Orlando really locked in and started to get some stops and rebound the ball better. The Bucks had ten fast break and six second chance points in the first period. The rest of the way, the Magic held the bucks to just three in both categories. After a couple of very shaky games defensively, it was nice to see the Magic get back to their old ways after a rough first period.
Ronnie Price's Energy
After seeing very few minutes in the teams first eight games, guard Ronnie Price jumped at the opportunity on Wednesday night and produced in a big way. While Price only scored two points, he grabbed seven big rebounds and played some tenacious defense for the resurgent Magic. Price joked after the game that he was like a seven footer out there with his career high seven boards. Coach Jacque Vaughn praised Price for being a true pro and being ready at all times and how great of a locker room presence he has been thus far for the young Magic.
Doron Lamb Makes Season Debut
It wasn't a spectacular night for Lamb, but it was something. After missing all of preseason camp with a server ankle sprain, Lamb made his season debut in Wednesday night's victory. In 11:25 on the floor, Lamb missed his two field goal attempts while adding a rebound and an assist. It was a less than stellar game for the second year sharpshooter, but it's big for him to be back and feel comfortable enough to get out on the court and play some.
Quotable
Jacque Vaughn
On Afflalo playing more efficiently…
"He had a courageous effort. Not letting his team lose on both ends of the floor. He was great tonight."
On defending home court…
"It's unbelievable. The NBA is tough. This Milwaukee Bucks team comes in here and it's easy for you to overlook them. They come in with eight players, the majority of their guys are injured, they played last night and they have to travel. That's the mental aspect."
Arron Afflalo
"I was a little disappointed in the first half, just at our energy level. Individually just wanted to come out and be aggressive in the the second half." He went on to praise Ronnie Price for his energy level, thought it was contagious for the whole team.
"It was fortunate my three ball was going down tonight."
Stat of the Night
Arron Afflalo didn't attempt a field goal on the right side of the floor. No, seriously, everything was on the left side or in the paint. Here's proof:
More on Afflalo's impressive shooting night: his true shooting percentage was a ridiculous 102%.
Image courtesy RMTip21/Flickr