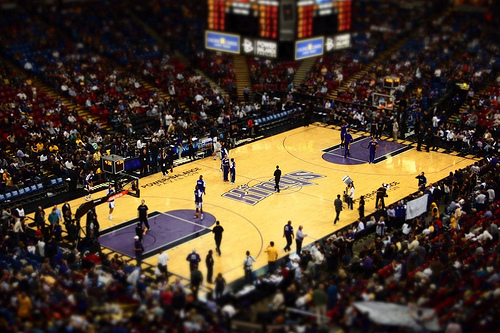 Marcus Thornton had to relinquish his post in the starting lineup, but apparently he still held on to his ability to impact a game.
After a five-game losing streak, Michael Malone decided to mix things up, replacing starters Thornton and Patrick Patterson with Ben McLemore and Jason Thompson.
In his role off the bench, though, Thornton had his best game of the season. His second-quarter surge helped the Sacramento Kings build a sizeable lead that they didn't give up, en route to defeating the Brooklyn Nets 107-86 at home Wednesday.
Entering the night with career-low shooting percentages, something ignited in Thornton, who in turn sparked the Kings' big night. In the team's first six games, Thornton uncharacteristically struggled to even sink wide-open jumpers. Wednesday night, he was knocking shots down from 24 feet out with defenders in his face.
But his offensive success wasn't limited to the perimeter, where he shot 4-of-9. He could also often be seen slashing to the basket and leading the fast break, finishing three-point plays near the rim on multiple occasions.
Whether it was the Law of Averages, Malone's new lineup, or M.J.'s Secret Stuff, Thornton looked more comfortable in his role off the bench than he has the entire season. He racked up 24 points in the same streaky way he did last season when he spelled Tyreke Evans.
If it was Thornton who pushed the Kings to capture the lead, Greivis Vasquez was the one most responsible for helping the team to extend and sustain it. Out for most of the preseason, Vasquez has had some early-season growing pains in adjusting to his new teammates, but they looked plenty familiar Wednesday.
While he's known for his distributing, Vasquez started the night off scoring the ball—from the perimeter and on the drive—and with some surprisingly solid defense when matched up against future Hall-of-Famer Paul Pierce.
In the second half, though, Vasquez showed off his trademark passing. Whether it was in transition or in the half-court offense, the Kings point guard pushed the ball and got his teammates in good positions to score. He was particularly effective in the pick and roll, drawing defenders in before deftly slipping passes between them to his roll-man. By the end of the night, Vasquez's stat line (17 points, 12 assists and 4 rebounds) reflected his balanced attack that helped lift the Kings to their second victory.
In his debut as a starter, McLemore failed to replicate his peers' success. The rookie only saw 15 minutes of action, due in part to Thornton's big night, and didn't have much of an impact. But despite his poor showing, McLemore showed no lack of confidence, continually shooting in an attempt to break out of his slump.
DeMarcus Cousins has made a point of emphasizing that individual performances don't matter as much as team results, and he seemed to back up his talk Wednesday. The center was able to crack a couple smiles when he left the game after fouling out with just 15 points on 5-of-14 shooting, but with Sacramento in a commanding lead.
Wins have proven hard to come by for the Kings early on, and the players' happily relieved demeanor reflected that.
Sacramento isn't projected to notch too many wins and Malone liked his team's effort in this, their second victory, but was not content.
"Badly, (we needed the win) very badly," he said. "To see the ball go in the hoop, for us to get stops and share the ball like we did—there were so many positives to draw from, but we can't get satisfied from one game."
For more Sacramento Kings coverage, check out Baller Mind Frame's Watching the Throne blog.
Image courtesy of nist6ss | Flickr