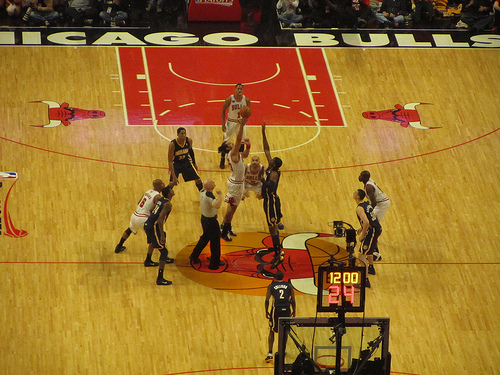 There was a beatdown in Chicago last night. Not just a close game that the Bulls ran away with late, but an old-fashioned Mike Tyson-esque thrashing of the Indiana Pacers, leading by as much as 33. Carlos Boozer, Derrick Rose, and Luol Deng came to play—focused and prepared to face Indiana.
The Bulls sent a serious message to their division rivals from Indiana. It looked like some of the blue and gold stayed behind at Bankers Life Fieldhouse to watch the VEX Robotics Championships instead of taking the bus to Chicago. It was that ugly. So ugly in fact that both Boozer and the Pacers' Chris Copeland were ejected with less than a minute left in the game just to prevent frustrations from boiling over.
The final score, 110-94, was in no way indicative of how truly awesome Chicago played. Hibbert finished with 14 points and 10 rebounds. Neither Lance Stephenson nor Paul George hit a three-pointer and the they shot an abysmal 40 percent from the floor. For everything that Indiana had done right since the start of the season, it went wrong in abundance on Saturday night in the United Center.
The team is off to New York to play the seemingly hapless Knicks in the Garden. They are just a game out of the cellar in the East, but in this rivalry that doesn't mean much of anything. New York is the next opponent in this three-game early-season test. It is vitally important to bounce back from this loss with a quality win there. Particularly considering that Boston is right after them for game three of the road trip.
The blue and gold are off until Wednesday. That may be good. It may give the team time to let this sink in a little and help them realize that they all won't come as easy as the first nine did.
It might also give them time to find a good cut man. They will need it as they have put the rest of the league on notice. Chicago noticed—they noticed really well.
That beating will leave a mark. But just one. So far.
Image Courtesy Tony_B/Flickr