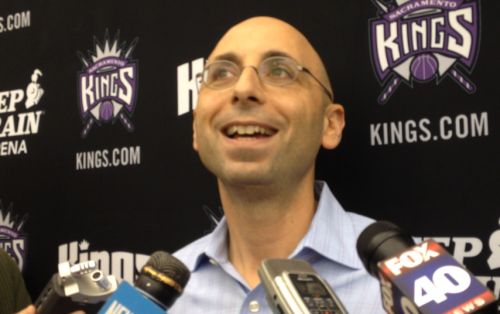 Tuesday morning it became official: the Sacramento Kings traded Luc Mbah a Moute for the Minnesota Timberwolves' Derrick Williams.
The swap figures to be a play for the future rather than the present, as the Kings lose a 27-year-old Mbah a Moute who, just Saturday, put his defensive versatility on display, guarding Chris Paul and Blake Griffin in the same game. In exchange, Sacramento brings in a 22-year-old hybrid forward in Williams.
With the departure of Mbah a Moute, the Kings will look to use Williams primarily at small forward, shifting him over to power forward at times as well, Michael Malone said. Among other things, Malone is particularly excited about adding athleticism to the depth chart.
"He's a guy that can play the three or the four, he can shoot with range, he can post up and he gives us another athlete. We're a team that does not have the greatest athleticism in the NBA," Malone said. "You're getting a 22-year-old kid who, I think, just needs a change of scenery. … We're taking a chance on a kid who was the No. 2 pick in the draft and who has a tremendous amount of potential."
Williams, the No. 2 overall selection in the 2011 NBA Draft, hasn't lived up to expectations coming out of college and has seen his playing time diminish significantly in the first 11 games this season. Since starring at the University of Arizona, Williams has been billed as a forward that can stretch the floor with his shooting ability, but he's shot below 30 percent from beyond the arc for his NBA career.
In part, his struggles in Minnesota can be attributed to being drafted to a team that wasn't prepared to give him ample time on the floor. Kevin Love has been a staple for the Timberwolves at power forward since he was drafted and in Williams' rookie season, they had Michael Beasley taking most of the minutes at small forward. A year later, Minnesota signed Andrei Kirilenko. Williams hasn't yet gotten an opportunity – or perhaps hasn't earned one, depending on how you look at it – to prove himself in a sizeable role.
Light-hearted Kings personnel wouldn't speculate on what prevented Williams from succeeding in Minnesota, though, and instead were optimistic about his prospects in Sacramento.
"I don't know if it's something (Minnesota) didn't see. Sometimes you see guys go to new places and have a new start and that's what we hope for Derrick," Kings general manager Pete D'Alessandro said. "It's a new beginning for him and, as a person who's been on both sides of the business, I know how that feels for a player. I think that a lot of times it leads to really good stuff."
While D'Alessandro is clearly happy with the acquisition, he made a point to avoid labeling it as the missing piece of the puzzle and acknowledged that the front office is always looking to make moves to improve the roster.
"The right thing to say would be, 'yeah, this is it,' but I'm not going to put that on (Williams), on us or anything. I think we're a team that's at the beginnings of something. We're willing to do what we have to do to shuffle things and make things right. At some point we're going to find the formula for the Sacramento Kings," D'Alessandro said. "Our vision is to be aggressive and to make these types of moves. Some are going to work and some aren't, but we're not going to sit on our hands by any means."
Isaiah Thomas, who played against Williams on multiple occasions when the two were stars of the Pac-12 Conference, is eager to get on the floor with his former college rival.
"He's just so versatile … he was a tough cover in college," Thomas said. "I know he's a hard worker and he's talented. He wasn't able to show everything he had in Minnesota, but hopefully he can do that here."
It won't take long for Williams to get a chance to try to display the talent NBA teams coveted two years ago, as Malone plans on using him immediately.
"We'll try to get him caught up as quickly as we can and then throw him out there, no need to wait," Malone said. "We are going to welcome him with open arms, give him confidence, allow him to play his game within our team concept and give him every opportunity to succeed and live up to that No. 2 selection."
See video below: