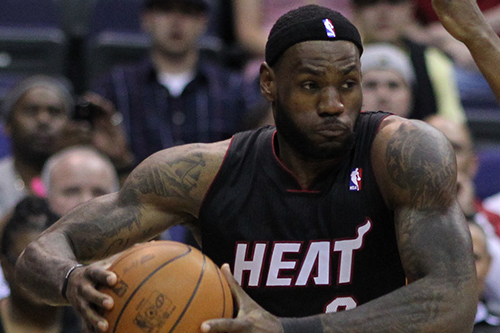 Last night's win for the Miami Heat pushed their win streak to a league-best nine in a row.
The weather outside the Air Canada Centre was cold but LeBron did his best to keep his hot shooting streak going. He finished the game with 27 points, 6 rebounds and 3 assists on 10-of-17 shooting, which is 58 percent from the field. Those numbers are very similar to the numbers he has averaged during the Miami Heat's eight-game win streak: 27.6 points per on 61.4 percent shooting from the field.
LeBron James has undoubtedly been the best player in the NBA for the last few seasons, but since he's won his first championship in Miami, he seems to be more at peace when he's out on the floor, as if the weight of the world is off his shoulders. This was evident before tip-off when LeBron could be seen dancing and singing along to Montell Jordan's 1990s hit "This Is How We Do It." Maybe this was a prophecy for the game where the Heat showed the Toronto Raptors how they "do it," great unselfish ball movement.
The matchup I was most looking forward to in this game was not the battle between small forwards Rudy Gay and James, but rather the shooting guard matchup between DeMar DeRozan and Dwyane Wade. Over the last five games, DeRozan has averaged a league-best 28.6 points per on 52.5 percent shooting and Dwyane Wade is always dangerous. DeRozan finished this game with a solid 25 points, 7 rebounds and 3 assists on 10-for-20 shooting. Dwyane Wade had 22 points, 7 rebounds, 6 assists and 4 steals on the night, a nice fantasy line.
In a strange turn of events, Rudy Gay actually didn't have a terrible game overall, only when his team needed him the most did he play poorly. He finished the night with 21 points and 11 rebounds on 9-for-21 shooting from the field. Gay was having a nice game through three quarters but when it was time to make big plays in the fourth and keep the Heat lead in single digits, Rudy missed an easy lay up and two jump shots. He also added a foul to his stat-line during the fourth that couldn't have made him look more lazy on defense.
Gay also struggled at the free-throw line, as did the rest of the team. The Raptors finished this game with 19 made free-throws on 32 attempts, good enough for 59.4 percent from the charity stripe. Most of those free-throws were missed in the fourth quarter by Rudy Gay, DeMar DeRozan and Tyler Hansbrough, right when the team needed them most. Gay and DeRozan both had empty trips at the free-throw line with only a few minutes to go in the fourth quarter. That more than likely cost them the game.
The Miami Heat have problems with larger players. Chris Bosh is not a traditional center and can be exploited in the post. That's why it was baffling that Toronto's Jonas Valanciunas didn't get more playing time in this game. He played just under 18 minutes and had 4 points and 3 rebounds on 1-for-2 shooting from the field.
Numbers like these from the big Lithuanian center have become quite regular, which is alarming. Jonas plays with two very selfish players in Gay and DeRozan, which only allows him to touch the ball maybe 10 times in a game, with only a handful of those touches in an actual position where he can score. DeRozan is for sure a player that is part of the future in Toronto but Rudy Gay is not. If Valanciunas is supposed to be the future of this team, or at least one of the players for the future, Gay needs to be traded ASAP or JV's development will continue to be stifled.
Next up for the Raptors are the Denver Nuggets on Sunday. The Raptors will be looking to snap this two-game losing streak. This game will end their four-game homestand in which they are currently 1-2.
Photo courtesy of Keith Allison/Flickr