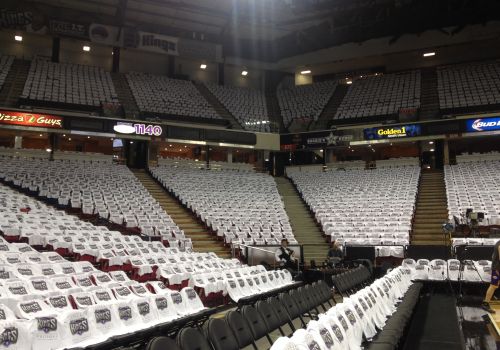 The Sacramento Kings haven't had much experience holding a lead and it was abundantly clear Friday night.
More typical of the Kings this season has been to fall behind before staging comebacks that ultimately fall short.
Against the Los Angeles Lakers Friday, Sacramento had an unfamiliar advantage, but failed to close all the same. Kings turnovers and defensive lapses marked a collapse down the stretch that concluded with a 106-100 Lakers win.
The Los Angeles comeback, after being down by as much as 10 points, was about as surprising as Sacramento's stellar play in building the lead. After the game, in a locker room that was mostly at a loss for words, Greivis Vasquez had one in particular to describe the poor showing late.
"This is just ugly," Vasquez said. "We have to learn how to play with each other. … We have to understand that we have to have each other's back. If we're going to win, we're going to win together."
Thursday, Michael Malone emphasized fourth quarter execution at practice, setting up specific scenarios to prepare his team for finishing late in games, an effort that proved futile Friday.
In addition to bumbling turnovers on offense – three in the last two minutes of the game – the Kings (4-13) surrendered open looks on defense that the Lakers (10-9) used to take the lead and shut the door.
"When you turn the ball over, usually in transition you're going to lose guys and give up open shots, and Jodie Meeks hurt us once again from the three-point line," Malone said. "If we cannot value the basketball and execute late in games, that's really going to put a major burden on our defense, and you saw that down the stretch tonight. Our offense gave us nothing, which put a lot of pressure on our defense."
Prior to the fourth quarter, Sacramento played with rare fluidity and motion on offense. Players made incisive passes to sweeping cutters and open shooters and fastbreaks spawned from long, arcing outlet passes to teammates streaking down the floor.
At the end of the game, however, the pace slowed to a crawl. Where before the ball was zipping to-and-fro across the court, in crucial fourth quarter moments its progress was halted and the offense devolved into one-on-one.
Isaiah Thomas, who showed flashes of brilliance in the first half, was taken out of the game after a series of ill-advised plays where he either attacked a host of Lakers defenders or turned the ball over. DeMarcus Cousins had opportunities to ice the game, with the Kings looking to him in the post with the game on the line, but turned the ball over instead.
"I think we played very slow in the fourth quarter. … We went down to DeMarcus – he hit a few tough shots. That's our go-to guy. But still, when we can, we've got to get out and run," Thomas said. "I think we played a little bit too slow in that fourth quarter where I think we were a little too easy to guard for the Lakers."
Despite finishing the game with 25 assists to 15 turnovers, the Kings' miscues were costly. In the final quarter, seven turnovers resulted in nine points for the Lakers.
Because of the team's success in the first three quarters, some Sacramento players registered strong individual performances – Ben McLemore looked active and put up 20 points and Cousins notched another double-double – but Malone was more concerned with the state of his team as a whole after its lackluster finish and sixth-straight loss.
"The one major word that jumps out to me with our team is 'discipline,'" Malone said. "And right now we have none."