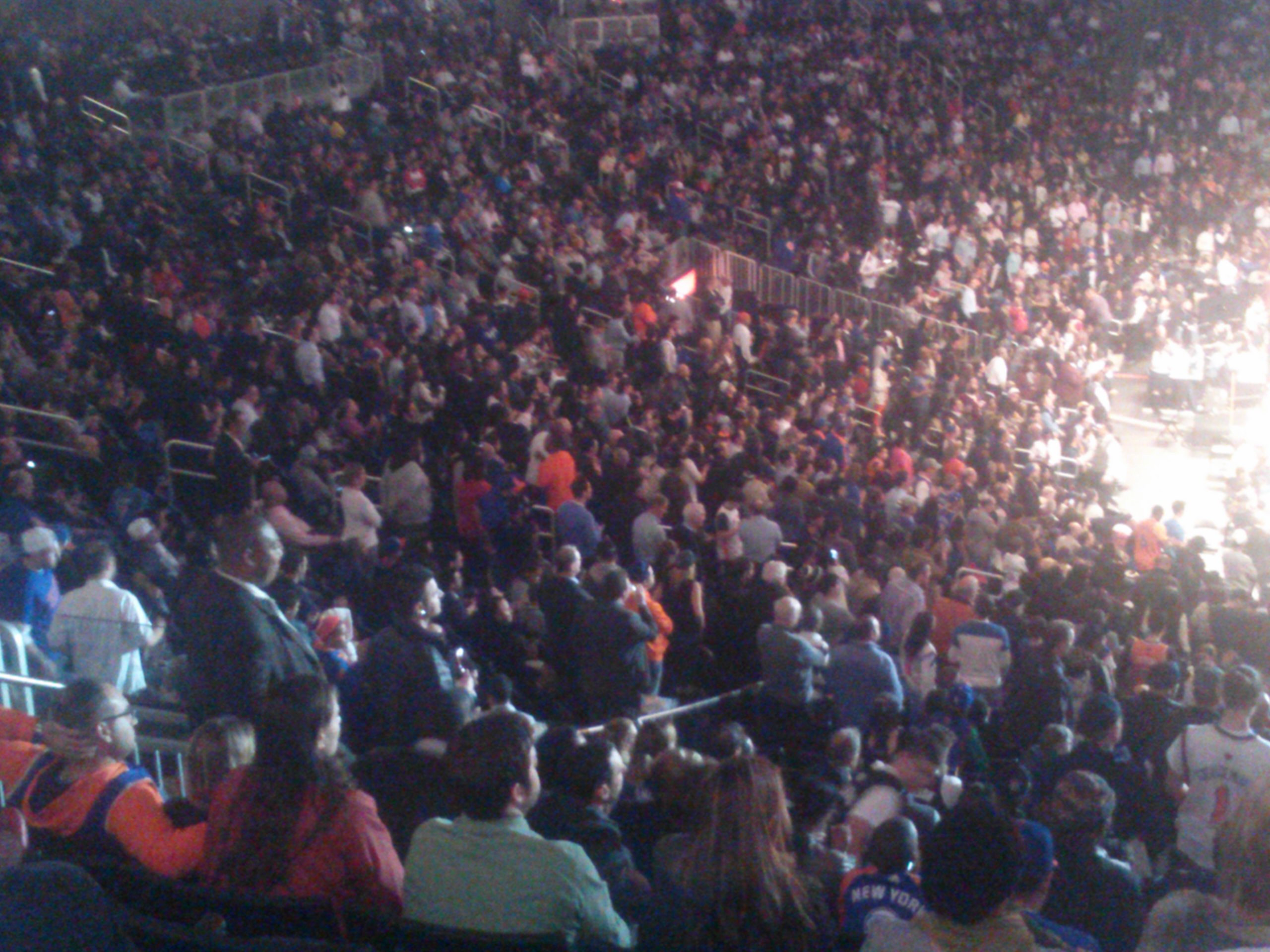 Let's begin with two undeniable facts:
Fact #1: The Nets have one more win than the Knicks (they have also played two more games).
Fact #2: The Knicks still have the heart of the boroughs. The fans came out despite the awful start by their team. I have a newfound respect for those folks, even if they are as fickle as this winter's weather patterns.
Now to the stuff that can be picked apart.
The Knicks did not win by 30 points because of a radical new approach to basketball fundamentals. They took the same shots always taken, good and bad, and hit them. Just like last season, the Knicks live and die by the three-point shot. All of the team's per game numbers are similar to last season's numbers with the exception of points per game and stats related to their own three-point shooting:
2012-13 regular season: 100.0 PPG, 10.9 3PM, 28.9 3PA, 37.6 3P%
2013-14 regular season (through 18 games): 95.5 PPG, 9.1 3PM, 25.8 3PA, 35.1 3P%
The issues are more complicated than three-point shooting alone, but no other team statistic for the Knicks shows a significant deviation. This is who the team is, for better or worse.
Tyson Chandler's return to the court will make a big difference for the Knicks since he is the one who makes sure guys know where they are supposed to be on defense. Bad rotations will continue to occur once he gets back, but they will be less frequent. That said, the Knicks are giving up 98.1 points per game this season (8th best in the league) which is not bad compared to 95.7 last season (7th best in the league), and that's with Chandler missing 13 out of 17 games. The problem for the Knicks is that the biggest defensive breakdowns are happening in critical situations, followed by a missed, ill-advised jump shot on the other end. Besides, the Knicks are only three games out of a playoff spot with 4-13 record, and 2 ½ games out of first place in the Atlantic Division.
Is it too late to join the Eastern Conference? Asking for a friend.

— Trail Blazers (@trailblazers) December 4, 2013
The Nets' issue are more difficult to identify. No statistic can give us a definite indication of why the team is doing so poorly. NBA.com's John Schuhmann gave a comprehensive breakdown of the Nets' poor second halves that are plaguing the team, but it can not account for all of the oddball lineups the Nets are forced to play because of injury. Deron Williams, Paul Piece, Andrei Kirilenko and Jason Terry missed the Knicks game, so what are we supposed to learn from that, or any game missing so many key players? I don't know.
It would be presumptuous to say that the Nets are a failure as currently constructed because we have barely seen them play. These same bums beat the Miami Heat in the second game of the season (Jason Kidd was not coaching – don't worry, I'm almost there) when both teams were healthy. That's not something that should be dismissed. What we can gather is that the team is capable of playing far above their current level with passion, intellect and some injury bug repellent.
During the preseason, pundits and fans everywhere drank from the spiked chalice of the Nets' Kool-Aid that told us the team would contend for a title immediately just like the Heat did when they brought together their Big Three. The difference that everyone recognized, yet took for granted as a major issue, was that the Heat did not put together star players exiting their primes with a rookie head coach lacking prior experience. In hindsight, it still seems fair because there's no way to predict all of the injuries, or the abominable mess that the coaching staff would become. Keep in mind, the Nets interviewed Phil Jackson, but he refused to join the team because they wouldn't allow him to choose players on the roster because Billy King had just signed an extension as the GM. That leads us to Jason Kidd, the maestro of this snowball.
Many around the Association have been critical of Kidd for demoting assistant coach Lawrence Frank to a role away from the bench. Several sports journalists mentioned the oddity of seeing Frank walking the sidelines during the game as if he were the head coach, and leading the team huddle during timeouts. Kidd was the only coach to walk on the sidelines during this Knicks game, and he led most huddles I saw during TV timeouts, but his coaching decisions did not make an impact.
I take that back.
Kidd did impact the game. The Nets ran multiple sets intended to set up Andray Blatche for 15-foot jumpers. SNY's Jon Presser already covered why those plays made me shudder, so I won't pile on to this and other questionable decisions. What I will say is that the Nets are lacking offensive sets that encourage player movement for easier baskets and basic defensive principles. Most of the threes the Knicks shot were wide-open attempts. The hounds have been released on all Nets' jokes and criticism and most of them point back to Kidd:
Did they show Kidd getting a delay of game warning on the TV broadcast?

— Zach Lowe (@ZachLowe_NBA) December 6, 2013
God bless the Nets for tanking for Atlanta. BLESS YOU, JASON KIDD.

— Rembert Browne (@rembert) December 6, 2013
Somewhere, Lawrence Frank is violently pacing around a room whispering incoherently to himself stopping only to draw plays on a huge board

— Rich MaZe Lopez (@MaZe1eR) December 6, 2013
I'd like to see Jason Kidd coach an NFL team next.

— Bill Simmons (@BillSimmons) December 6, 2013
And that's the light stuff.
Jason Kidd is no basketball idiot. His coaching gaffes are fixable, but a record of 5-14 with a team expected to contend for a championship is inexcusable. The Nets have the third-worst point differential in the league at negative 8.7. Losing is one thing. Getting blown off the court night after night is another. If this is not fixed soon, New York basketball aficionados will never embrace the Nets.
[youtube]http://www.youtube.com/watch?v=YssKx6iKE_0[/youtube]
Who wants to see that sort of jubilation for the home team in their own building? I don't attend a lot of NBA games in-person, but that seems irregular. At the very least, I have to give it up for Knicks fans who came to support their team even when they are playing like crap. Kudos to them.
Random tidbits from the game you could only see in person:
– The game was not sold out. Tickets were available in the lower section for as low as $60 an hour before tip-off.
– A moment of silence was given for Nelson Mandela following his passing.
– Saxophonist Michael Phillips performed a rendition of the "Star Spangled Banner." I will forever regret not recording this.
– When Joe Johnson was announced for the starting lineups, he just ran into the huddle instead of letting the crowd individually acknowledge him. I don't know if that's a Johnson thing, but it felt real.
– Zab Judah and J.R. Smith apparently know one another and were chatting during timeouts.
– During a break in the 3rd quarter, a stadium camera put a fan on the Jumbotron who started shaking a box of Honey Nut Cheerios. My editors will not allow me to elaborate on how this relates to Carmelo Anthony.
– The players on the Knicks' bench were energetic and encouraging the guys on the floor. More than once, Carmelo and others high-fived the entire bench. The Nets' bench barely moved and seemed ready to just play as themselves on NBA 2K14 so they wouldn't suck so bad.
– Season ticket holders were not using their inside voices after the game when questioning if Kidd should be retained as a head coach if this keeps up.