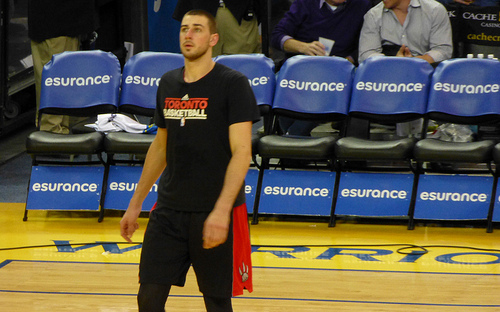 The Toronto Raptors were looking to bounce back after the worst loss in their franchise's history when they took on the Phoenix Suns last night. The now 11-9 Suns have surprised the basketball world to say the least. All signs pointed to them being at the bottom of their conference before the season began, but early on they have surprised everyone with their level of play. If they played in the Eastern Conference, they would currently be ranked third overall.
With the trade of Marcin Gortat, Raptors center Jonas Valanciunas was looking to make an impact and outplay the smaller Phoenix team. Valanciunas didn't disappoint in the 29 minutes he played, scoring 11 points and grabbing 10 rebounds, but shot 4-for-10 from the field. Limited touches in the post forced him to take bad shots when he finally got the ball, not knowing the next time he would get an opportunity to score.
Over the last 10 games, DeMar DeRozan's scoring numbers that put him in elite company, quite possibly the beginning stages to the next step in his career. However, in this game DeRozan looked below average, forcing bad shots and continuing to be a black hole on offense. He had 13 points in this game on 5-for-15 shooting, a stat line that you would normally see from his partner-in-crime, Rudy Gay.
Rudy had an adequate game if all you care about is points scored and rebounds obtained. He had 17 points and 10 rebounds in this contest, shooting less early on and trying to facilitate for his teammates. However, Rudy's selfish play reared its ugly head as soon as the second half started and continued until the end of the game. Like DeRozan, he also shot a terrible 6-for-15 from the field, surprisingly not his worst shooting night.
The man for Toronto that always brings it, night in and night out did so again last night. Amir Johnson had 22 points and seven rebounds on 9-for-15 shooting, making him the most efficient player for the Raptors. Markieff Morris of the Suns had himself a great game. He scored 25 points and hauled down 11 rebounds on an extremely efficient 11-for-14 from the field. Morris is only 24 years old and with this rebuilding Phoenix team, he is starting to become one of the main focal points.
This loss marks the fifth straight for the Raptors. You can be sure that changes are on the horizon and deals could happen sooner rather than later for Toronto. General manager Masai Ujiri said he would give coach Dwane Casey the entire season to evaluate his coaching abilities and see if he wants him back in Toronto when his contract expires at the end of the year. Casey is not the right coach for the future of this franchise, but if this season is all about getting a great pick in the 2014 NBA Draft, Casey will remain for the rest of the year.
Next up for Toronto are the Los Angeles Lakers on Sunday in Los Angeles. A short video was released yesterday that proclaimed December 8th the day that Kobe Bryant and his legend continues. Kobe loves playing against the Raptors, scoring his career-best 81 points against them on January 22, 2006. This will be his first game since succumbing to an Achilles tendon injury on April 12th of this year.
This game will be nationally televised, so expect Kobe to play at a very high level. Who knows? Maybe we'll see him drop 82 this time.
Image courtesy of Matthew Addie-Heel Sports/Flickr