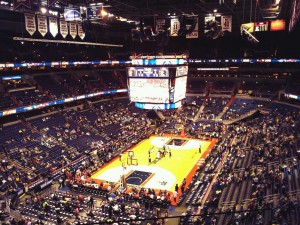 In my short time supporting the Washington Wizards (9-10), I have discovered the tight-knit blogging community often use the hashtag #SoWizards to describe the misfortune that fans who have followed the team much longer than myself use. Tonight was one of the times the hashtag seemed pretty relevant, as the Wizards lost to a hard-working Milwaukee Bucks (4-15), 109-105. The Bucks avoided their eighth straight road loss.
Heading into the game, the Wizards had the opportunity to go over .500 for the first time since November 2009. John Wall was a freshman at Kentucky when the Wizards won two of their three opening games that season. As modest as this accomplishment may be, the Wizards have gone 105-222 since.
To add injury to insult, the Wiz suffered a huge blow as Martell Webster appeared to land awkwardly on his left ankle after attempting a buzzer beater at the end of the first quarter. Webster, visibly in pain, limped off the court and did not return to the game as it was reported he had sustained a sprained ankle. Nene also limped off in the second half with tendonitis, forcing the Wizards to utilize an already low-scoring bench unit. Milwaukee subsequently took command of the game, opening a gap of 13 points at the half.
In the second half, John Wall almost single-handedly reduced the deficit with a series of clutch jump shots. Wall finished with 30 points, 8 assists and 3 rebounds. The Wizards were up 102-97 with 54 seconds left in the fourth quarter, but could not hold on as the Bucks scored five straight points and forced the game into overtime. The Bucks appeared to make their worst record in the NBA seem like a false position as they managed to shut the Wizards out in overtime. With the Bucks up by three in the dying moments of overtime, Trevor Ariza (22 points) accidentally bumped into Wall, knocking him out of bounds, which resulted in a turnover and ultimately the game.
Khris Middleton was the standout star for the Bucks, finishing with 29 points (20 points of which came in the first half), 7 rebounds, 2 assists and 2 steals.
A silver lining for the Wizards is that their rookie, Otto Porter, came off the bench for the first time since picking up an injury in September. The first-round pick out of Georgetown managed to play 13 minutes. The first-year player traveled on his second possession, fouled the next, and his first shot was an air ball. Porter did manage two rebounds and an assist.
The Wizards, having had three days rest before playing Milwaukee, will seemingly be kicking themselves for losing this winnable contest after winning five straight home games. They will face the Denver Nuggets and Los Angeles Clippers in the following week, teams both having winning records.
Image courtesy of Keith Allison/Flickr