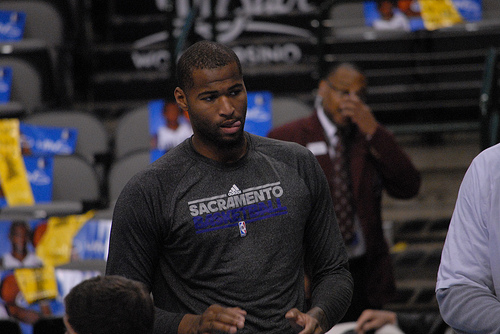 On a six game losing streak, coming off an embarrassing collapse, the Sacramento Kings were on their way to rock bottom.
Having the Utah Jazz, the NBA's worst team, on deck provided a glimmer of hope, but another late-game collapse by the Kings nearly had an inverse effect.
A last second three-pointer by Ben McLemore saved Sacramento some shame, though, and it nabbed the 112-102 over Utah in overtime.
For most of the game the Kings couldn't score from the field, so they got to the free throw line instead – the Kings' 38 to 30 advantage in free-throw attempts at the line were crucial in the win.
Unable to put together stretches of cohesive offense and execution, Sacramento attacked the paint, where Utah was thin without Derrick Favors
For most of the first half, Utah had the upper hand, knocking down shots and forcing Sacramento into contested ones. Near the end of the second quarter, though, in the bonus, the Kings made their move, getting Jazz defenders on their heels and drawing fouls.
Almost solely by getting to the free throw line, Sacramento was able piece together a run that kept them in a game that was getting out of hand.
Then, from the third quarter on, the Kings pounded the ball into the paint when they were in need of a basket or momentum.
DeMarcus Cousins played just seven minutes in the first half because of foul trouble, but he found his stride in the second half. He was the biggest beneficiary of the gameplan to go to the post out of halftime.
With Favors out, the Jazz struggled to combat Cousins in the paint. The Kings center was an imposing presence, using his size advantage to get favorable position in the post. In just 27 minutes, he put up 28 points.
Friday night, after losing to the Los Angeles Lakers, Kings players preached working together on defense and limiting mistakes down the stretch.
Michael Malone's frustration was clear from the sideline as his team failed to heed their own advice. Gordon Hayward and Trey Burke sliced through the Kings' defense during a 9-0 run that captured the Jazz the lead.
Had it not been for McLemore's timely shooting, Sacramento would have had identical disheartening losses on back-to-back nights.
Surely, Malone and company will be happy to leave Salt Lake City with a victory, but it's clear that there's much work to be done, particularly when it comes to late-game execution.
Image courtesy of Scott Mecum/Flickr