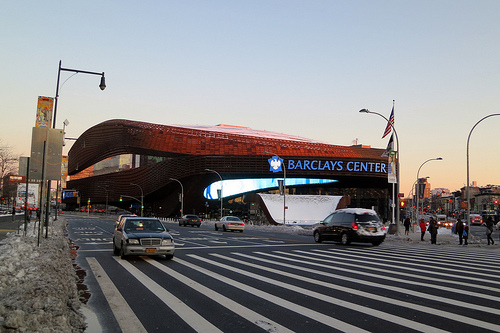 The Los Angeles Clippers fell to the Brooklyn Nets last night at the Barclays Center, 102-93.
After the loss to the struggling Brooklyn Nets, Jared Dudley tweeted: "I will continue to stay in the gym and make the necessary adjustments. I will play better, just going through a tough stretch." The Clippers need more production from Dudley at the starting small forward spot, four points in 26 minutes of action is unacceptable. By no means am I placing any blame squarely on the forward out of Boston College, because Willie Green and most of the Clippers bench is stinking up the court as well.
But in the last four games where the Los Angeles Clippers have failed to score at least 100 points, their starting wings (Dudley and Green) have contributed only 67 of 365 points—18 percent of their team's points. In comparison, by himself Chris Paul has posted 79 points, or 22 percent of team scoring in the last four. To add insult to injury, Dudley's and Green's shots aren't heavily contested, as they're both missing wide-open looks. One would assume a cold streak wouldn't last an entire season, as the Clippers will ride Willie Green's play until J.J. Redick returns, but Dudley's season average of eight points won't get it done, especially when the Clippers are currently 8-1 when he scores at least 10 points.
Nevertheless, the Clippers faced the Brooklyn Nets on the second night of a back-to-back. Another poor three-point performance didn't help the Clippers, only hitting 25 percent against the league's worst three-point defense, compared to Brooklyn's 40 percent. Chris Paul led the team in scoring with 20 points, contributing only 2 assists primarily due to the Clippers' inability to hit open shots.
The Clippers led in the majority of statistical categories, out-rebounding the Nets by one (43-42), scoring more fast break points (16-6) and scoring more points in the paint (28-24). Joe Johnson and Andray Blatche led the Nets in scoring with 21 each, while Blatche sparked the second unit with 9 rebounds off the bench. After a five-point first quarter Clippers lead, the Nets turned it around and put up 36 points in the second quarter to take command of the game. The Nets would not relinquish the lead for the remainder of the night, with positive play from Paul Pierce, who came off the bench with 10 points. The Nets took advantage of a murky Clippers team and came out victorious.
The Clippers will face their next opponent on Saturday: John Wall and the Washington Wizards.
Image courtesy of Daniel Lobo/Flickr