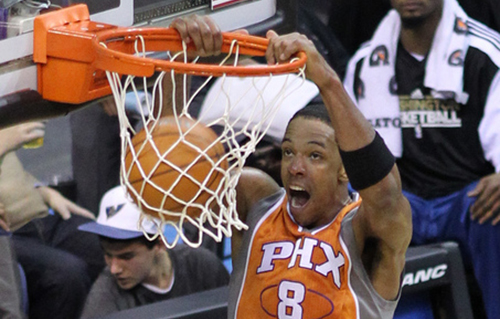 Rudy Gay's debut for the Sacramento Kings was spoiled by Goran Dragic and Eric Bledsoe, who yanked the limelight and the game from their opponent.
Led by their starting backcourt's combined 57 point effort, the Phoenix Suns (13-9) dropped the Kings 116-107, taking a 2-1 series lead in games between the two teams this season.
While Gay's performance was largely overshadowed by the explosive outings of Dragic and Bledsoe, he was able to find success in his first appearance for the Kings (6-15).
For at least one night, the recently acquired forward rewrote his scouting report. Having earned a reputation as one of the league's most inefficient players, Gay has been panned by many. But Friday, he had an uncharacteristically efficient performance.
The challenging jumpers he did take, particularly the two or three contested turnaround baseline jumpers, fell down. Other than that, Gay looked to attack. He consistently drove to the rim and tricked defenders to leave their feet, either drawing fouls or opening up his way to the basket.
His approach paid off, as Gay posted 24 points on just 12 shots in his first game in a Sacramento uniform.
Offense wasn't the problem for the Kings, though – Isaiah Thomas put up 29 points and DeMarcus Cousins and Derrick Williams contributed 15 and 14, respectively – their defense served as self-sabotage.
Dragic and Bledsoe shredded Sacramento's defense. Dragic darted throughout the halfcourt, creating space and knocking down perimeter shots when left open. Meanwhile, Bledsoe found cracks, penetrating into the lane, which he used to get looks for teammates after attracting the Kings' focus to himself. Bledsoe's shooting touch from 17-feet and beyond made him nigh indefensible.
While the Suns' backcourt was putting on a clinic, the Kings failed to get much balance from their players.
Despite point production, Sacramento only produced 12 assists. Cousins led the way with five, nearly matching the rest of the team.
Plus/minus numbers can be deceiving without context, but Jason Thompson's -25 in just 14 minutes of play is abysmal from any angle.
Cousins got his double-double and Gay and Thomas had 20-plus point nights, which look nice on the surface, but there's still much work to be done underneath the gloss of their stat lines.
Defense remains the Kings' top priority and if they don't share the ball, like they did Friday, it's unlikely offensive production will be as reliable as it was against the Suns.
Sacramento fans will get their first look at the evolving Kings Sunday, when the team takes on the Houston Rockets at Sleep Train Arena.
Photo courtesy of Keith Allison | Flickr