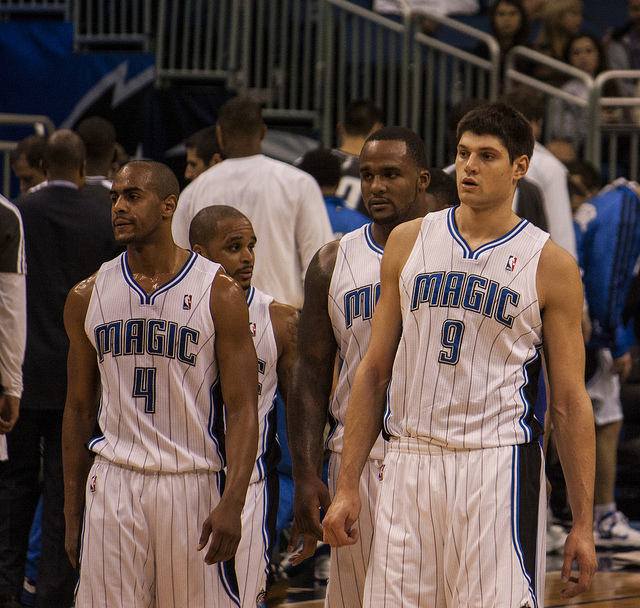 A fourth of the way through the second season of their rebuild, the Orlando Magic sit at 7-17 after losing seven of eight. Things have been up and down for the team early, but they've shown signs of improvement as a team and individually from last season. However, the Magic have question marks all over their roster, most notably regarding who will still be on the team after the February trade deadline.
While most players on the Magic roster seem untouchable right now, there are a few that could be had in a trade for the right price. The question remains, who are the guys that will likely be traded as soon as this year? Who could be moved come the offseason? What is the current value of the guys who could be traded?
Jameer Nelson
The longest-tenured Magic player could be seeing his time in this beautiful city come to an end. Rumors have swirled that the Magic have made Nelson available and are hoping to obtain a first-round pick for the veteran point guard. While it's hard to see a team willing to part with a first-round pick for the oft-injured Nelson, it's possible a team could be willing to package something of value to the Magic for his services.
At this point in his career, Nelson fits best on a contending team that needs a backup point who could step in and start if need be. Nelson also brings three-point shooting to whoever acquires him. Nelson, a career 37.8 percent three-point shooter, is currently shooting 35.2 percent from deep, but in a role that would see him take fewer attempts, his percentage would almost certainly go up.
The Chicago Bulls, who lost starting point guard Derrick Rose for the season to a torn meniscus, are currently 27th in the league in three-point shooting percentage and desperately need another scoring option either as a starter or off the bench. Nelson could fit that role for Chicago, who will likely still make the playoffs in the putrid Eastern Conference. The problem is, what do the Bulls have to offer that can help the Magic get better and not hurt them too much this season and long-term?
If the team decides to trade Nelson, whoever acquires him will be getting a relatively cap-friendly deal. While Nelson is making $8.6 million this season, per Sham Sports, he only has two of a possible eight million guaranteed next season. A handful of teams could end up being in on Nelson, but whether he's moved or not depends on the package offered.
Glen Davis
One of the other veterans on the team, Davis finds himself in a very tough position. While he's played well and helped the team compete most nights since returning from injury, he's also part of the Magic's already clogged up frontcourt. Davis, like Nelson, could be a very good fit coming off the bench for a contending team who's looking for a bump defensively and scoring-wise from their bench.
Unlike Nelson, Davis has a fully guaranteed contract, scheduled to make $6.6 million next season. The big man out of LSU has championship experience, winning a title with the Boston Celtics prior to coming to Orlando, and could be the piece to push a contending team over the edge.
Teams like the Los Angeles Clippers, Houston Rockets, Detroit Pistons and New Orleans Pelicans could all use Davis' services. The problem, like with Nelson, is that these teams don't have much in the way of assets to make a move for him. While the Clippers could build a package around rookie swingman Reggie Bullock, the Magic would seemingly need more for the deal to make sense.
The odds are high that Davis ends up being moved by the end of the season, but it's a complete unknown where he could end up. Around the trade deadline, when teams have a better feel for where they sit in their respective conferences, is when Davis will most likely be dealt.
Arron Afflalo
The most interesting of the three players most likely to be moved is Afflalo. Currently having a career year, he could be a fit on several teams across the league. Afflalo could slide into a starting spot at shooting guard or small forward, or could be an impact player and scoring option off the bench.
The UCLA product has two more guaranteed years left on his contract, with the final one being a player option. Afflalo is due $15.5 million total ($7.75 million each year) over this season and the next, with a player option in 2015-16 worth almost $8 million. Many feel that Afflalo is a steal at $7.75 million per year due to his continued growth and his increased production this season, which means he likely won't opt-in in 2015-16,
Afflalo has been the Orlando's best player all season, and has looked like a completely different player from last year. He's been able to grow into his role as the team's "go-to" guy, and is prospering in that role right now.
If a team were to blow the Magic away with an offer that included young players and one or more draft picks, it would undoubtedly be hard for Rob Hennigan and Co. to not pull the trigger. The team that makes the most sense for Afflalo is the Oklahoma City Thunder. The Thunder could offer a package around guard Jeremy Lamb and draft picks for Afflalo to either start at shooting guard spot or come off the bench. Other teams that could be a good fit for Afflalo include Chicago, the Memphis Grizzlies, Atlanta Hawks and Detroit.
As we stand right now, it's unclear whether or not any of these players will be moved, but what is clear is they all have value for other teams around the league and have contracts that are moveable. Each can help teams looking to contend and bring the Magic decent returns. Hennigan and his brain trust have shown the ability to find diamonds in the rough in trades, which could happen yet again this year.
Image courtesy of RMTip21.