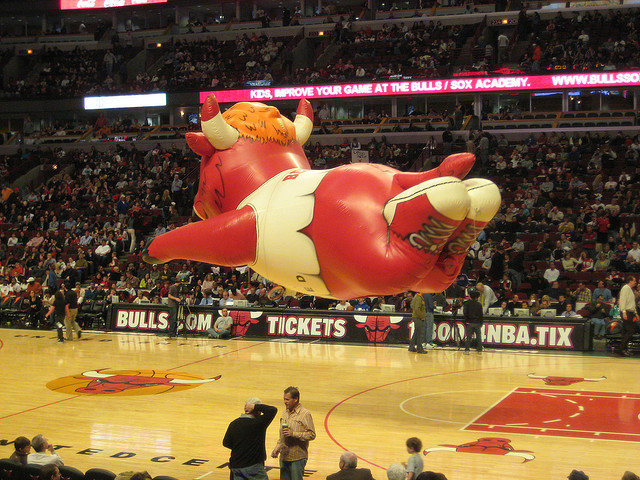 Two things the Chicago Bulls and Orlando Magic had in common coming into last night's game: both teams have been riddled with injuries this year, and both teams are coming off tough losses. Orlando's attempt at making a comeback Sunday night in Oklahoma City came up short, and the Bulls suffered their worst home loss of the season on Saturday against the Toronto Raptors. With the exception of Derrick Rose and Kirk Hinrich, most players were active tonight for both teams as the Magic and Bulls tipped off at the United Center in Chicago.
Orlando did not score its first bucket until the eight-minute mark in the first quarter as part of an poor effort from both sides. One would like to attribute it to good defense, but the slow start for both teams was really due to poor offensive play more than anything. Eventually Orlando put together a 15-0 run, ending the first quarter with a 21-14 lead.
The rest of the half looked much the same as the game's slow pace made for a very low-scoring half. Both teams saw a lot of missed shots, and the game looked ugly. Head coach Jacque Vaughn must have spoken to his team about this during halftime because the Magic came roaring out in the third quarter, led by none other than Arron Afflalo. He made 13 of his team-high 23 points in the third. Orlando's offense greatly benefited from a faster pace, not allowing Chicago's defense to get set.
Luol Deng was the only relevant Bull through the first three quarters, scoring a game high 26 points. The Bulls were able to somehow hang around throughout the game despite Afflalo catching fire a couple times and leading his team on some big runs. Without looking at the score, one would have assumed the game was a blowout, yet Chicago was within three points with one minute remaining in the game.
The rest of that final minute featured a turnover by Carlos Boozer and missed shots by Jameer Nelson and D.J. Augustin. Afflalo then made one of two at the line, giving Orlando a two-point lead with 6.8 seconds left. Chicago promptly called their final timeout to allow Tom Thibodeau to draw up a play. The ball was inbounded to Joakim Noah who delivered a beautiful pass to a cutting Deng. Deng then missed a point-blank layup with little contention from Victor Oladipo. After Glen Davis hit two free throws, Mike Dunleavy hit a half-court shot as time expired to end the game with a one-point Magic win.
Magic Game Notes
Afflalo continues to tear through defenses
Regardless of who is guarding him, Arron Afflalo just puts up numbers. Tonight Afflalo saw the likes of Jimmy Butler and Luol Deng, two of the league's better and longer defenders, yet Afflalo did not fail to make buckets. He finished the game with 26 on 8-of-14 shooting as he consistently and efficiently found ways to create offense for his team.
Harris still rusty
Tobias Harris continues to struggle early in his return from the ankle injury suffered during training camp. It is expected for the forward to be rusty as he has seen very limited action so it is not cause for concern. Harris was able to contribute in last night's loss to the Thunder, chipping in 10 points and showing flashes of what Magic fans were so excited about last season. He had a much tougher outing tonight, ending the game with just five points on 1-of-7 shooting.
Chicago is in desperate need of scoring
Again Deng was forced to play an abundance of minutes in Derrick Rose's absence, but the Bulls continue to struggle. It seems as though the Bulls are not as well prepared for the loss of Rose this year compared to last year, and are in desperate need of scoring. Without Marco Belinelli and Nate Robinson there is very little to count on for a guy who can create his own basket. The signing of D.J. Augustin certainly helps (the newly acquired point guard recorded 14 points and eight assists) but it is still not enough for the team to make any sort of run in the playoffs.
Stat of the Night
Glen Davis finished the game with 14 points and 11 rebounds, just one night after reportedly dislocating his shoulder.
Image courtesy of _Tony_B.