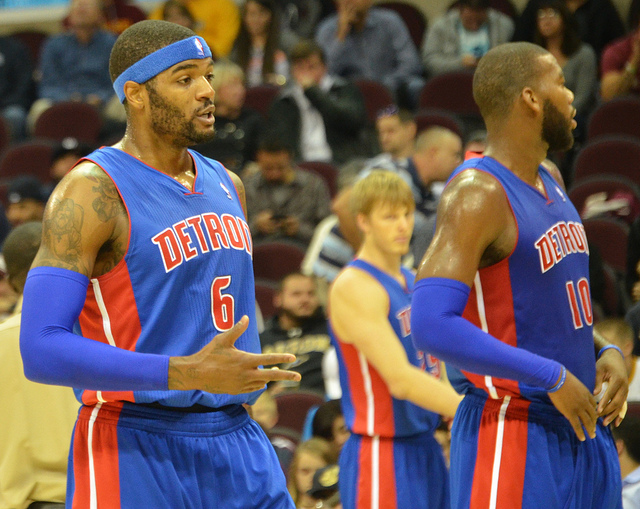 The Indiana Pacers' home winning streak came to a screeching halt on Monday in Bankers Life Fieldhouse at the hands of division rivals the Detroit Pistons, 101-96. The game was a clinic on offensive rebounding and points in the paint—and really the game was a continuation of bad play that was seen on Friday night when the blue and gold barley beat the Charlotte Bobcats.
It was strange territory for Indiana, who never led in the game. Lance Stephenson had a career-high 23 points and Louis Scola scored 18—including 10 straight in the fourth quarter—but they were not enough to deal with the strong front line of Detroit. The Pacers were dominated in virtually every area in which they had been strong over the last 20+ games. The Pistons made all the plays that needed to be made down the stretch when Indiana was able to put the most pressure on them.
Josh Smith had a monster night with 30 points and seven rebounds. This is two quality games in a row for the forward and Indiana had no answer for him. Brandon Jennings also played very, very well and finished with 18 points and six assists. As a team they scored 31 points in the first quarter and had 56 at the half. The vaunted Indiana defense disappointed against the relentless offensive pressure given by the Pistons.
A casual observer of Indiana over the past two games can clearly see that the Pacers are out of sync in comparison to where they had been. Paul George is struggling, shooting 10-of-37 between the two games, and seems to be forcing the game instead of letting it come to him. That isn't to detract from the stellar play of Detroit last night, or their quality win on the second night of a back-to-back for them.
If they carry this type of effort and energy into South Beach on Wednesday night, the sharks and trolls will be nipping at the wheels of the Pacers bandwagon. Championship teams do not wallow in this type of play for long periods of time during the regular season. Indiana cannot afford to find themselves in this type of malaise for too long or else everything that they worked for will be for naught. They have had a bull's-eye on their backs for awhile, so it's not surprising they would lose to a division rival—what is surprising is how they lost and how they've played over the last two games.
Image courtesy of Erik Daniel Drost.