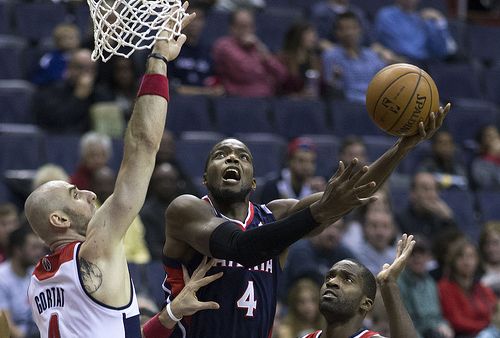 The Sacramento Kings continued their first long stretch of road games Wednesday night, taking on an Atlanta Hawks team that had outperformed 14 opponents this season to solidify its role as a legit contender in the East.
Wednesday's game would be no different.
What appeared to be a game well within Sacramento's reach slipped away in the latter parts of the fourth quarter, as Atlanta went on a big run and didn't look back until the final whistle blew, and they beat the Kings 124-107.
In a very familiar display of three-point shooting ability, Kyle Korver absolutely picked apart Sacramento's defense, making eight three-pointers and producing 28 points for the Hawks. Korver's ridiculous 80 percent three-point percentage spaced the floor and had the Kings stumped defensively, leaving them confused and the paint open. Korver's shooting ability has become a given and is clearly a central piece to Atlanta's offense, stretching out defenses thinly enough to make Al Horford's life that much easier down low.
On the Kings' side of the ball, the team only looked fully comfortable with the ball in DeMarcus Cousins' hands  in the post. Even with Isaiah Thomas being as effective as usual by driving toward the basket, it appears that the only time the Kings look confident offensively is when Cousins is handling the ball down low, fighting for rebounds, kicking to shooters, and finishing at the hoop. While defensively he had no answers for Horford's attack, Cousins had a consistent night on the offensive glass, battling down low and fighting in the post to finish with 28 points.
What really hurt the Kings throughout this game was the lack of production from an already lackluster bench. Although Jimmer Fredette and Derrick Williams came into the game and provided an offensive spark, they were really the only depth Sacramento added. Without any production from the bench, the Kings let the Hawks go on runs in the latter part of the game, struggling to string together defensive stops.
It seemed that for stretches of the fourth quarter, Sacramento had no answer for Atlanta's stellar shooting display. Whether the Hawks scored in transition, from distance or mid-range, the Kings were just stretched too thinly to have a real shot at slowing down the opposition's red hot offense.
Sacramento will continue on its road trip in Miami on Friday, as it will look to make a quick turnaround from Wednesday night's poor overall performance in Atlanta.
Photo courtesy of Keith Allison | Flickr