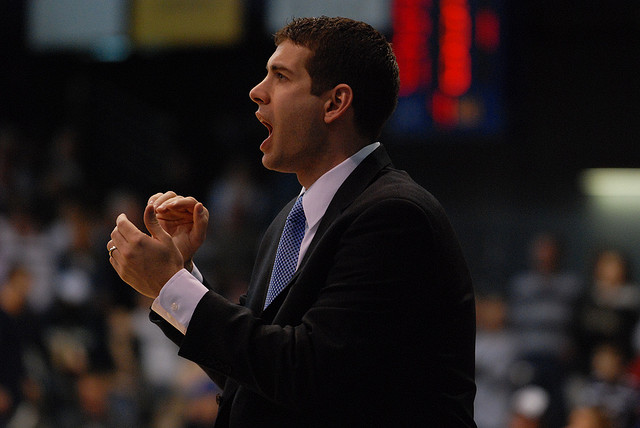 There's a reason Paul George is second in All-Star voting to only LeBron James in the Eastern Conference. Those of us who had the pleasure of watching him in the third quarter Sunday night against the Boston Celtics understand that reason. With 18 points in the quarter, the Indiana Pacers crushed the Boston Celtics 106-79 at Bankers Life Fieldhouse, for their second lopsided win in as many games.
Indiana played smothering defense and ran great offensive sets throughout the game. Danny Granger's return from injury has seemed to change the entire dynamic of the team. That, in turn, has helped Frank Vogel focus on the second unit over the past two games to really see what works best for this team. Lance Stephenson had a fantastic game with his second triple-double of the season: 12 points, 10 rebounds and 10 assists. He's the only player in the NBA with multiple triple doubles, two of which have come against the Celtics.
It was not the type of homecoming Boston coach Brad Stevens was looking for. Avery Bradley was the Celtics' leading scorer with 13 points, and added six rebounds. Only two other Boston players finished with double figures. They managed a paltry 38 percent from the floor, thanks mostly to their inability to penetrate Indiana's defense.
Indiana now leads the NBA Central Division by 10 games over the Detroit Pistons and they lead the conference by 1.5 over the Miami Heat. If they continue to play like they have the past two games, the Central Division is a lock, and Miami will be serious contention for home court advantage in the playoffs.
The next game for the blue and gold will be in Brooklyn against the Nets. With all due respect to MCA (R.I.P.), Mike D and Ad-Rock of Beastie Boys fame, there is no sleep in Brooklyn with the loss of their center Brook Lopez to a broken foot in Friday's night game against Philadelphia. When the Pacers come to town tonight, the game has the construct of being a true beating. There was so much expectation for the Nets and it seems like it's been a season in purgatory so far for the franchise. The way Indiana has been playing the past two games, it could get ugly in Brooklyn.
And, by the way, Lance Stephenson will be there—it's his hometown, after all.
Image courtesy of Bradjward.