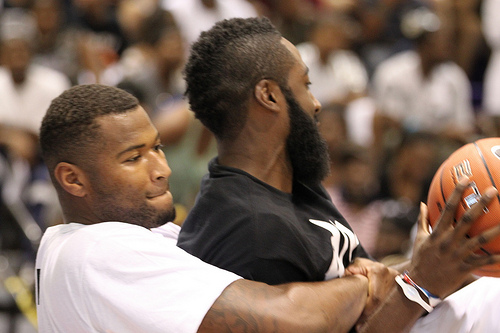 DeMarcus Cousins knows how to ring in the New Year.
His play on both ends of the floor at the conclusion of Tuesday night's game, propelled the Sacramento Kings to a 110-106 win over the Houston Rockets.
The Kings trailed before Cousins put a move on Dwight Howard and scored an easy basket at the rim to take the lead. After that, Cousins ensured the victory on the defensive end.
On consecutive plays with the game on the line, Cousins thwarted Houston star James Harden, stripping the ball from him once down the floor – which his outlet pass turned into points in transition – and drawing a charge the next.
Tuesday night was the second time the Kings defeated the Rockets in December.
Cousins took the game into his own hands down the stretch, making key plays for Sacramento, but perhaps wouldn't have been in a position to do so without the play of his teammates in the first half.
Due to early foul trouble, Cousins, who finished with 17 points and 16 rebounds, only saw the floor for 10 minutes of the first two quarters. Strong performances from Rudy Gay, Marcus Thornton and Isaiah Thomas kept the Kings afloat, though.
"We did not crumble and wither and try to do it ourselves tonight," Michael Malone said. "We tried to win as a team."
Thomas distributed the ball masterfully early on, racking up eight first-half assists – many of which found their ways to Gay and Thornton.
The two wing players were hot from the field throughout the opening half; Gay and Thornton shot 6-9 and 6-8, respectively, in the first two quarters.
Gay knocked down shots from all over the halfcourt, attacking the rim, notching a three and sinking his patented right-baseline turnaround jumper. Meanwhile, Thornton did most of his damage beyond the arc. By halftime the former had 17 points and the latter 15.
The win put the Kings at 2-1 over a particularly difficult three-game stretch to close out 2013. Malone said the team's play over the last three games has been encouraging heading into the New Year.
"The more we continue to play like this – beating Miami, beating Houston on the road, playing San Antonio to the wall – that's going to breed more confidence," Malone said. "As long as we can continue to stay together and try to get better every day, then the future is going to be very bright for us."
Courtesy of GAMEFACE-PHOTOS | Flickr