I'm not writing this column because my Editor-in-Chief is in fact a Brooklyn Nets diehard, but after the Brooklyn Nets and Toronto Raptors offered up a thrilling finish that had everything you could possibly ask from two Eastern Conference playoff caliber squads, I couldn't refuse the opportunity. The Brooklyn Nets were at one point and time, to borrow a hockey term "a complete and utter tire fire." They were 10-21 heading into 2014 with the second worst DefRtg in the NBA behind only the immortal Utah Jazz. They were a team that looked old, plodding and perhaps an even worse version of the Los Angeles Lakers from last season, if that's possible. Brook Lopez screwed his foot and had his season end, Kevin Garnett and Paul Pierce lost two and a half steps, respectively, their offense was below average, and the atmosphere surrounding Barclays Center became eerily similar to that of a library.
But then suddenly, the Nets started to win, and win and win some more. And now the Nets are decent again, well relative to the Eastern Conference. They're seventh in the Eastern Conference, and a defense that before was hemorrhaging points has now turned into a legitimate top level NBA defense. In the month of January, the Nets have had the fifth-best DefRtg, eighth-best NetRtg per NBA.com, and have wins on their resume against the likes of the Oklahoma City Thunder, Miami Heat, and Basketball Twitter's adopted team, the Golden State Warriors. Life is good again for Nets fans, and considering how bad the team was earlier, it couldn't have come soon enough.
What you notice most about the Brooklyn Nets is length, lots and lots of length. Even though Brook Lopez is done for the year, the hybrid lineups are long with a capital L. Jason Terry is the only player who's playing rotation minutes that's 6'2″ or under. The length bodes very well as a substitute with the lack of a traditional big man on the squad. The lineup of Garnett/Alan Anderson/Joe Johnson/Pierce/Shaun Livingston from January 1st has produced a DefRtg of 81.1 and a NetRtg of 21.1 per NBA.com, outstanding marks particularly with the Nets asking Kevin Garnett to try and resemble anything of the Kevin Garnett from yesteryear.
Garnett has not been the same player he was last year even when you factor in this stretch of games the Nets have played. His foot speed is in a downward trajectory and considering the amount of minutes he's played over his career, this was bound to happen one way or another, short of KG being revealed to be a mutant creature from another species. Point guards can turn the corner on a PnR that KG's involved in, especially considering he's still being deployed as a relatively high hedger on defense.
Spot up defense has been a huge problem for Garnett as well, though that's perhaps more associated with team schemes than necessarily individual exploits, but even saying that, Garnett for the most part has been a step slower in close-outs. Mobile big men have been able to attack more off of KG after previous seasons of Garnett defending cutters and doing typical rim-protecting defense, something that wasn't the norm in Boston.
Having said all of that, and yes that's a lot of caveats right there, KG has worked his butt off during this stretch of games defensively, giving everything that's left of that mangled body. His On/Off splits defensively have been ridiculously good, he's playing the 5-spot, a position that he's previously displayed displeasure in playing. He's still doing KG stuff in terms of mannerisms and pointing out things on the court that's made him one of the transcendent defensive players of his generation. There will be spurts here and there of KG fluidly rotating on defense, helping the helper and decently closing out on perimeter shots, and even though he's still not even playing 25 minutes per game, he deserves extra credit for massaging the loss of Brook Lopez greatly.
The Nets have played at the slowest pace in the NBA during the month of January, putting a premium on having an efficient half-court offense. This is further compounded with the Nets having one of the worst transition defenses in the NBA. Like previous old teams and current ones in the NBA, turnovers in open play is essentially gift wrapping the opposition two points. The Nets during this stretch have been above average in taking care of the ball.
Brooklyn with the length they possess for being a smallish team have their offense revolve to some extent around mismatches. The merits of post-ups and just how efficient it is in today's NBA has been debated extensively in the last few years, particularly with how much the old guard bemoan the lack of traditional old school big men currently. The Nets are using post-ups in many ways as an avenue to exploit, with the lineups they're able to trot out, to set up open shots or just to take advantage of mismatches on the floor.
The Nets at any point can deploy a lineup featuring three, perhaps four players who could have mismatches on the block.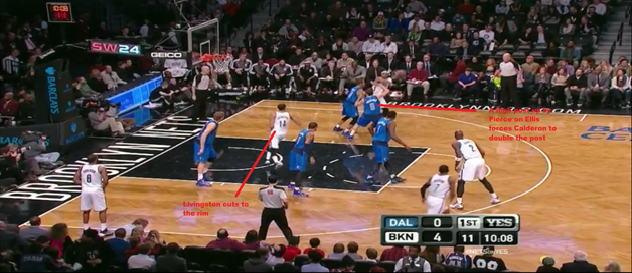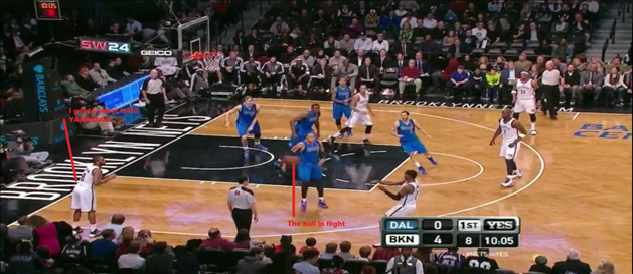 The result of this is a lot of spot up opportunities. Via Synergy Sports, 22.5 percent of possessions end via Spot Ups this season, nearly doubling their next highest percentage which is PnRs that end with the ball handler. In their game against the Dallas Mavericks, 33.7 percent of plays for the Nets ended in spot up plays. It came off of PnRs, transitions, even simple dribble drives with the Mavericks playing zone defense. The Nets have produced a 106.3 OffRtg in the month of January, A rate that if played over a full season would be equal to the Phoenix Suns' mark at 106.4.
There are other factors to consider as to how the Nets have rebounded after such a porous start. Even with the Lopez injury, the Nets are relatively healthy for the first time since perhaps the beginning of the year. Pierce and Iso Joe are rounding into form on the wings, Livingston has been one of the best backup PGs in the NBA and has performed admirably in a starting role. Their bench has been fantastic this season and KG is giving them efficient minutes. But, and I hate to go Skip Bayless on you, this team will ultimately go as far as Deron Williams will take them. Williams has only started two games in the month of January and has played only 233 minutes, but he's showing glimpses of what a healthy Deron Williams produced in the second half last season.
He's averaging 15-7 with a TS% of 61.1, nice numbers though not quite exactly max level production. This, however, could conceivably be a repeat of the drastic turnaround that flipped the narrative of Deron Williams:
| | | | | | |
| --- | --- | --- | --- | --- | --- |
| Month | TS% | PPG | APG | USG% | 3P% |
| Jan 2013 | 61.1 | 18.3 | 8.3 | 22.6 | 42.0 |
| Feb 2013 | 55.9 | 18.7 | 7.1 | 24.7 | 49.0 |
| Mar 2013 | 60.1 | 21.9 | 7.7 | 26.0 | 39.6 |
| April 2013 | 66.9 | 24.6 | 8.4 | 28.5 | 40.8 |
| Jan 2014 | 61.1 | 15.1 | 7.3 | 21.2 | 39.3 |
With the roster the Nets have, D-Will might not have to replicate the numbers he produced in Mar/April for the Nets to improve as a team, but it certainly would help if he can do it. He's been one of the more mercurial players in the NBA for quite some time, and Max Contract Deron Williams has shown up for only that four-month stretch last year.
The Nets are finally playing up to some of the potential we envisioned from them before the start of the season. D-Will is slowly rounding into form as a very good/great point guard. KG is at the very least playing like a declined version of last year's KG. Pierce and Johnson are giving solid production on the wings, and their offense has played at a top 10 level in the month of January. Three of their next four games are vs. OKC, the Indiana Pacers and San Antonio Spurs, three teams that will test how truly far the Nets have come from their horrible start to the season. The Atlantic Division at one point was nicknamed "The Titanic division," and well… it still kind of is. But the Nets are at least playing quality basketball for a sustained stretch of games, and that's a start.
(Stats used here were as of January 29, 2014)