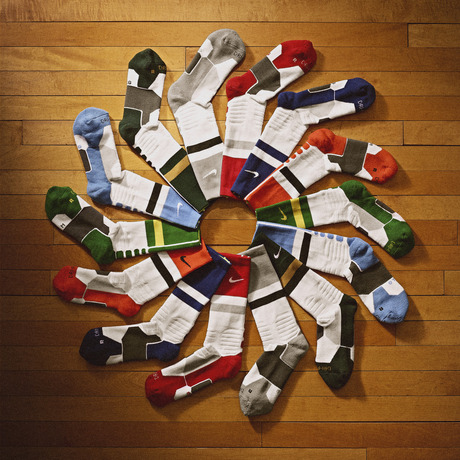 BMF Training: Being a baller isn't just about what you do on the court – it's about how you prepare to ball when you're away from it. BMF Training is about bringing you the latest in training footwear and apparel that can help you raise your game and also give you insight into what the best players are wearing in preparation for their battles on the NBA stage.
Courtesy of Nike:
The journey starts in the off-season. In the early mornings before class men and women huddle on the hardwood. Twelve teammates share a bond and unite on a quest with one goal; to win a championship. They go through the rigors of the regular season for a chance to play meaningful games in March and April. And when the dust settles and the Cinderella stories are written, only one valiant winner is crowned.
The Nike Basketball Tourney collection features school-specific gear for devoted fans and players, whether on the court or on the couch. Included in the assortment is the Nike Perforated Fleece Hoody, Nike Hyper Elite Uniform, Nike Hyper Elite Fanatical Crew sock and the Nike Zoom Hyperrev.
The Elite Crew sock phenomenom continues to grow since Nike first launched the sneaker companion in 2009. Today, socks are not just a complement to a look but a vital part of one's self-expression. Nike Basketball ushers in the next generation of innovation and aestetics with the launch of the the Nike Hyper Elite Fanatical Crew sock. The updated sock is color-blocked to correspond with schools, and features sweat-wicking fabric to help keep feet dry with three levels of cushioning for enhanced shock absorption on and off the court.
Benefits and Details
Dri-FIT fabric to wick away sweat and help keep feet dry and comfortable
Dynamic arch bridge for a supportive, compression fit
Strategically-placed multi-density cushioning for dynamic impact protection
Left/right specific design for enhanced fit
Reinforced heel and toe for enhanced durability in high-wear areas
The complete Nike Basketball Tourney collection is available on Nike.com.