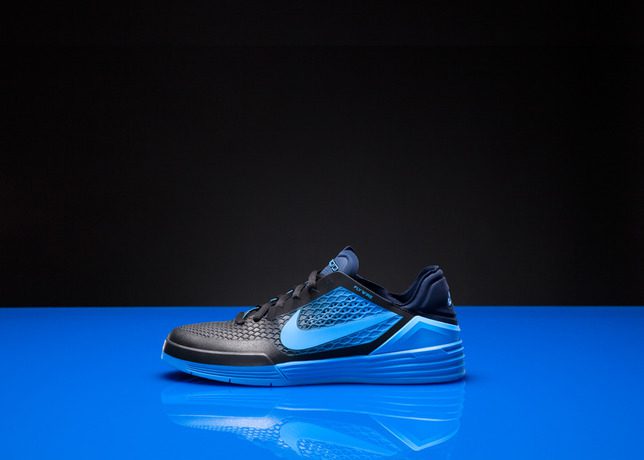 Courtesy of Nike | featuring the Nike SB P-Rod 8 >>
In 1985, an airborne star on the ascent and his signature sneakers changed the way basketball shoes looked forever. Just as skateboarding is rooted in re-appropriation — using objects and surroundings differently — the Nike Air Jordan I found popularity on and off the court and became the platonic modern skate shoe on the feet of innovators like Lance Mountain.
That legacy is intact in today's technical performance pieces, which provide the coveted cushioning, support and resilience of the Air Jordan I, along with the latest innovations honed specifically for skate. The Nike SB P-ROD 8 is the latest expression of time-honored form and pioneering performance.
Past informs the Present
As the Nike SB line was forged, the Air Jordan I was the blueprint, leading to the launch of the Zoom Air assisted SB Dunk, which mimicked the iconic color and shape. The Nike SB team formed soon after and would include Paul Rodriguez, who grew up as a diehard fan of the basketball legend's achievements and his iconic series of silhouettes.
Rodriguez was the first Nike rider to get a Nike SB signature shoe, and the Paul Rodriguez Zoom Air and its successor, the P-ROD 2, were given special makeovers based on the Air Jordan III, representing Rodriguez's respect for the iconic basketball sneaker. The P-ROD collection has continually evolved in line with his legendary career as he masters more height, more air and more speed. At the core, the P-ROD line maintains a wearable simplicity that connects to the pure form of skateboarding.
P-ROD 8 Performance Upgrades
The Nike P-ROD 8 brings 360 degrees of Nike Lunarlon impact protection to the design, delivering lightweight, responsive cushioning plus the board feel that skaters need. The Hyperscreen+ traction layer amplifies durability, and the dynamic Nike Flywire cables are the ultimate solution for an adaptive fit. The P-ROD 8's outsole traction pattern was created to provide great grip during flicks and flips.
The P-ROD 8 will be available beginning June 21 — International Go Skateboarding Day — at select Nike SB retailers and online at nike.com.