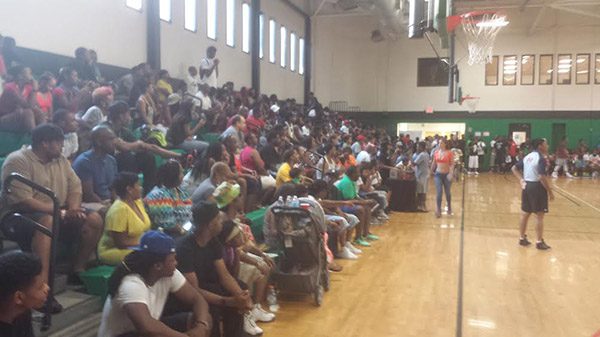 This past weekend, the Atlanta Entertainment Basketball League kicked off Week 5 of the season. The weekend was cut short thanks to the Ball Up game that took place on Saturday. So, instead of five games over two days, the league founder, Jah Rawlins, decided to give fans three great games on Sunday.
The turnout was great this past Sunday. Sponsors KIND and Reebok had to be happy to see so many people in the building. From upcoming rappers like young Dolph who came to support his Street Execs team, to Brooklyn Nets guard Jarrett Jack, the standing room only crowd was anxious to see the games.
Before we even walked into the gym for Sunday's games, rumors were already flooding the Internet saying that, former member of the Atlanta Hawks and currently on the Toronto Raptors, Lou Williams was going to lace up and play for his team, Uptown Sounds.
If that was true, we wouldn't find out until the second game when Street Execs took on Uptown Sounds.
The first game pit Court Cred against Good Life Music Group. Good Life was coming off of a dramatic last minute win over C.T.C. last week. They were trying to pick up back-to-back wins on Sunday.
The game was close throughout and gave fans more than enough highlights to stay entertained. When it was all said and done, Court Cred walked away with a 77-64 win. Ray Davis led Court Cred with 17 points.
The second game was the one that many were waiting on. Street Execs were trying to stay close to Gold Gang at the top of the rankings. Sunday, they played Uptown Sounds for second place in the league.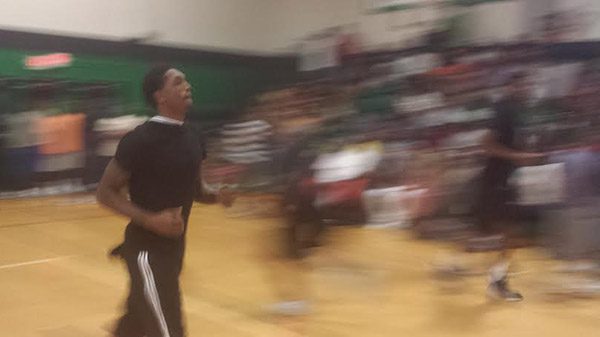 Uptown Sounds is coming off an exciting loss to Gold Gang last week. Another loss would push them firmly behind Gold Gang and Street Execs in the rankings. So, help would be needed for them not to fall to third in the standings. Insert Toronto Raptors guard, Lou Williams. Lou decided to start at the 2-guard for Uptown in hopes of giving them the jump start they need.
Street Execs didn't lack star power either. Former Louisville guard and current Georgia State star, Kevin Ware, was on the court ready to show that his leg is fully healed.
Street Execs took control of the game early. They owned the 1st quarter thanks to their size down low. Lou Wiliams got off to a slow start, missing his first three shots. Street Execs were powered by guards, Spencer Dixon and crowd favorite, Bdot Adot.
Uptown Sounds kept the game close for the most part all the way to the 3rd quarter. It was in the 4th that things got really interesting.
Kevin Ware and Lou Williams matched up against one another in the 4th. Lou would get more aggressive in the last quarter, driving to the lane and forcing Street Execs big men to foul. Ware blitzed the Uptown Sounds defense with several drives that resulted in lay-ups and free throws.
With five seconds left in the game, both teams were tied up at 62. That was when Street Execs guard, Spencer Dixon, hoisted up a last second three-pointer with Lou Williams draped over him that connected to win the game. Dixon finished with 13 points. Bdot ended the game with 19 points and five three-pointers.
A true competitor and good sport, Lou Wiliams sent Streets Execs a congratulatory message via Instagram after the game.
The last game of the day saw T.I.G's Gold Gang going for a 5-0 record. The only thing stopping them were the scrappy HDMD team.
Another close game. Gold Gang's Jamerio Davidson and point guard, Lil D, led the squad long with Paul Delaney III a.k.a Mr. International. Gold Gang had a fight on their hands. HDMD is a tough team with capable big men and strong guard play. They kept GG from breaking open any big leads in the game. As we got to the 4th quarter, they were five points away from the upset of the season.
Alas, it wasn't meant to be. Gold Gang's Big 3 pulled out a 65-63 win despite HDMD's Marcus McDaniels' 30-point explosion, the first 30-point game of the season.