The cold corridors of the event level at American Airlines Center feels a lot like the spurious hallways of a Beverly Hills high school these days. If you happened to glance at the otiose headline "Rick Carlisle Thinks Chandler Parsons is Too Heavy," you'd simply shake your head. At least in school, we had the decency to simply talk behind someone's back until they were driven to bulimia and not shout it out to the masses. But this is NBA basketball, and not some high school locker room.
ESPN Dallas' Tim MacMahon reported on Saturday that Dallas Mavericks head coach Rick Carlisle thought new small forward Chandler Parsons' ass looked fat in those jeans…er… I mean, he thought Parsons added too much weight on his 6'9 frame over the summer after he started lifting weights at the gym in order to bulk up his physique. Carlisle noted that during Friday's preseason loss to the Oklahoma City Thunder, Parsons appeared tired and that his shot was short. "He's a little bit heavier than he's been. He's up over 230, and we want to see him get down to at least 225," Carlisle told MacMahon that night. "That's a work in progress, and tonight's one of those nights where I think the extra weight was a hindrance."
The weight issue has been hindering the Dallas coach since the first day of training camp, and Parsons doesn't really agree with Carlisle, claiming that his weight fluctuates.
Parsons responded on Saturday in a wordless fashion by way of Instagram: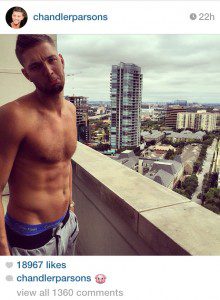 Calvin Klein's stock just went up.
On Sunday afternoon, Carlisle issued a statement on his former words:
"It was unfair and inappropriate to single out Chandler Parsons after the game Friday night," Carlisle wrote. "I have apologized to him and the entire team for his error in judgment. Not only is Chandler Parsons one of our best players, he is also one of our hardest working players and the kind of high character person we strive to bring to our city and franchise.
"I also made it clear to our players and staff this morning that this type of bad example is not acceptable and beneath the dignity of a championship organization like the Dallas Mavericks."
The media and Dallas fans alike were worried that this "altercation" between coach and player would shake up the chemistry they were looking to build. But Parsons reaction was a playful one. Of course, no one likes to be called a fatty in front of anyone, let alone the press, but Parsons is secure in both his physique and abilities on the court, and, more importantly, trusts his coach.
Don't look for a Regina George-like showdown anytime soon.