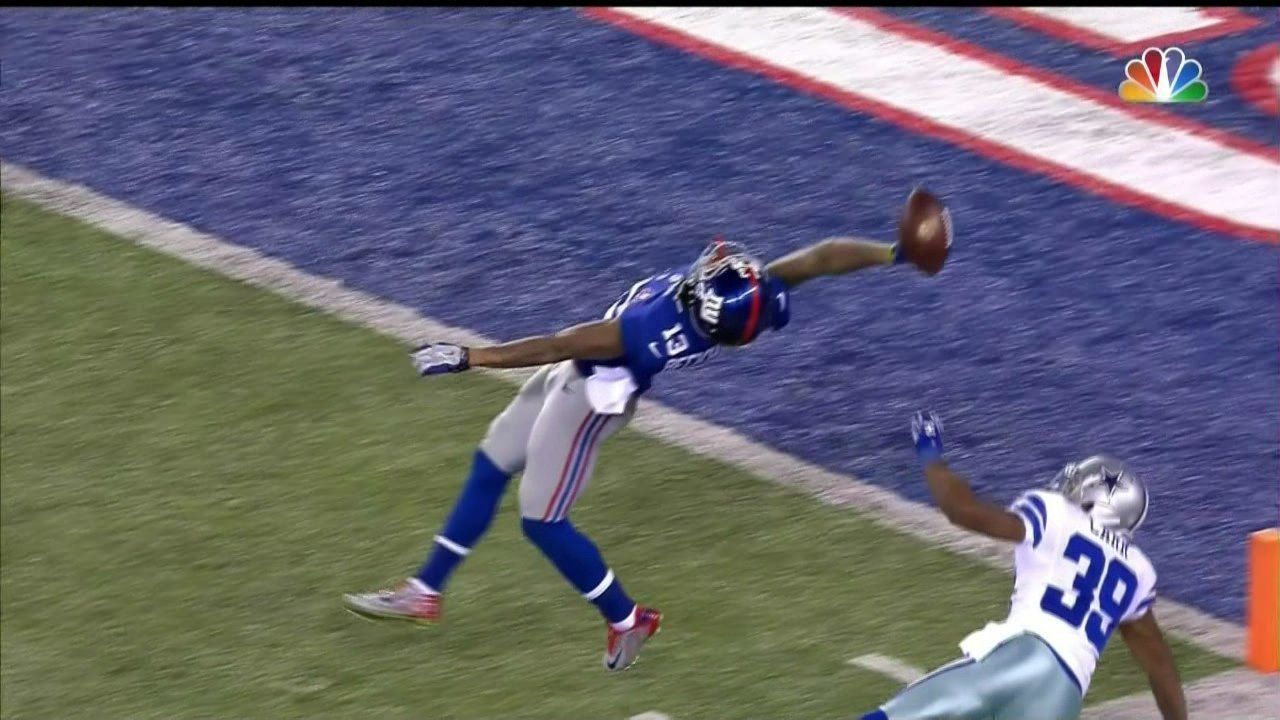 Would someone please tell Odell Beckham to stop?! Look, we all get it, you can make a circus catch at any point. Beckham made a few more against the Tennessee Titans this past weekend.
Odell, I need you to stop it for a few reasons here. One, you're ruining amazing catches the league over. The commentators after the Brandon Marshall catch on Thursday night: "Well, after Odell Beckham that catch is just sort of average." Two, you're ruining the fan expectation level for the team. I can hears fans at home saying "Awww, how could he not make that play?! Beckham would have made that play." Three, teams are going to be amped to play you next year. You're going to make your sophomore slump worse by generating a target on your back. Teams are getting too much good film of how you move, what you do, and how the Giants want to utilize you for next year. On that note …
Would someone please tell the New York Giants at this point it's okay to give up? Guys, you're statically eliminated from the playoffs. It's okay to shut it down, let some of your backups get some rest, and try to come in to next year healthy. If Beckham breaks a hand or something and is never the same the fan base will never forgive you. They will all convert to New York Jets fans … okay, that's never going to happen when the Jets are this bad, but still! Go out and have fun and try not to get anyone hurt.
Would someone please the New York Jets they are not the New York Giants? The Giants have some bright spots to look forward to next year. The Giants have injuries and other excuses for their poor record. The Giants have a solid foundation of drafting players and making good decisions. New York Jets, that is not you. That isn't even in your ZIP code (despite the fact that you share a stadium with the Giants).
Would someone please tell the NFC South to collectively agree to let another team take their playoff spot? I want the letter to read something like this: "Dear Roger Goodell, we, the NFC South franchises, have embarrassed ourselves and this league with our horrible play and lack of competition. We insist that the winner of our division not be permitted to host a playoff game, nor participate in one. Please allow the team with the next-best record below the other three divisional winners to host a game. We hope to be better next year. Signed, the NFC South."
Would someone please remind the Kansas City Chiefs fan base that it could be worse?! This is for my buddy Ben, who has questioned why he cheers for the Chiefs numerous times. I remind him that there are peaks and valleys to a season and to our lifetime of being fans of a team. I'm sure he could jump bandwagons to a team like the Patriots, a team that has been so successful for so long, but that's not his style. He grew up and found the Chiefs and he's stuck with them through thick and thin (mostly razor thin, but it happens). Ben, the team could have drafted Geno Smith instead of Eric Fisher. The team could have been working with any one of the dozens of coaches that have been fired over the last few years rather than with Andy Reid. You went from having the worst record in the NFL one year to being in the playoffs the next, and being in the hunt this year. If the Denver Broncos still had Tim Tebow as their starting QB, maybe you'd do a lot better, but those are the cards. Each year only one team hoists the trophy, which means that 31 other teams go home having to focus on next season. Find those bright spots and remember that you're not a Jacksonville Jaguars fan.