We're another day closer to Selection Sunday, and that only means we've got another day of fantastic college basketball ahead of us. If you missed the action yesterday, that's a problem; there were buzzer beaters, busted bubbles, bonus basketball, big upsets, and some other B-themed adjectives that make the day sound like a bunch of fun, which it was. Don't be too surprised if this is the case today, and every other college basketball day from here until April 6th. So with that said, let's get to the days notable games (now accompanied by time and television channel) and of course, Bracketology!
Games of the Day
La Salle vs. Davidson (12 pm, NBCSN)
Michigan vs. Wisconsin (12 pm, ESPN)
Florida vs. Kentucky (1 pm, SEC Network)
VCU vs. Richmond (2:30 pm, NBCSN)
Indiana vs. Maryland (6:30 pm, Big Ten Network)
Tennessee vs. Arkansas (7 pm, SEC Network)
Providence vs. Villanova (7 pm, Fox Sports 1)
North Carolina vs. Virginia (7 pm, ESPN)
Baylor vs. Kansas (7 pm, ESPN2)
Ohio State vs. Michigan State (8:55 pm, Big Ten Network)
UCLA vs. Arizona (9 pm, Pac 12 Network)
Wyoming vs. Boise State (9 pm, CBS Sports)
Oklahoma vs. Iowa State (9 pm, ESPN2)
Notre Dame vs. Duke (9 pm, ESPN)
Xavier vs. Georgetown (9:30 pm, Fox Sports 1)
Colorado State vs. San Diego State (11:30 pm, CBS Sports)
Utah vs. Oregon (11:30 pm, ESPN)
Bracketology
Last Four Byes: Temple, Dayton, Oklahoma State, BYU
Last Four In: Purdue, Ole Miss, Indiana, UCLA
First Four Out: Texas, Texas A&M, Tulsa, Old Dominion
Next Four Out: Miami FL, Murray State, Iona, Richmond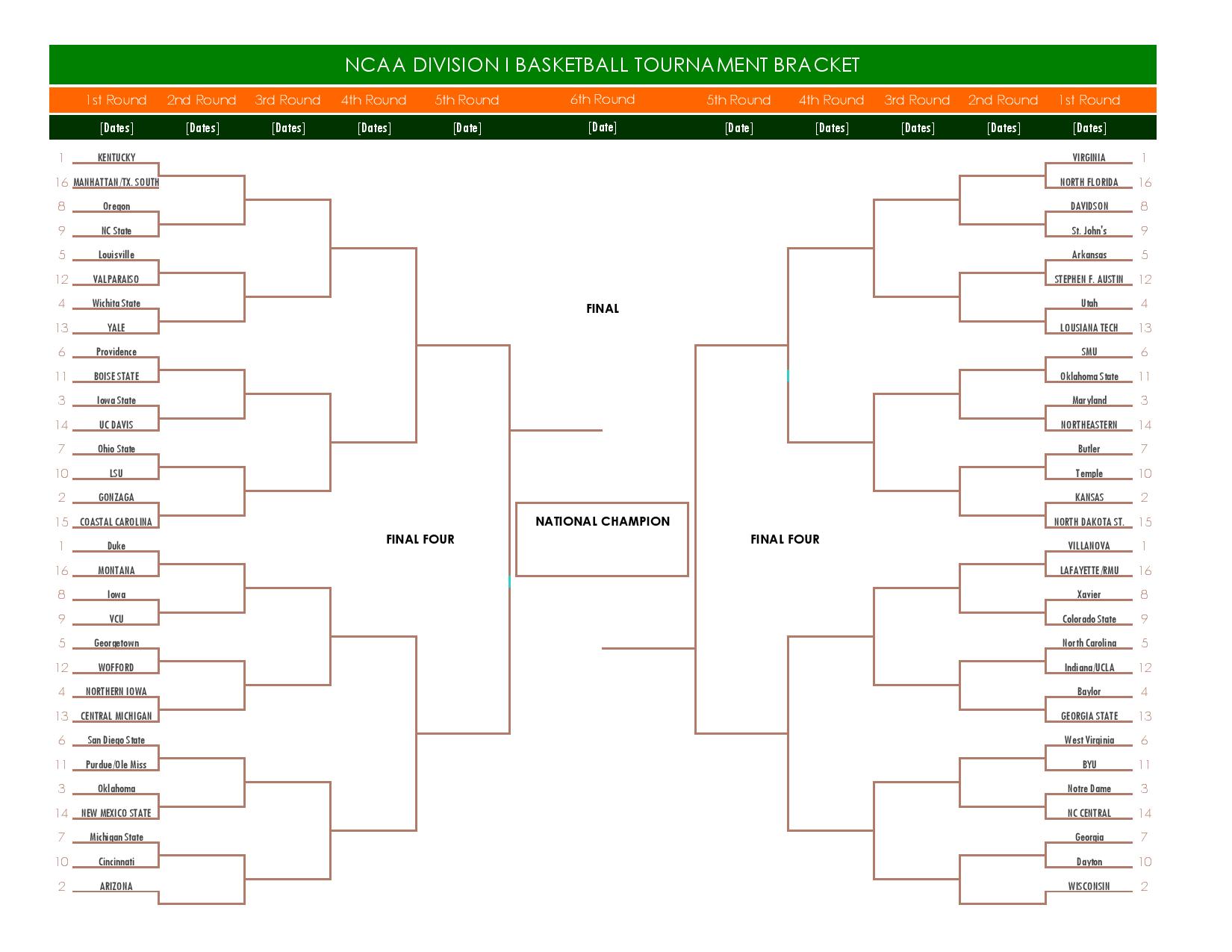 NOTE: You know the drill. Those two 15 seeds you aren't seeing at the bottom of the bracket are Ohio Valley champion Belmont and prospective America East champion Albany.