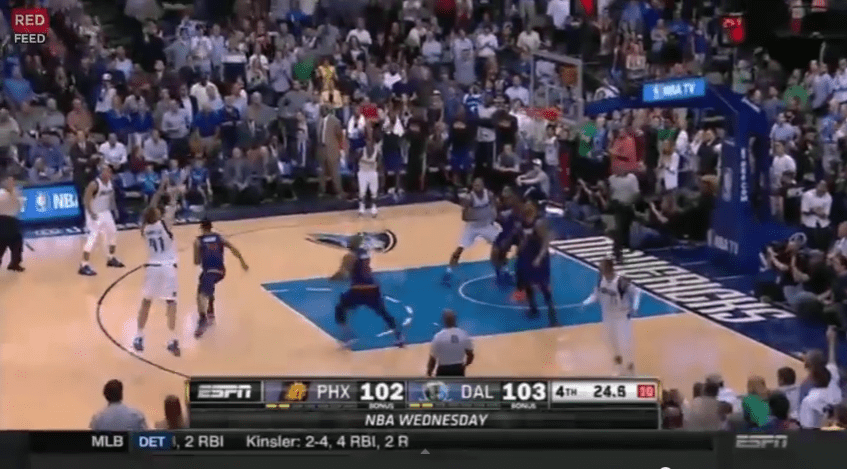 The tone was more than set inside the American Airlines Center on a particularly humid evening: The Dallas Mavericks, who had clinched their playoff berth the night before following Oklahoma City Thunder's loss, were looking for a win over the visiting Phoenix Suns in order to lock down the seventh seed in the Western Conference Standings. So this game would extremely pivotal to-
Wait, what?
The Memphis Grizzlies just pulverized the New Orleans Pelicans, thus, securing the Mavericks place in seventh place?
Within the early stages of the Mavericks-Suns match up, Dallas barely had time to break a sweat before news of the OKC loss trickled its way down the press line and into Mavericks coach Rick Carlisle's hostile ear. Presented with these new facts, it would be seemingly understandable if Carlisle decided to give his starters (sans one knee achy Chandler Parsons) a somewhat sizable break and go easy on the Suns considering all the spacious breathing room that was gifted early on.
But did he? No f***ing way.
After 16 lead changes, castrating dunks over former players, and one massive Tyson Chandler night, the Mavericks eliminated the Suns from playoff contention by narrowly beating them 107-104. Monta Ellis put up 20 points, Dirk Nowitzki scored 19, while Suns' Gerald Green had a season-high 30 points. But it was Chandler who became the X-factor during the night with 12 points and 23 rebounds.
"He played a huge game on the boards and he was a presence all night long," Carlisle said of his starting center. "He is one of the guys that is one of the heartbeats of the team and when he plays big like this it really gives us a lift."
Wednesday also marked the return beloved fan favorite Brandan Wright, who was traded away for Rajon Rondo back in December. He received a warm welcome when his name was announced during the starting lineup, which quickly perished when he put up his trademark dunk over his former team within the opening minutes of the game.
"It was just another game we needed to win," Wright said of the loss when asked about returning to Dallas. "I didn't put any extra pressure on myself or anything like that. We had a bad game last night and came out tonight hoping to play a little bit better. We came up a bit short…"
It was Nowitzki who held the fate of the Suns in the palm of his overly large German hand when Ellis passed the ball to him with 22 seconds left. He knocked down a difficult trey, pushing Dallas' lead to 106-102.
The game managed to do the unimaginable and overshadow off-court controversy. It was announced that Phoenix's Marcus and Markieff Morris were being investigated for allegations of an assault that took place back in February. Marcus put up 12 points and 10 rebounds while Markieff tacked on 19 points, seven assists, and six rebounds.
The Mavericks head to Utah to face the Jazz at the Pepsi Center on Friday night.