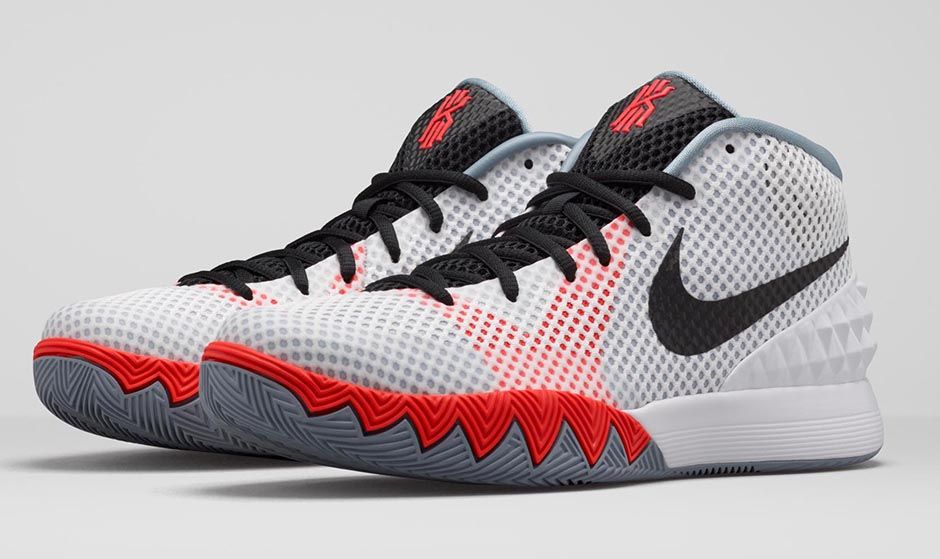 It isn't much surprise — the Nike Kyrie 1 — #KYRIE1 — has been one of the top models from Nike Basketball this year, and there's good reason for that. Kyrie Irving, the All-Star de facto point guard for the Cleveland Cavaliers, is a star among the stars, alongside LeBron James and Kevin Love; a world-beater of a player as a shooter/scorer; and his first signature shoe has classic stylings.
Now being released as the NBA Playoffs are under way, the Kyrie 1 'Home' is an homage to the home-court advantage that the Cavs should have for the majority of the postseason, and in doing so, gives Irving's adoring fans an opportunity to wear what he wears.
It's a bad look, either. While several of the Kyrie 1 colorways have varied in color and have often been at times wild, the Home edition plays on the Cavs' color scheme while departing from exactness so that they can translate with a variety of looks. The stark white is beautifully matched with the Cavs' home white uniforms, while the infrared hue subtly connects to Cleveland's burgundy red. The dove grey is also a nice neutral touch.
You can see the Kyrie 1 'Home' here at BMF Sports, courtesy of Nike.