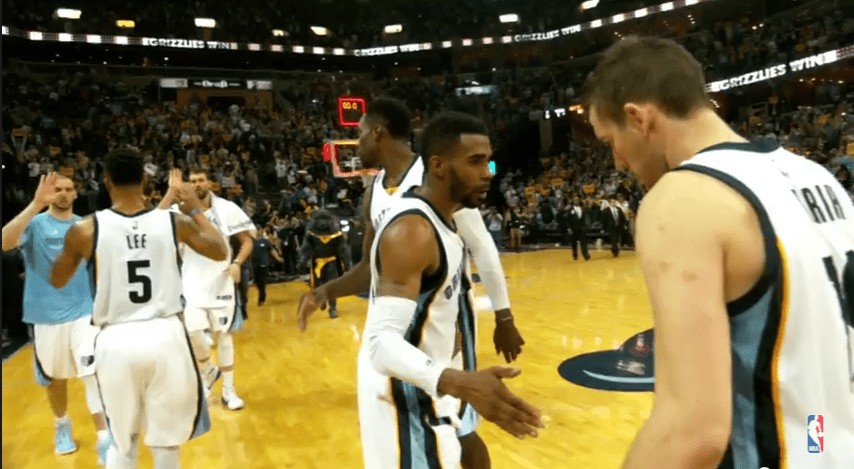 The Portland Trail Blazers held Zach Randolph and Marc Gasol to combined shooting totals of 9-of-31, outrebounded the Memphis Grizzlies, and lost the game 97-82. There are some really simple explanations for this puzzling result, which also exposes why the Portland Trail Blazers have absolutely no chance to win this series.
Four. Damian Lillard should be staring at this number. Lillard has four total assists in the first two games of this series. Struggling to score against the defensive prowess of the Grizzlies' is one thing (shooting 27 percent from the field during the series so far), but getting no easy baskets for teammates is inexcusable. All-Stars who are rightly accused of ball-hogging accidentally get five assists per game. Averaging 2.0 assists in the playoffs would be poor even for players coming from the D-League. Lillard hates criticism and wants to be considered an elite guard. Cool. He needs to play like one.
PSA to all teams remaining in the playoffs. If a Grizzlies guard not named Mike Conley scores over 18 points, you are going to lose the game. The Grizzlies are not a powerhouse offense by any standard. Keeping Randolph and Gasol under wraps doesn't do much if Courtney Lee (18 points in Game 2) or Beno Udrih (20 points in Game 1) are getting red hot. Those extra points are far too important considering this stat.
The @memgrizz are 43-4 this season (Reg and Playoffs) when they score 97+ pts pic.twitter.com/j9rNvyIxhb

— NBA TV (@NBATV) April 23, 2015
Teams have found ways to limit the Grizzlies' scoring over the years. Most of these strategies are focused around making the Grizzlies rely on jump shooting, their great weakness. The Trail Blazers did some of those things. They packed the paint which greatly limited the Grizzlies' starting frontcourt, but were unable to limit the guards because of bad matchups. Arron Afflalo is no Wes Matthews on defense but he's far from a pushover; unfortunately, both of those gentlemen are out with injuries. The remaining guards have no clue what to do on defense or are simply too small – Lillard, Steve Blake, C.J. McCollum. This sad fact brings us to the dead horse.
Injuries. Less bodies versus the most physical team in the playoffs is a horrible set of circumstances. This was already covered in the recap for Game 1, but it is too important not to bring up again. Chris Kaman played in Game 1 but missed Game 2. Arron Afflalo was listed as a potential starter for Game 2, but was scrapped again before the game started. Technically, the Trail Blazers only played nine players but only seven should get credit. Joel Freeland and Steve Blake did participate off the bench for a grand total of 0 points, 1 rebound, 0 assists, 0 blocks, 0 steals, 0 personal fouls, and 0 shots attempted in a combined 13 minutes.
One. The number of assists by guards in Game 2…
Game 3 starts Saturday at 10:30 PM Eastern Time on ESPN.