"It was such a disappointment to go down in Game 3, but my spirits were immediately lifted after all of the support that I received from fans around the world, but especially those right here in Memphis," said Conley. "As a way to say thank you, I'd like for them to be cheering us on tomorrow at Game 5 because there's no greater experience than the NBA Playoffs in Memphis." – Mike Conley on gifting 500 tickets for Game 5 to the local community
The Memphis Grizzlies defeated the Portland Trail Blazers 99-93 in a must-win game to close out their first-round series 4-1 without their star point guard, Mike Conley. Game 5 can be classified as a must-win not because of the threat posed by the Blazers, but because of the next opponent: the well-rested, NBA-best Golden State Warriors who have been resting since sweeping the New Orleans Pelicans four days ago. Memphis needs time to rest as well, but they also did not want to rush back Conley from his facial fracture to play in avoidable games versus the Blazers.
The most damaging factor for Portland in this series was the inability for LaMarcus Aldridge and Damaian Lillard to play well in the same game. Both players had strong impacts in different games, but never at the same time and the All-Star duo rarely found easy opportunities for teammates. There was absolutely no chance for the Blazers to win the series without Aldridge and Lillard going off together.
Aldridge finished Game 5 with 14 points and 9 rebounds on 5-of-18 shooting versus Memphis' big boys, Marc Gasol and Zach Randolph, which is totally understandable.
With defensive guru Conley out, Lillard posted 22 points, 6 rebounds, and 3 assists (with 6 turnovers) on 8-of-19 shooting, including 1-of-8 from three-point land – Lillard has no excuse to come up short. And good lord, Lillard's off-ball defense is inexcusably bad. He gave up several uncontested layups just because his man was running free while his eyes watched the ball. James Harden played better defense this year after social media hammered him over and over for being so lackidaiscal. It looks like Lillard needs to be put through the spin cycle too. He got a lot of endorsements deals off last year's game winner versus Houston.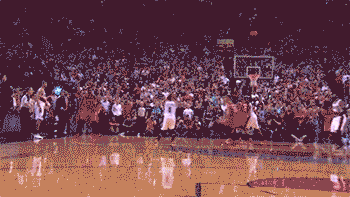 That was a basketball eon ago. Lillard needs to look in the mirror before finding other places to deflect blame.
C.J. McCollum had to score 33 points in Game 5 just for the Blazers to stay close, an indictment of the star players even with Wes Matthews being unavailable, and really showed he has the chops to be a larger part of the Blazers' long-term plans (bad news for Matthews' upcoming contract situation this season). Arron Afflalo couldn't muster enough from his injured body to effect the contest, contributing one turnover and a doughnut in every other statistical category in 14 minutes. Nicolas Batum had a horrible offensive game overall, but found ways to contribute despite poor shooting and bad turnovers. Sadly, this could be the Blazers' last playoff run for a while if Aldridge decides greener pastures lie elsewhere when he becomes an unrestricted free agent this summer (but really, what state is more green than Oregon?).
The Grizzlies have to feel pretty good about their performance in this series. Game 5 was a less dominant performance than Games 1-3, but Memphis completely took over the glass by outrebounding Portland 56-38. They will need to take that same amount of grit to California when they face the Warriors. Thanks to last night's victory, the Grizzlies will have a significant time to rest up battling for a spot in the Western Conference Finals.