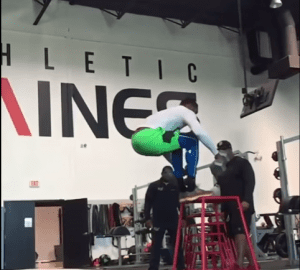 Is it too early to be talking about the 2016 draft?
In actual fact, it is.
The 2015 draft class has the ink on their contracts still wet and none of them have even played in an organized team activity. Sure they have done rookie minicamp, but that is really just to get them acclimated to things like terminology and the rules.
But getting back to the 2016 draft.
Every year there is a player or two that dramatically increases their draft stock because of freakish feats of athleticism. This year, defensive back Byron Jones made a name for himself with some leaping ability when he posted a 44.5" vertical and a 147" broad jump. By the way, the broad jump number would is a new world record, along with a new draft combine record. Originally thought of as a second-round player, the measurables and high quality character got him into the later part of the first round. The draft board still has dry erase marker on it and I'm already looking at the next guy who is vaulting up the draft boards (as if he wasn't near the top already).
Meet Shawn Oakman.
Now if you were to actually meet Shawn immediately you'd be struck by the 6'9" 280 lbs chiselled frame of a player who is already a defensive stud at Baylor. But the freakish physique comes with a stellar bit of athleticism too. Shawn was recently caught on tape doing a 40" box jump. That's not bad for someone who is 280 lbs. Did I mention he did it while holding a pair of 35lbs dumbbells? Yeah, now the feat looks a little more insane. Granted the sheer height isn't on par with what some of the NFL elite have already taped, but none of them did it holding 70lbs. Already considered by many to be a first-round pick based on his size alone, this sort of display (and the willingness to put in the time to make this happen) is improving his draft stock tremendously.
Barring an injury, expect the name Shawn Oakman to be called in the top 10 in the 2016 draft.