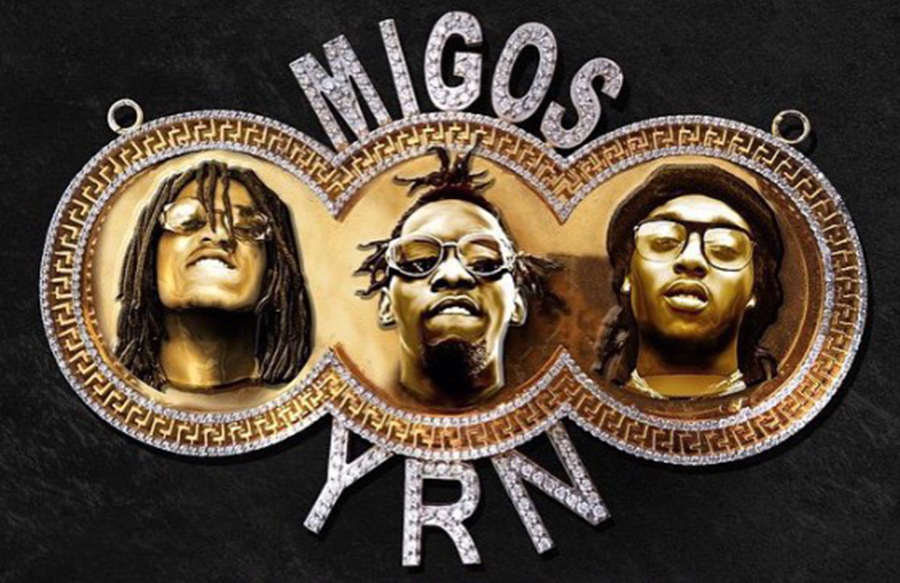 Yung Rich Nation, the debut studio album from Migos, is an introductory glance at a hip hop group that needs no introduction. Throughout a series of mixtapes over the past three years (featuring singles "Versace," "Hannah Montana," and "Fight Night"), the Georgia natives have staked their claim in the rap scene through braggadocious claims of wealth, pursuit of women, and drug distribution. While Quavo, Takeoff, and Offset have hustled to succeed in an increasingly competitive and hostile marketplace (at one point beefing with Glo Gang founder, Chief Keef), their central focus has remained the same: producing catchy hooks that have staying power amongst hip hop heads.
Setting Yung Rich Nation apart from previous projects – such as No Label 1 and No Label 2, and Y.R.N. (Young Rich Niggas) – is a cleaner production from engineers, Honorable C.N.O.T.E. and Murda Beatz. Oftentimes, free mixtapes (used as a promotional vehicle) take on an aimless, rough draft approach that can serve as a detriment to the artist. To the contrary, Yung Rich Nation takes a sleeker approach, locking in at just under an hour (56:30 run time). These well-paced trap sequences provide little fat to be trimmed.
"Memoirs" sets the tone for YRN, a spirited nostalgia trip through the group's origins in the hip hop game. After paying homage to their genre's predecessors (reciting, almost verbatim, the intro to N.W.A. classic "Boyz-n-the-Hood"), Quavo and Offset make sly references to their battles with law enforcement and rival gangs. "Remember the time they shot up my mama house, 12 tried to make it my fault… first time we in Miami, we had a gangsta shootout, Dope in my sock, and we beat the trap out." "Memoirs" functions not only as a tongue-in-cheek summation of the group's mixtape era, but introduces new listeners to the rowdy antics that are central to Migos' character.
It becomes evident that Migos shines when given minimalist beats and room for their trademark chanting-hooks and frenetically paced bars. Tracks "Spray the Champagne," "Playa Playa," and "Gangsta Rap" keep in line with YRN's homecoming celebration theme while delivering the Dirty South-styled production that fans are looking for.
Taking into consideration Migos' trademark independent sound, you have to wonder why Chris Brown and Young Thug's features were necessary on Yung Rich Nation. Brown and Thug each bring a certain amount of attention to the project through their name value, but each deliver phoned-in performances that distract from the overarching style of the album ("Just for Tonight," in particular, features a distinctly awkward contradiction between melodic hook and fast-paced vocals of Quavo and Takeoff). Migos clearly takes pride in their competitive, adversarial path, boasting, "They sayin' Migos better than the Beatles, Paul McCartney, I would like to meet him" on "Street Nigga Sacrifice." Latching onto the success of major label acts like Brown and Thug don't align with their message.
Importantly, the album's energetic, top-heavy track listing sets the stage for "One Time," the raucous club banger featured on Yung Rich Nation. The track, released as a hit single months prior to album release, features aggressive claims from Quavo, Offset, and Takeoff on their ambitions in the rap game, and life after YRN. "N***** biting but ain't gonna say your name, Migos my family, only one gang, I came from the Northside and invaded the A, Start f*cking up the city now we got our own lane."