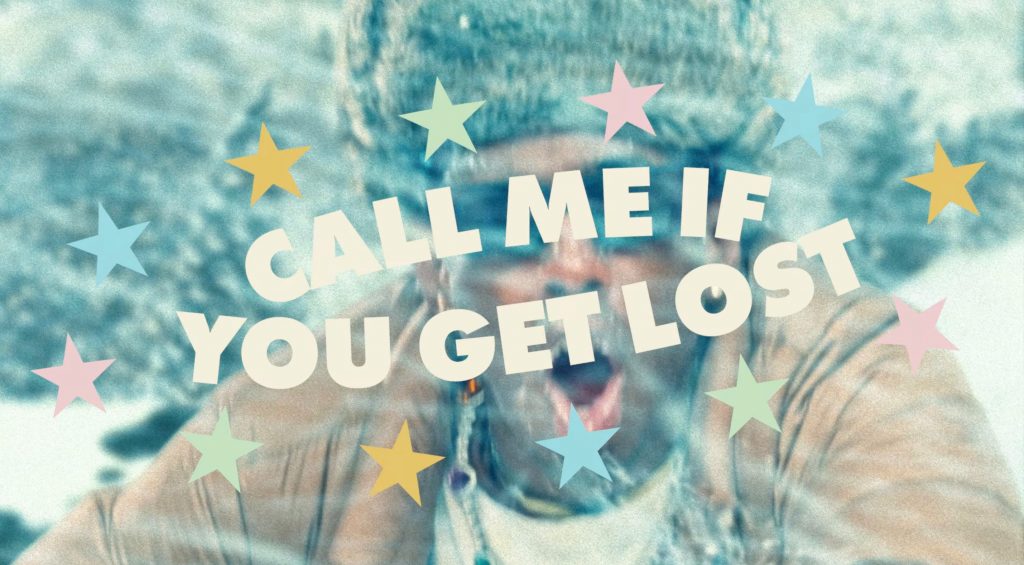 After a stale 2020, a slew of major recording artists came out of hiding to release a bevy of music they've been hoarding making 2021 one of the best years for music in a very long time, especially in hip-hop/rap genre. Some albums hit the mark perfectly and others missed drastically. However, regardless of the criticism of work, it was awesome to see the music industry return with so many major releases that ultimately brought music back to life during the prolonged pandemic.
As we get closer to the Ball dropping in Times Square on New Year's Eve, its time for Hardwood and Hollywood's very own resident musical experts, Ethan Hartley and Patrick McMahon, to break down some of the best and worst albums that released during the calendar year.
Best Overall
Ethan Hartley
CALL ME IF YOU GET LOST by Tyler, The Creator is easily one of the best records of the year for me. It's awesome to see Tyler resort back to his older style of music but still using a lot of the newer sounds he's mastered during his runs on Flower Boy and IGOR. Tyler also does a phenomenal job in unlocking different vocals from one-dimensional artists such as 42 Dugg, NBA Youngboy, and Lil Uzi Vert. Songs such as "LEMONHEAD", "CORSO", "JUGGERNAUT", "RUNITUP", and "SWEET/I THOUGHT YOU WANTED TO DANCE" are some of my favorite of the year. And despite criticism from most, I actually really enjoyed the DJ Drama narration, it helped add its own signature. His rise and improvement, in general, have just been incredible to watch and he needs to be more recognized as one of the biggest and best artists on the planet. This is without a doubt my Grammy pick for Rap Album of the Year and I'm so excited to see what Tyler does in his future.
A runner-up for me would be either DONDA or Hitler Wears Hermes 8.
Patrick McMahon
JPEGMAFIA's fourth studio album, LP! (Offline Version), might just be his best yet as we see Peggy on the top of his game in all facets. The production on this album is some of his best, with beautiful sampling sprinkled on almost every track, and his bars match the production perfectly. Peggy continues to put out some of the most polarizing and quality work in the rap game year after year, and this album is the best I've heard this year. If you haven't heard this yet, be sure to check out the offline version on Bandcamp, which contains one of the best rap songs of the year in "HAZARD DUTY PAY!"

Honorable Mention: Kanye West's Donda
Worst Overall
Ethan
Culture 3 by Migos takes the cake for me easily. Not only did the trio take forever to drop the album, but it has zero replay value whatsoever. Writing the review and having to force myself to listen to this junk was absolutely painful. The beats they used are as basic as they could have been and they had zero chemistry between their verses. But what was even more annoying was how bad some of these lyrics were. "These n***** sweeter than cinnamon" and "Making money eight ways, I'm a squid", are lines that are just factually incorrect. And they aren't even clever because they are incorrect. These are just two of the many examples of what is wrong with this album. It's crazy that Migos used to be one of the better groups in rap and now they've basically fallen off the mountain with the kind of terrible music they've been putting out over the last few years.
My runner-up for the pick would have to be Fighting Demons by Juice WRLD.
Patrick
Boy, Soulja Boy's Swag 4 was a tough listen. The production came off as lazy and uninspired, and Soulja Boy somehow managed to toe the line between being totally on-beat and off-beat. This created some headache-inducing verses, and the hooks lacked anything resembling energy. If you want to listen to some Soulja Boy, stick to the hits, as this was the worst project I've heard all year.

Honorable Mention: Youngboy Never Broke Again's Sincerely, Kentrell
Most Surprising
Ethan
I was never completely sold on the 2020 Grammy Rap Album of the Year nominations, which included the first King Disease record by Nas. I thought it was clear that Alfredo by Freddie Gibbs and The Alchemist should have won. I was extremely disappointed but still happy for Nas that he finally won a Grammy that was long overdue. But I didn't think the record was better than Alfredo. So when it was announced that Nas would drop a second edition of the album, I had very perplexed feelings. To my surprise, Kings Disease 2 was a very well-made album overall. I enjoyed that Nas was able to stick with his typical style flow while rapping over modern instrumental. A lot of the issues with recent Nas projects were his inability to keep a high-level flow as the beats would trend. King Disease 2 eliminated all of that for Nas and this is one of the better albums of 2021.
My honorable mention would be 4Nem by Chief Keef. 
Patrick
My most surprising album of 2021 was BROCKHAMPTON's ROADRUNNER: NEW LIGHT, NEW MACHINE. While the Saturation trilogy is fantastic, I felt like BROCKHAMPTON's last two releases were disappointing and not on the same level as that trilogy, so I didn't have the highest expectations for their 2021 release. However, ROADRUNNER: NEW LIGHT, NEW MACHINE was a strong return to form, as the group created one of the most fun listens of the year. The production was strong, their chemistry was on full display throughout, and guests like Danny Brown and JPEGMAFIA fit right in on their respective tracks.

Honorable Mention: Lil Nas X's MONTERO
Most Disappointing
Ethan 
I honestly can't believe I had to wait three years for this terrible Certified Lover Boy album by Drake. As a former Drake stan, I was really hoping that this could be a potential turnaround in his career after a few lackluster and uneventful albums include Scorpian and Dark Lane Demo Tapes. But that was not the case at all. There are some solid songs on this album such as "Knife Talk", "Papi's Home", and "IMY2". And it is great to see Drake can still make a quality level track when he chooses to. But that's been the biggest issue. It's clear that Drake's effort just simply isn't there as it used to be. I don't know whether it is because he has a son now or because he is more focused on earning money by making music in an easier fashion. It was extremely disappointing to see that this is very likely the new era of Drake's music career.
Another pick I would have had for his category is Slime Language 2 or Faith by Pop Smoke.
Patrick
I had high expectations for Roddy Ricch's Live Life Fast, which followed his smash hit project Please Excuse Me For Being Antisocial. However, his latest project felt like a major step in the wrong direction, as Roddy's vocal performances just didn't reach the same highs as his previous releases. The production was bland at times and didn't add much throughout, and while there were some high points, there were too few of them to make this feel like a worthy follow-up to PEMFBA.

Honorable Mention: Drake's Certified Lover Boy
Best Debut
Ethan 
The Melodic Blue by Baby Keem was an album that really impressed me. I already had high standards going in considering it is his debut album while he is already such a popular name and his connections to Kendrick Lamar. Baby Keem still managed to surpass my expectations and deliver a very nice debut with The Melodic Blue. He also proved that he doesn't need to stay attached to Kendrick's name to stay relevant. It's uplifting and in its own vibe while also being flexible and delivering an emotional aftertaste. I really enjoyed the work on this album and I'm extremely excited to see the music he puts out in the future.
An honorable mention pick would be Genesis Owusu's Smiling With No Teeth.
Patrick
Baby Keem has been one of the hottest names in trap music with his 2019 mixtape DIE FOR MY BITCH and his singles throughout 2020, and The Melodic Blue showed what makes him so buzzworthy. We heard stellar collaborations with some of the hottest rap names over the past five years in Travis Scott and his cousin Kendrick Lamar, countless beat switches, and emotional tracks where Keem lays his soul bare. This was one of my favorite albums in 2021 and it cemented Baby Keem as a name to watch for a long time to come.

Honorable Mention: Genesis Owusu's Smiling with No Teeth
Best Production
Ethan 
Hitler Wears Hermes 8 by Westside Gunn gives a great refreshing feel for the rap industry. What Westside Gunn and the rest of the Griselda provide for the industry is huge and something that people should recognize more. It's much different from the typical trap and guitar instrumentals that continue to be recycled for new works. Griselda's projects are often dark and grimy production that is also mixed with jazz elements. That's exactly what's seen on this two-part album. Both A and B have incredible production from top to bottom and it is one of the highlights on this album. Tracks like "Mariota", "Draymond", "Bash Money", and "Claires Back' are some of the best-produced tracks on Sincerely Adolf. And Side B is just as great with "Hell on Earth Pt. 2", "Celine Dion", "Eddie Kingston", and "Forest Lawn" follow up just as strongly. More recognition needs to be given to the entire group of Griselda.
A runner-up would be La Maquina by Conway the Machine or LP! by JPEGMAFIA. 
Patrick
Man, The Alchemist had an absolutely killer year behind the boards, and the beats on Haram (with Armand Hammer) were a prime example of that. The dark, jazzy, almost sinister instrumentals he provided complemented the rapping of Billy Woods and Elucid perfectly, and it helped create one of the most compelling albums of 2021. The Alchemist showed why he is one of rap's best producers throughout this album, as he helped make Haram a must-listen for any underground rap fans.

Honorable Mention: JPEGMAFIA's LP! (Offline Version)

Most Underrated
Ethan
Not only is Griselda underrated as a group, but Boldy James is THE underrated member of the group. His releases of Bo Jackson and Super Tecmo Bo are some of the best albums of this year. His work with The Alchemist on Super Tecmo Bo continues to prove that they are one of the most underrated duos with the work they've done over the last decade. His highly consistent and cold flows make him one of the better artists in the industry right now. Boldy James should be primed for a huge 2022 with Griselda going to get more recognition as a whole.
Other underrated projects that were released this year were Haram by Armand Hammer, TYRON by Slowthai, and I Lie Here Buried With My Rings and My Dresses by Backxwash.
Patrick
I feel like no one ever mentioned Mick Jenkins' Elephant In the Room when it comes to the best of 2021, but I feel like it deserves to be in that discussion. Mick's rapping throughout this project is really fantastic, and the instrumentals are quite unique. This album had no discussion or hype around it, which is quite the shame, as Mick Jenkins delivered one of the year's best projects as quietly as possible.

Honorable Mention: Mach-Hommy's Balens Cho (Hot Candles)

Best Features
Ethan
This easily goes to Donda by Kanye West. Kanye has proved his entire discography that he can gather some of the largest artists on the planet to come together and help make a work of art. That's been shown on My Beautiful Dark Twisted Fantasy, The College Dropout, The Life of Pablo, Late Registration, and many other of Kanye's projects. Donda is no different as Kanye still brings on some of the biggest artists from all across different sub-genres of rap and different eras. Jay-Z, Playboi Carti, Travis Scott, Young Thug, Kid Cudi, Westside Gunn, Andre 3000, Tyler the Creator, Conway the Machine, Roddy Ricch, Jay Electronica, and The LOX are just some of the artists Kanye manages to bring on Donda. It was truly a wild event to see this album come together and Kanye add another legendary rollout to his resume.
Any sort of runner-up would have to be awarded to CALL ME IF YOU GET LOST by Tyler, the Creator.
Patrick
Could it be anything else other than Donda? Kanye compiled the rap Avengers on this project, and they all delivered. Off the Grid featured fantastic performances from Fivio Foreign and Playboi Carti, Pure Souls had Roddy Ricch blessing our ears with his verse and hook, and Jay Electronica absolutely ate on Jesus Lord. Some of rap's elder statesmen were scattered throughout, with Jay-Z popping in on Jail, Conway the Machine, and Westside Gunn appearing on Keep My Spirit Alive, and The Lox showing out on Jesus Lord, Pt. 2. Oh yeah, and André 3000 delivered one of the best, most emotional verses of the year on Life Of The Party.

Honorable Mention: Westside Gunn's Hitler Wears Hermes 8: Side B
Best Artwork
Ethan
We're all in this Together by Dave is definitely one of my favorite album covers of the year. The abstract pinks and purples create a soft-toned cover. This fits the album well as it follows the themes of mental health and loneliness, themes that can be seen from the cover alone. I also enjoyed how the cover is a painting with an incredible sky and ocean despite similar colors being used. Bonus points for the album being a solid project overall.
Punk by Young Thug is another album with solid cover art overall. But the best album in terms of music quality with a phenomenal cover is By the Time I Get to Phoenix by Injury Reserve.
Patrick
Even though I was disappointed in Young Thug's Punk considering the long wait, the album artwork was gorgeous. Thug pays homage to painter Octavio Ocampo's work "Forever Always" and continued the trend of well-thought-out Thug album artworks. Whatever your thoughts are on the quality of Punk, you can't debate how freaking cool the album art looks.

Honorable Mention: Mach-Hommy's Pray For Haiti
Most Anticipated
Ethan
I've been a fan of Kid Cudi since I was first getting into music in general. His ability to connect in my own life during middle and high school was critical in staying positive during my darker days. I also enjoyed his most recent album Man on the Moon III: The Chosen, so I've been excited for a while when he announced he was dropping Entergalactic next summer. But what really boosted my excitement was that he was dropping another album before that. Whether it is the fourth album to the Man on the Moon series or something completely different, I am always excited for a new Kid Cudi album.
Another artist I am excited to see release a new album is A$Ap Rocky considering he hasn't released an album since 2018. 
Patrick
Any Pusha T project is anticipated, especially following the masterpiece of 2018's DAYTONA. However, when people are saying his 2022 project is album-of-the-year material, and Pusha himself confirms that the album is produced by Kanye AND The Neptunes, it's clear that whatever is coming is special. Pusha T set himself up for high expectations when he said that his new stuff is better than DAYTONA, but I'm hoping he's right.
Honorable Mention: Earl Sweatshirt's Sick!