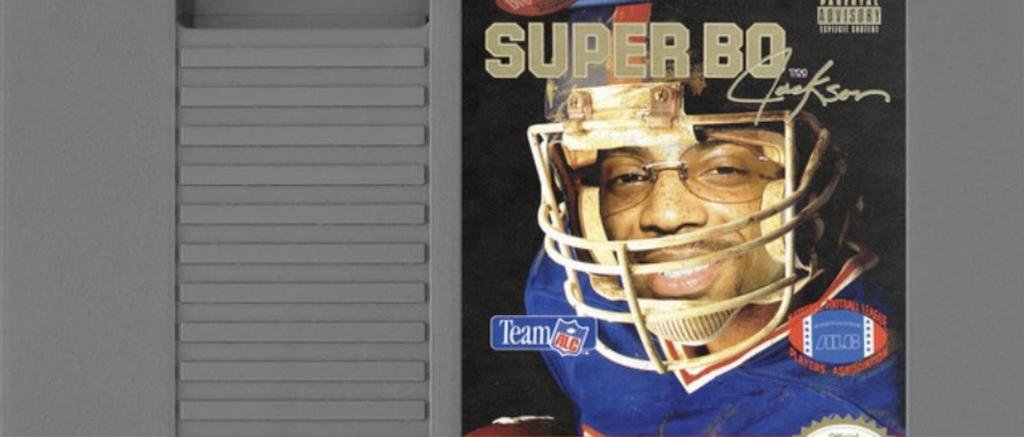 Boldy James & The Alchemist, the dynamic duo that has combined for four critically acclaimed projects, returns with their second release of 2021, Super Tecmo Bo. Following 2013's My 1st Chemistry Set, 2019's Boldface, 2020's The Price of Tea in China, and 2021's Bo Jackson, the Detroit rapper and the Beverly Hills producer link up for the fifth time and showcase the chemistry they have been building over the past eight years. Clocking in at 9 tracks and 26 minutes, and featuring only a singular guest verse (from ICECOLDBISHOP), Super Tecmo Bo puts Boldy center stage, where he utilizes strong production from The Alchemist to deliver standout verse after standout verse. The first four tracks from Super Tecmo Bo appeared on the physical-only deluxe version of Bo Jackson, and the last five tracks have never been heard by the public.
Super Tecmo Bo opens with the short "Level Tipping Scales," which feels like an extension of the sound we heard in Bo Jackson. The menacing instrumental allows Boldy to rap about drug trafficking and the projects. The album's next track, "No Laughing Matter," ironically starts out with a sample of a man laughing, which gives way to an upbeat Alchemist beat. Boldy emphasizes throughout the track that things like his friend losing his case, or how he spent his twenties on the run, are no laughing matter.
The project continues with the booming drums of "Hot Water Tank," which features the album's only guest verse from ICECOLDBISHOP. The guest uses his signature flow and squeaky voice to deliver a solid verse, which provides a nice contrast from Boldy's deep, monotone delivery. Boldy spits even more memorable bars, including one where he says, "They call me Bo Jack because I run pills and I dump base." "Bumps and Bruises," the album's fourth track, shifts the vibe quite a bit with a slow, jazzy instrumental, but Boldy continues with the drug raps and his signature flow. "Great Adventures" follows this track, and it continues the slow, jazz-influenced Alchemist production.
The album's next track, "Moth In The Flame," is easily one of the highlights of this project. Another dark, threatening instrumental is provided by The Alchemist, which has repeated piano notes echoing in the background. Boldy's lyrics echo the theme of the beat, as he dives into telling stories about dope houses and shootouts, creating a hard, emotional track. "300 Fences" continues the themes of dark instrumentals and stories about Boldy's life in Detroit, which continue to be prevalent throughout most of Boldy's projects.
The project continues with the gloomy instrumental of "Guilt," which sees Boldy describing the stories of his various friends and family. Some of them ended up in jail, and others ended up passing away. Super Tecmo Bo ends with another high point in "Francois." The Alchemist provides another head-nodding drum loop, with a looped vocal sample in the background of the track, and Boldy speeds up his flow to match the beat's tempo. Boldy continues establishing the album's themes of personal stories regarding selling drugs, shootouts, and the struggles of friends.
Throughout the entirety of Super Tecmo Bo, Boldy and The Alchemist continue to highlight how well they complement each other and their strength as a duo. The Alchemist provides instrumentals that convey the themes and moods that Boldy raps about in his verses perfectly, which make this project a really enjoyable listen. When I first heard of this release, I assumed it would be a deluxe album to Bo Jackson, but even though it did feel like an extension of this project, it surpassed the expectations of being a simple deluxe.
While I don't think this album quite reaches the consistency and heights that Bo Jackson hit, Super Tecmo Bo is yet another example of both Boldy's strong rapping ability and The Alchemist's ability to create an atmosphere with his beats. This album continues the strong years that both of these artists have had, and I don't have any major complaints with this project. However, I do wish that this project was a bit longer and that it was more consistent throughout. I'd give Super Tecmo Bo a 9.1 out of 10, with my favorite tracks being "Moth In The Flame," "Hot Water Tank," and "Francois." If you enjoyed anything that these artists have dropped in the past two years, I cannot recommend this album enough!