"I was still playing. I never thought I was going to be a coach," says Michael Cheika, head coach of the Australian men's rugby union league as he and his team take a breather at their hotel room in Chicago.
"I never thought about coaching rugby professionally or at all and then one day I got offered the opportunity to go overseas and coach by David Campese who was one of Australia's great players who played with a club in Italy for a while . He asked me if I wanted to go. And I guess because I know the language. I thought to myself, 'You know what, it sounds like a nice holiday; I'll go and check it out.'"
Cheika's nice holiday has fruitioned into an great career coaching the Australian men's national team – The Wallabies –  which is why they're in Chicago. On September 5th, they had a match against USA Rugby at Solider Field.
"And sure enough I enjoyed it. Then the last coach for the Australian team, he resigned about a year ago. I was awarded the honor to come coach Australia, which of course, you don't say no, do you?
While Cheika's career as the head coach of the Australian national team is in its infancy, he has all the expertise now that he is in his 16th year as a coach. Much of his expertise was inherent, stemming from his late playing career where he became someone the younger players looked up to.
"When you're an older player, you tend to get some information from the coaches but then you also have the advantage of being able to teach the younger players and working with them. I was very lucky to play with many international players from that era of Australian Rugby."
"I coached in Italy for a while, then came back to Australia and did my business there as well. And then I somehow ended up with Leinster Rugby in Ireland. From there, I manage to win a few cups. And then I went to Slade Francais."
And when Coach Cheika means business, he means on the field but he's also had some fairly unexpected business ventures outside of rugby union.
"I had a fashion company that is still going on in London and we represented many brands – and a lot of US brands-, mostly denim, that we represented. Victoria Beckham had hers and we represented her brand for a while. It was in the mid-2000s when all that was happening, but it was an interesting business venture."
Cheika reminisces and laughs at the thought of coaching rugby union while representing Posh Spice's brand in a moment of self-reflection. Indeed, he and his players will be doing plenty of that as they head to London in the coming weeks, where they will compete in the 2015 Rugby World Cup. Though Cheika is only in his first year as a coach, he has aspirations for his tight-knit group.
"When we're talking about playing a certain way, its about a clear identity. It's about pride and morals both in and off the field. What we need to do is deliver that consistently throughout all the games. we have a certain way of how we want to attack. what were trying to do is to be us. to be who we aim to be like and if we do that, the success will follow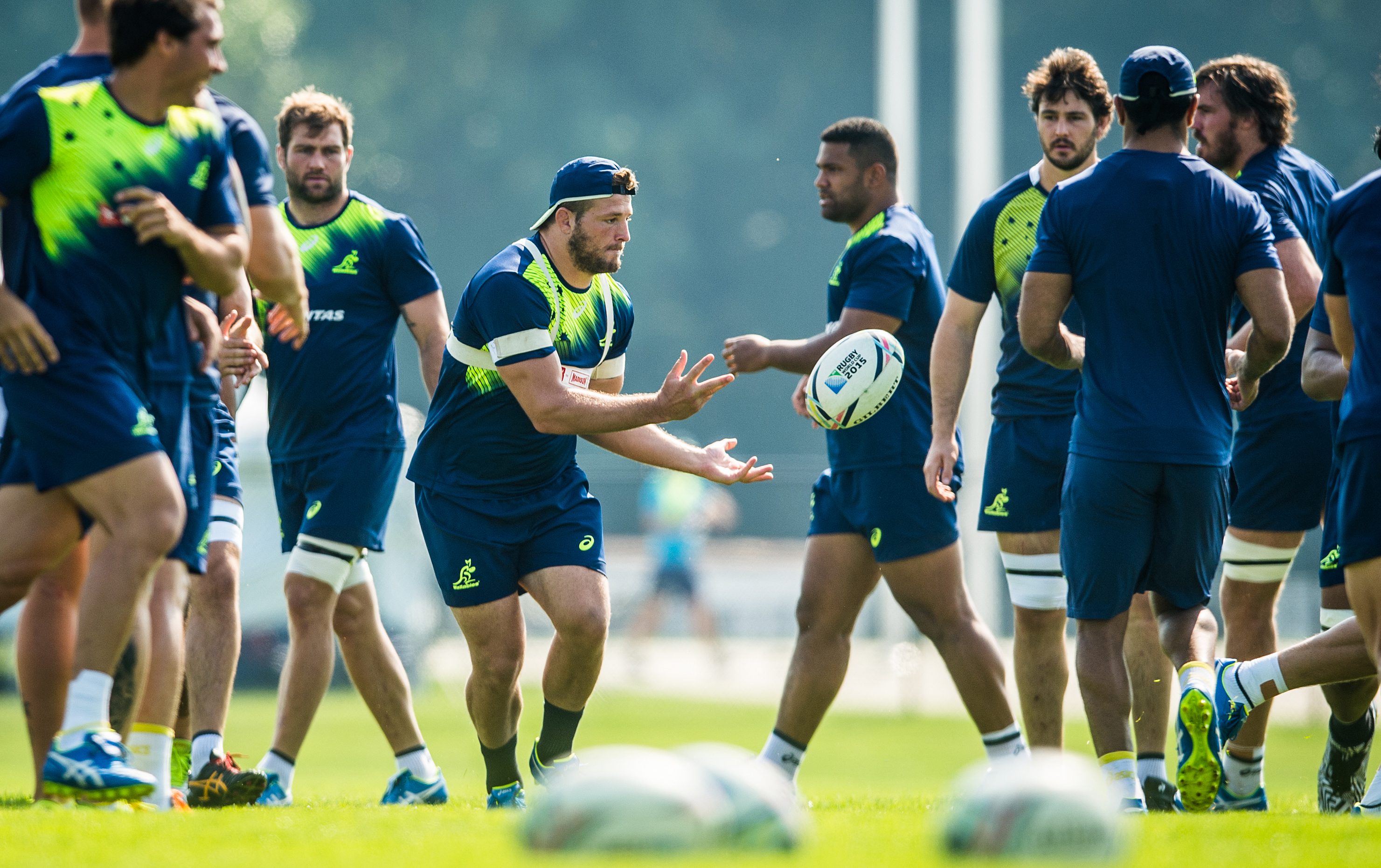 The Australian rugby union team train at the University of Notre Dame, Indiana, USA. Action from a team run at Stinson Rugby Field. Prop James Slipper.
And now we have this almost self-educated team where there's a real focus work ethic, strength, and a clear identity for the team so they have to play a certain way. I really love my teams to be known for playing a certain way, not just playing rugby for the sake of it."
Much of Cheika's philosophy relies on elements outside of the game and extends to all walks of life, which is why he and his team are strong supporters of #pass4prostate. The campaign is a joint venture between USA Rugby, Australia Rugby Union, and Astellas Pharma. Together, they hope to generate up to $125,000 in donations for prostrate cancer research.
Astellas will donate $5 for every tweet that uses the #pass4prostate hashtag until the end of September.