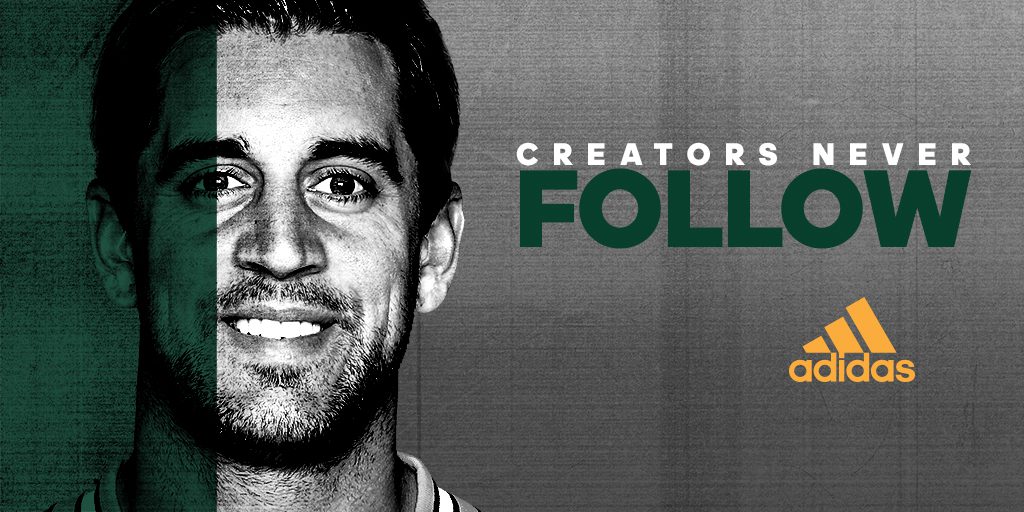 You can't do much better than stack your team with a basketball MVP, and now with Aaron Rodgers, a football MVP, but that's exactly with adidas has done in signing Rodgers, an NFL Super Bowl champion and elite quarterback for the Green Bay Packers.
You'll see more below (courtesy of our friends at adidas), but Rodgers' addition to the team definitely changes things. Most times, quarterbacks have had a tendency to go to Nike, Reebok, and lately, Under Armour. Adidas has been known for being all about speed positions with its adizero and adipower product, but Rodgers, was someone in the Robert Griffin III mold in college and has now become a pocket passer who has defied many odds. This partnership now firmly establishes adidas as a power for athletes across all aspects of football.
adidas today announced a multiyear partnership with reigning NFL MVP, quarterback Aaron Rodgers of the Green Bay Packers.

One of the most prolific passers in league history, Rodgers will debut adidas cleats this season and collaborate on future product development across footwear, training apparel and equipment. The Green Bay signal caller will take a leading role in upcoming adidas brand marketing campaigns.

"adidas is an inspiring brand, with a ton of momentum, and this is something I wanted and needed to be a part of," said Rodgers. "I've set the bar high throughout my career and the opportunity to collaborate and have influence on products and marketing with adidas is a game changer for me."

Known for his big arm and unparalleled accuracy, Rodgers is the all-time leader in NFL passer rating and earned his second MVP award last season after leading the Packers to a 12-4 regular season record, NFC North division title and NFC Championship Game appearance.

"Football is the pinnacle of sports culture in U.S. and the league MVP joining adidas is monumental for our brand," said adidas Group President Mark King. "It's a bold statement when the best player in the biggest sport leaves our competitor to join our team. This is just the start, as we continue to reignite our brand in America."

In addition to playing an integral role in marketing campaigns and the collaboration of future football product development, Rodgers will travel on behalf of adidas to major international sporting events and brand initiatives.

"We are the fastest growing football brand in the industry and partnering with Aaron continues this momentum," said Mark Daniels, Vice President of U.S. Team Sports for adidas. "Aaron is a creator on the field and has built a game different than any other player in the league. His style of play and confidence align perfectly with our brand and he will no doubt help us build on the tremendous energy and vision for adidas Football."

The Green Bay captain has led the Packers to the postseason in each of the last six seasons, including a Super Bowl victory and Super Bowl MVP trophy in 2010. Rodgers earned his first league MVP in 2011 and has been selected to the Pro Bowl four times.

With the signing of Rodgers, adidas continues its on-going focus to partner with the most talented and influential players in football. adidas' growing football roster includes Pro Bowlers DeMarco Murray of the Philadelphia Eagles, Jimmy Graham of the Seattle Seahawks and Von Miller of the Denver Broncos, among others, in addition to six first round picks in the 2015 NFL Draft.