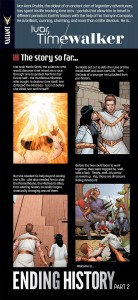 WARNING- The following contains spoilers
My latest edition to the Valiant Comics Weekly series continues the Timewalker's adventures through a number of odd alternate universes to stop The Null, headed by an evil version of Neela from the future attempting to destroy all of existence.
Finding themselves captured by a Roman-esque legion of intelligent dinosaurs, the duo become split. Ivar is incarcerated, doomed to do battle in an arena battle for the pleasure of saurian spectators. Neela is brought directly to Caesar Invictus, leader of the empire.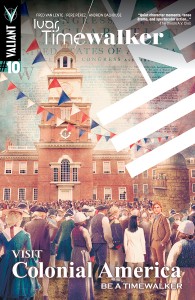 It seems as though the two have met before, and that Neela had been working on a weapon to annihilate the throngs of mammalian barbarians threatening to overthrow him and the rule of the carnivorous creartures. While feigning prior knowledge, she asks that Ivar be spared before inspecting the device undoubtedly designed by her sinister counterpart.
Meanwhile, Ivar befriends Ank, a mighty herbivorous 'herbe' awaiting the same fate. Thrust into the arena with several other inmates, the two are confronted by a large and agitated ape. Thinking quickly, Ivar dispatches the threat in a rather ingenious and quite hysterical manner, only to be presented with more foes.
Again pleading for Ivar's freedom, Neela is led off by one of Caesar's advisers. Seeking to ensure the success of the coming attack, he betrays Neela and reveals an 'herbe' plot to remove the carnivores from the top echelons of society. She makes her escape and rejoins Ivar as the full extent of the evil Neela's weapon comes bearing down on them.
This issue is full of the laughs, action, and science fiction that make Ivar a great comic. Van Lente presents a fantastical world made believable by the depth of detail, and ends the book at a critical moment to instill a desire for more. Art by Pere Perez brings the action to life, never missing a beat during the action sequences.
If you've enjoyed this piece and wish to view my other Valiant Comics Weekly content, please check out my author page. Stay tuned to Pop Culture Spin for the next edition.
Rating: 4/5