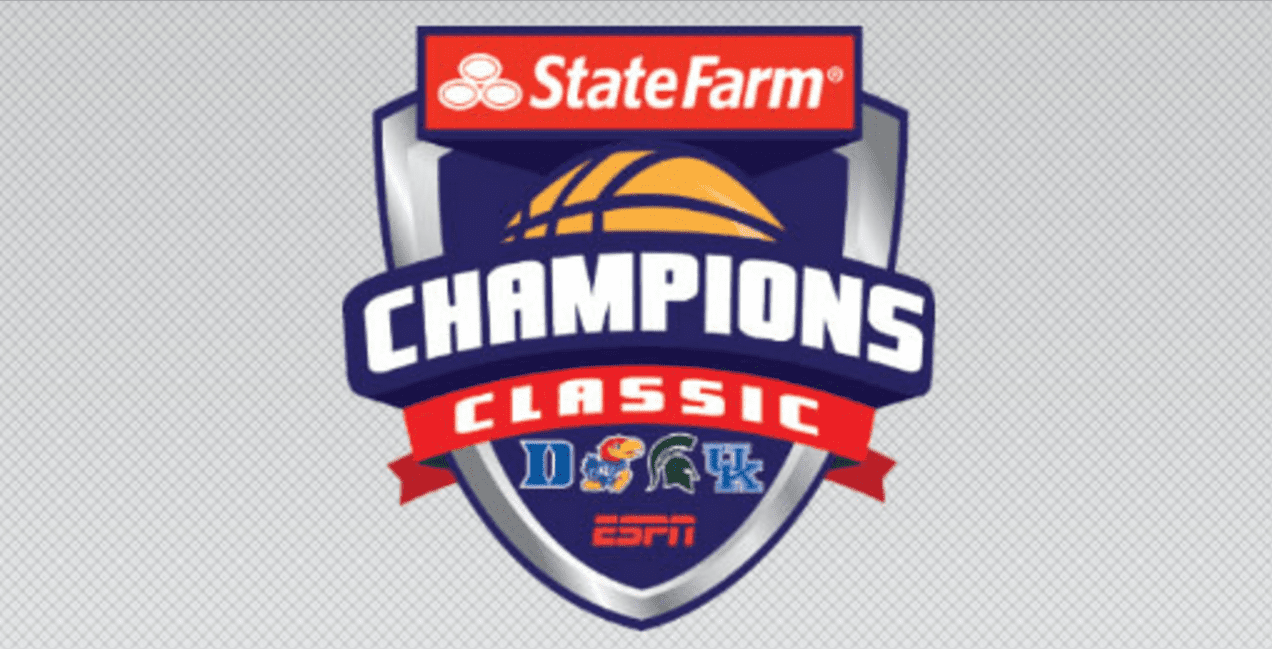 Tuesday night the men's college basketball season kicked off officially in Chicago, with four of the best teams gathering for the annual Champions Classic. This year's lineup lacked for nothing when it came to legacy, fan base, and future stars.
The games kicked off with No. 2 Kentucky taking on No. 5 Duke. Duke took home the National Championship last season thanks to the help of three star freshman. While Jahlil Okafor, Justise Winslow, and Tyus Jones are all playing professionally now, Coach K stocked the shelves pretty well.
Led by Brandon Ingram, Duke collected a solid class of freshman who should compliment returning players like Matt Jones, Amile Jefferson, and last years Final Four darling, Grayson Allen.
Kentucky is known for rolling out one-and-done players and retooling with more. That's exactly what Coach Calipari did this year. Six players were drafted to the NBA from his team last year, leaving several holes on the perimeter and in the paint. Cal brought in potential top-five pick, Jamaal Murray, and fellow potential first-rounder Isaiah Briscoe to fill out the backcourt. Seven-foot tall, Skal Labissiere, the top recruit in the 2015 class looks to be taking control of the paint.
This matchup had all the makings of something great. Instead, it was the role players that shined. Duke star, Grayson Allen, struggled all night to score in the paint over the UK frontline. Coming into the game averaging 27 points a game, Allen could only manage six against the Wildcats. Freshman, Brandon Ingram, didn't fare any better as the  6'9 phenom was in  foul trouble all evening, finihing the game with six points of his own.
Marshall Plumlee kept the Blue Devils in the game early, running off nine points and five rebounds within in the first nine minutes of the play. Plumlee would finish with 12 points and 10 rebounds. Amille Jefferson played with a purpose as well for the Blue Devils. The 6'8 senior put up 16 points and grabbed 15 rebounds as he helped his team stay in in the game, despite the fact that their leading scorer and second-best option were nonexistent.
In the end, Jefferson and Plumlee couldn't hold up against the wave of talent that Kentucky can throw at you.
Tyler Ulis led the Wildcats with 18 points and six assists. The freshman guards, Jamaal Murray and Isiah Briscoe played big as well chipping in 16 and 12 respectively.
Even with Skal Labissiereglued to the bench due to foul trouble, the team was able to excel in the paint. Junior Marcus Lee put up a double-double in his first real time on the court since coming to Lexington.
The game was close for the most part, but in the end Kentucky out-lasted the Blue Devils for the win.
(2) Kentucky 74
(5)

Duke 63

(2-1, 2-0 home)
7:30 PM ET, November 17, 2015
United Center, Chicago, Illinois
| | | | | |
| --- | --- | --- | --- | --- |
| | | 1 | 2 | T |
| #2 | UK | 37 | 37 | 74 |
| #5 | DUKE | 31 | 32 | 63 |
Top Performers
Kentucky: T. Ulis 18 Pts, 4 Reb, 6 Ast, 2 Stl, 1 Blk
Duke: A. Jefferson 16 Pts, 15 Reb
The next match of the night saw the University of Kansas Jayhawks go up against the Michigan State Spartans. This game wasn't full of the star power that the first game contained, but this game featured what many felt were two of the best teams, possibly National Championship teams.
Early on in the game, the Jayhawks dominated the Spartans. Led by point guard, Frank Mason III and his 14 points, Kansas looked at times that they would cruise to an easy win.
Things changed late in the second half. A hard fought game that featured good defense and bad shooting on both sides, came to life when Michigan State went on a run that would cut the deficit down to two. Spartans star, Denzel Valentine, took over at the right time. Shooting 7-20 on the night, Valentine started to play more aggressive in the second half drawing fouls and double teams that led to easy baskets for his teammates.
In the end, the Spartans staged a major comeback to grab a 79-73 win over the Jayhawks.
Valentine would finish the night with 29 points, 12 rebounds, and 12 assists.
Baller Notes
Grayson Allen is not quite ready for prime-time: The Duke sophomore became a household name last season when his 16 points in the National Championship Game sparked the Blue Devils to a win. That game created a bit of a mystique around Allen. That mystique grew stronger when he started off this season strong, averaging 27 points a game, but that was against less talented squads.
This game was supposed to be where he proved that he belonged in the National Player of the Year conversation. He didn't. His lack of explosiveness and ineffectiveness to create his own shot left his game basically neutered. When Allen wasn't getting his shot blocked, he was turning the ball over. Allen finished the game with six points on 2-11 shooting.
Growing Pains: Notably, almost all the Duke freshman struggled tonight from time-to-time. The worst of the bunch was, Brandon Ingram. The Kinston, North Carolina, stand-out came to Durham with a ton of fanfare. In a game featuring an opposing team of players who matched his height and skill, his ability was negated. Brandon struggled with position all night and looked uncomfortable on offense, and  didn't look any better on defense. Ingram fouled out with just six points.
Kentucky's latest group of rock stars fared slightly better. Guards Isaiah Briscoe and Jamal Murray played well. Briscoe showed his worth more early in the first quarter, where Murray lit it up in the second. Briscoe continuously barreled to the basket for 12 points. Murray finished with 16 points.
The diamond of Big Blue Nation's recruiting class, Skal Labissiere managed seven points, but like Ingram, he couldn't stay on the court. Skal fouled out in the second half after making little impact.
Today is your day sir: After playing years behind his brothers and five-star recruits, Marshall Plumlee finally got his chance to make a name for himself. In the first nine minutes of the game, with Duke struggling to find points, Plumlee scored nine keeping his team competitive. To put that in perspective, the fifth-year senior's previous game-high was 11 points.
Plumlee ended the game with 12 points and 10 rebounds. Mr. Plumlee, this Bud is for you. If you're of age.
(4)

Kansas 73

(1-1, 0-0 away)
(13)

Michigan State 79

(2-0, 1-0 home)
10:21 PM ET, November 17, 2015
United Center, Chicago, Illinois
| | | | | |
| --- | --- | --- | --- | --- |
| | | 1 | 2 | T |
| #4 | KU | 41 | 32 | 73 |
| #13 | MSU | 35 | 44 | 79 |
Top Performers
Kansas: P. Ellis 21 Pts, 6 Reb, 1 Stl
Michigan State: D. Valentine 29 Pts, 12 Reb, 12 Ast