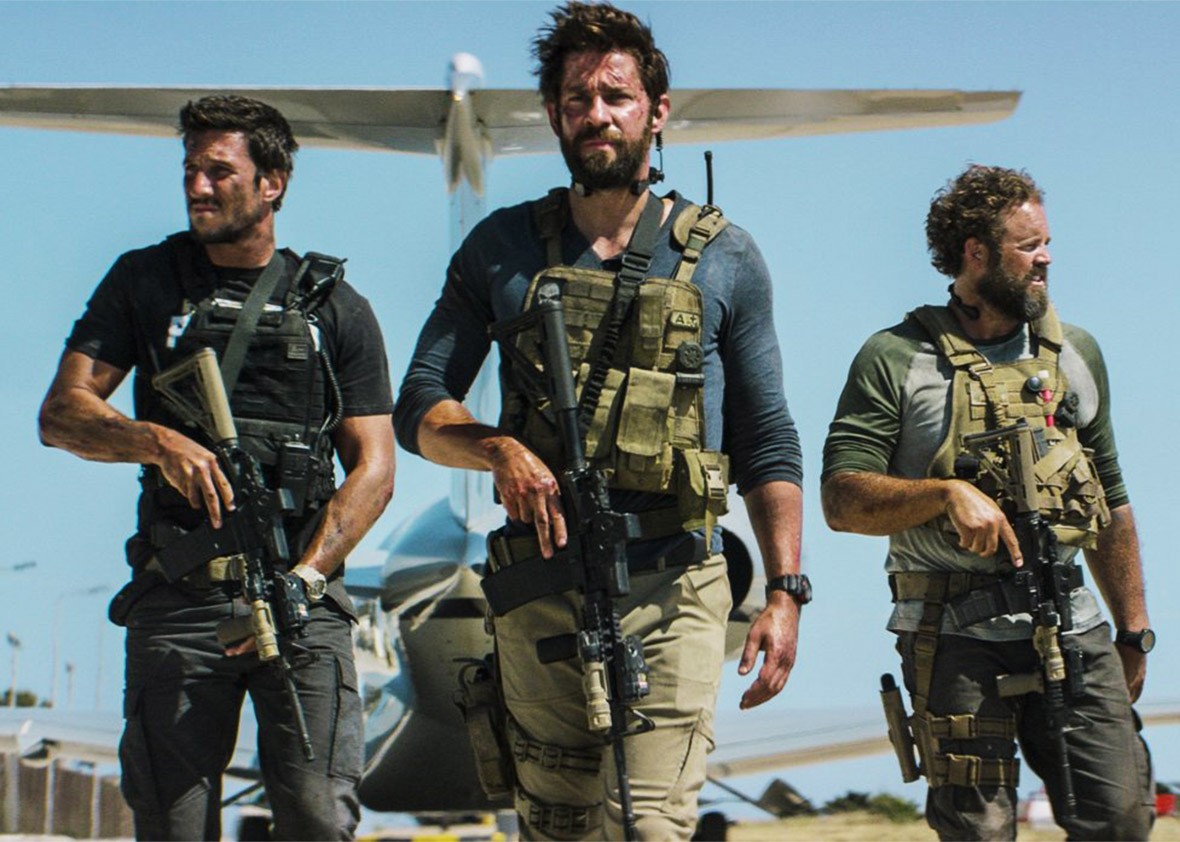 If you enjoyed military films such as Lone Survivor, American Sniper, or Act of Valor, then chances are you will enjoy 13 Hours: The Secret Soldiers of Benghazi.
The subject of this review, 13 Hours: The Secret Soldiers of Benghazi is a new thriller movie by director Michael Bay. The ensemble cast includes James Badge Dale, John Krasinski, Max Martini, Toby Stephens, Pablo Schreiber, David Denman, Dominic Fumusa, and Freddie Stroma. It is based on the book 13 Hours by Mitchell Zuckoff and tells the story of six members of a security team who fought to defend the CIA annex following a terrorist attack on an American diplomatic compound on September 11, 2012.
The team, consisting of three US Marines, two Navy SEALS, and an Army Ranger, held off Libyan forces until another QRF (Quick Reaction Force) team arrived to assist them. The attack on the compound as well as the annex left four deceased – two CIA operatives, Tyrone S. Woods and Glen Doherty, Information Officer Sean Smith, and US Ambassador J. Christopher Stevens. This movie explains the tragedy of what occurred and tells the tale of the heroes who did their best to do the right thing.
This military film has received mixed reviews with some critics praising its acting, direction, and action sequences, while others felt it did not deliver an accurate recollection of the 2012 Benghazi attack. Bay's project is recommended for those viewers who enjoy a gripping action installment that will keep you engaged for its entirety.
Overall, 13 Hours: The Secret Soldiers of Benghazi is a riveting picture with explosive action sequences and there are not any slow transitions or scenes throughout the film. It is rated R for strong combat violence throughout, bloody images, and violence – which it earns by showing the guts that come with the territory of fighting off enemies against a US compound. Some of the scenes are not for the faint of heart, that is to be sure. Nevertheless, the violence is less mindless and chaotic than normal Bay action sequences. In this movie, its purpose is revealing the danger and madness involved in war bloodshed.
Beyond this, 13 Hours: The Secret Soldiers of Benghazi is recommended for the purposes of seeing Krasinski and others act against their normal tendencies. Krasinski is typically comedic and known for his television role on the American version of The Office, a totally different vibe than his work here. This cinematic piece also tells more of a story than a usual Michael Bay movie.