We'll start out in our happy place – a non vertiginous place that most likely consists of a lilac-scented meadow and a baby fawn with Japanese anime eyes sipping water out of a brook. Idyllic. Serene. Varicolored.
A place that's far, far away from the heinous, dizzying, slaughterhouse-scene that took place in Oklahoma City where the Thunder decided to make a human sacrifice out of the Dallas Mavericks on Saturday night.
No, this wasn't Game 1 of Western Conference between a third seed and sixth seed team: this was a shameless snuff film where the baby fawn with the tear-filled eyes was ripped to shreds by Kevin Durant and Russell Westbrook in front of a bombastic crowd of thousands (and millions more who tuned in on ESPN).
The Mavericks are the dark horse of the playoffs, having barely slipped in past the guards in order to snag the sixth seed in the Western Conference standings, but that's no excuse for their 108-70 loss to the dominant Thunder. Every single flaw in Mavericks head coach Rick Carlisle's line up was highlighted by a trillion and a half from the get-go, which was anxiously cringe-worthy especially to Mavs fans and followers who know that the coach is usually rather Argus-eyed when it comes to his players. But it was his soft spot for certain players that ended up being his downfall and caused an orgy of suck from the first minute onward.
Carlisle went small with his starters, which was the first sign of the quixotic apocalypse, putting all his faith on J.J. Barea. Given, Barea has been on the roll of his career, scoring 20-plus points in four straight games before missing two of the final three regular season games because of a sore goddamn groin.
Absent from the starting line up was rookie Justin Anderson, a Simba-sized vacancy that caused Mavericks observers to tense up enough to turn coal into diamonds by way of rectal clinching.
Mavericks dug themselves a quick 0-9 hole (or should I say grave? I feel I haven't been stingy enough) until Deron Williams was able to finally get Dallas on the board. That was just a laughable foreshadow of the night to come.
The Mavs scored 33 points on 26.2 percent shooting from the field and were 0-of-8 from the three-point range during the first half. Yes, they couldn't hit water if they fell out of a fucking boat in the middle of the Pacific Ocean where Carlisle stranded them. I don't know it's the Pacific Ocean, just go with it. And Dirk Nowitzki put up almost half of those points alone.
The Thunder were making damn sure the Mavs couldn't get anything done on the offensive side of the floor with Durant treating Dallas' lineup like a 13-year-old boy who just discovered his genitals.
As odd as it sounds, it could have been worse since OKC was only 7-of-19 from the three-point range, but it was Durant and Westbrook who made their team look stronger during that atrociously broken first half.
The fawn was barely breathing during the third when the Mavericks managed to close the gap by, oh, 26 points before the Thunder decided to go on a 21-9 run at the end of the third. When Durant sat with 4:43 remaining in the third, both he and Westbrook had managed to outscore the Mavericks by themselves. Fun times.
And by the fourth, that fawn was clearly dead. Cold dead. Bambi's mom type of dead dead.
This isn't the same team from 2011 Championship parade. This isn't even the eighth-seeded team who two years ago gave the San Antonio Spurs a wild run for their money and pushed seven games out of them during the first round of the 2013-14 NBA playoffs.
Injuries continue to plague the lineup now that Barea, who left the game after re-aggravating his groin, will probably be sitting out Game 2 on Monday night with Chandler Parsons and David Lee (who were caught partying with Amy Schumer and Mark Cuban after the game – HEY, THIS IS NO TIME FOR THAT NOW, DO NOT TAINT AMY WITH YOUR SUCK IT'S JUST NOT FAIR TO HER).
Good news?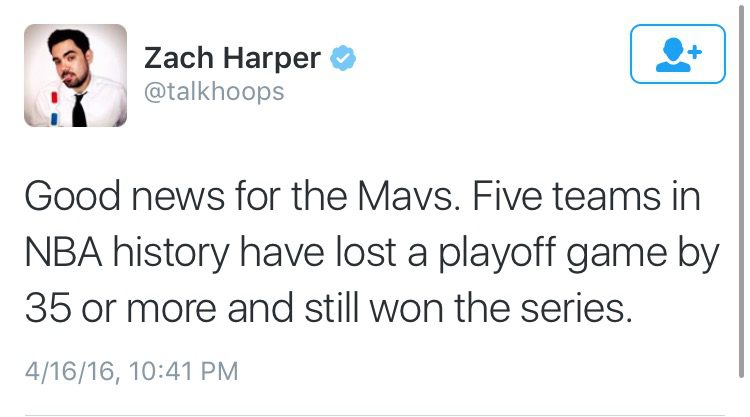 Now for more bad news because the NBA Gods hate us that hard?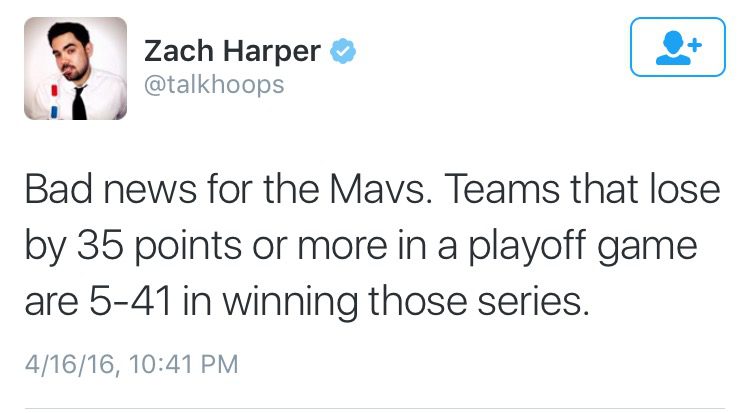 It's not favorable, or even realistic, but yes – there is a chance.
Okay, I'm just gonna go back to my happy place – only now, a gigantic liquor store has replaced the scenic meadow, because that's way fucking better.
Dallas Mavericks (0-1)
Basic Box Score Stats
Starters
MP
FG
FGA
FG%
3P
3PA
3P%
FT
FTA
FT%
ORB
DRB
TRB
AST
STL
BLK
TOV
PF
PTS
Wesley Matthews
29:21
3
10
.300
1
6
.167
0
0
0
2
2
1
1
0
0
4
7
Dirk Nowitzki
25:19
7
15
.467
0
0
4
4
1.000
0
4
4
0
0
0
2
2
18
Deron Williams
21:41
1
9
.111
0
2
.000
0
0
0
1
1
3
0
0
2
4
2
J.J. Barea
16:14
1
6
.167
0
2
.000
0
0
0
1
1
3
0
0
2
1
2
Salah Mejri
15:32
0
0
0
0
1
4
.250
1
3
4
0
0
0
0
2
1
Reserves
MP
FG
FGA
FG%
3P
3PA
3P%
FT
FTA
FT%
ORB
DRB
TRB
AST
STL
BLK
TOV
PF
PTS
Raymond Felton
30:24
2
10
.200
1
2
.500
2
2
1.000
0
3
3
2
1
0
1
2
7
Zaza Pachulia
20:36
1
6
.167
0
0
3
4
.750
4
2
6
2
2
0
1
1
5
Dwight Powell
20:11
3
8
.375
0
0
2
3
.667
3
3
6
1
0
0
0
1
8
Justin Anderson
18:27
2
5
.400
0
0
1
2
.500
0
3
3
2
0
0
1
0
5
Devin Harris
18:22
2
6
.333
1
4
.250
0
1
.000
0
1
1
1
0
0
1
3
5
Charlie Villanueva
13:24
2
8
.250
1
2
.500
2
2
1.000
0
1
1
1
0
0
0
2
7
JaVale McGee
10:29
1
1
1.000
0
0
1
4
.250
1
0
1
0
1
0
2
3
3
Team Totals
240
25
84
.298
4
18
.222
16
26
.615
9
24
33
16
5
0
12
25
70
Oklahoma City Thunder (1-0)
Basic Box Score Stats
Starters
MP
FG
FGA
FG%
3P
3PA
3P%
FT
FTA
FT%
ORB
DRB
TRB
AST
STL
BLK
TOV
PF
PTS
Russell Westbrook
29:46
7
15
.467
2
7
.286
8
8
1.000
1
4
5
11
1
0
5
1
24
Serge Ibaka
27:45
7
8
.875
3
3
1.000
0
0
1
8
9
0
1
3
0
1
17
Kevin Durant
26:35
7
15
.467
2
6
.333
7
7
1.000
1
4
5
5
0
0
3
3
23
Steven Adams
22:30
2
4
.500
0
0
0
1
.000
2
5
7
0
1
1
2
4
4
Andre Roberson
19:31
1
4
.250
0
3
.000
2
4
.500
0
5
5
1
0
1
1
2
4
Reserves
MP
FG
FGA
FG%
3P
3PA
3P%
FT
FTA
FT%
ORB
DRB
TRB
AST
STL
BLK
TOV
PF
PTS
Dion Waiters
27:54
1
9
.111
1
5
.200
2
2
1.000
0
2
2
3
2
0
0
1
5
Enes Kanter
23:48
7
10
.700
0
1
.000
2
3
.667
4
9
13
1
0
0
2
3
16
Randy Foye
17:52
1
6
.167
1
4
.250
0
0
0
2
2
1
0
1
3
3
3
Kyle Singler
13:47
2
3
.667
2
2
1.000
0
0
1
2
3
0
0
0
0
2
6
Anthony Morrow
10:50
1
3
.333
1
3
.333
3
3
1.000
0
1
1
0
0
0
0
1
6
Nick Collison
8:20
0
1
.000
0
0
0
0
2
0
2
1
2
0
1
2
0
Josh Huestis
7:46
0
2
.000
0
1
.000
0
0
1
0
1
0
0
0
0
1
0
Nazr Mohammed
3:36
0
0
0
0
0
0
1
0
1
0
0
0
1
1
0
Team Totals
240
36
80
.450
12
35
.343
24
28
.857
14
42
56
23
7
6
18
25
108