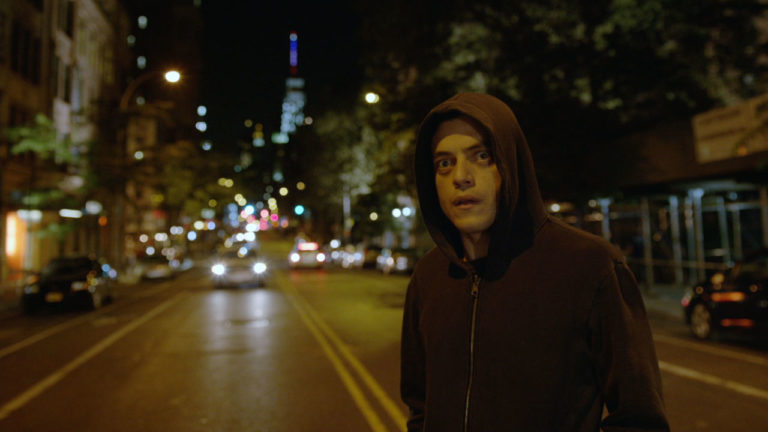 Mr. Robot begins its redemption course here… After back-to-back memorable episodes for all the wrong reasons, we finally have a return to form for the USA hit. Featuring Elliot is a quality start for a great installment, something that was lacking last week. And even though Elliot's mental creation of a routine was a terrible, overly deceptive disguise to the audience, this episode does the best possible job of damage control relating to that error. I could've gone without seeing Elliot's ass, but life's about picking battles, I suppose.
Actually seeing Elliot behind bars with Leon provided intriguing moments, and this left me with a clear takeaway. Mr. Robot should've either gone all-in on one of two plot points – Ray being real and his illicit website acting as a purely evil force for Elliot to eliminate, or Elliot being behind bars and the audience spending that time with him. I say this because the show was operating wonderfully when Elliot versus Ray became Mr. Robot's central battle, and since watching how Elliot managed his time with dangerous criminals would've been fascinating.
Instead the show opted for an awkward, half-ass blend of the two, a development that left no winners. Alas, though, it's time to forgive and move on. This is made easier when we witness a touching and reaffirming moment between Elliot and his mother. Her lack of a response doesn't change how big of a step that was for our protagonist. For all we know she didn't even hear him, and maybe she's so forgone that she doesn't even know she has a son. It still made for a tremendous scene.
Let's take a moment to acknowledge how awesome B.D. Wong is as Whiterose. This is a character who is sometimes overlooked because of inconsistent screen time, but Wong commands Whiterose with utter precision and brilliance during every scene. Whiterose is arguably the most intriguing personality Mr. Robot offers, right up there with Elliot.
All isn't well with f-society. They don't seem to have the same aura of invincibility as during Season 1. Are they slipping? I wouldn't necessarily go that far. A better summary would be that there have been unforeseen consequences as a result of Season's 1 hack, and a variety of factors (Romero's death, Elliot's incarceration, and more) have prevented the team from gaining traction. The mental state of Elliot can also be thrown into this mix. As he prepares to meet with the Dark Army, his stability hangs by a thread.
Speaking of losing stability, Angela needs to be checked on. There should be considerable fear that she's landed herself in over her head. She's not a hacker and she's not a criminal (at least that's our perception – of course she's been hacking and engaging in criminal acts lately), yet the more she assists f-society, the greater the chances are of her entering a situation that she can't escape. This walls closing in feeling grows after a visit from Dom.
Overall, this episode marks a needed change of pace for Mr. Robot. It took me back the Season 1 days when the show had an addicting vibe and grew into that show that you'd be excited to tell your friends about. And when Joanna appeared in the final scene with a "Hello, Elliot," I was genuinely left with excitement for the next episode. Welcome back, Mr. Robot. I'm glad we could fix our relationship without parting ways.