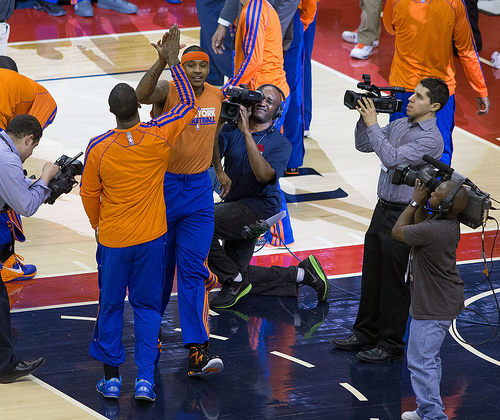 Carmelo Anthony is not with the shenanigans. While Phil Jackson has been busy cowering from the media regarding Carmelo's trade speculation Carmelo has been doing all his talking on the court. The last public statement Jackson made was on December 27, 2016 when he tweeted his breakup with Jeannie Buss.
— Phil Jackson (@PhilJackson11) December 28, 2016
To find his last basketball-related public statement you'd have to go back even further to early December when he clarified his LeBron James posse comments and chided Carmelo for "stalling" the offense. Despite the silence Jackson has been loud and clear about moving his star forward for pennies on the dollar.
The Knicks have been loudly shopping Carmelo around, engaging the Cavaliers, Clippers and Celtics in trade talks. Up to this point those trade talks have amounted to nothing. The Cavs seem the most intrigued as they are the only team that is still talking to the Knicks, but unwilling to include Kevin Love in a potential deal. While all of this has been going on Carmelo has put together quite a start to 2017. The team may be in its annual January freefall, but it is not because of their aging star.
For the month of January Carmelo averaged 25.4 points while shooting 46.9-percent from the field and 40.8-percent from beyond the arc per Basketball-Reference. He scored 25 or more points in ten of the team's 17 games. Despite the strong play the Knicks were an impotent 5-12 for the month. The poor performance can credited to the fact Kristaps Porzingis missed seven games with a sore Achilles during that stretch. If nothing else is clear with this Knicks team it is that Carmelo is far from the problem here.
That's not to say the Knicks should not move on from Carmelo and toss the keys to Porzingis, they should have done that already. Jackson finally seems determined, but trading away a player like Carmelo at a clearance price is idiotic to say the least. The Clippers have already come out and said Chris Paul, Blake Griffin, DeAndre Jordan and J.J. Redick are off the table. The Cavs have rebuffed any talks that involve the word "Love" and the Celtics most likely chuckled before thinking about including that Nets pick.
It's obvious the rest of the league knows the Knicks front office has no leverage including Carmelo. That's what makes his recent tear so confusing. Is he making one final plea to stay or simply raising the price of the brick? The general consensus on Carmelo is that he is past his prime and not worth the price. Maybe this is Carmelo shutting those Twitter trolls and anonymous league executives up. His college coach and best known supporter Jim Boeheim had this to say about his former player.
"Carmelo is still a high-level player. The Knicks make him get his own shot every time. They just give him the ball and stand there, and they blame it all on Carmelo. Well, after you give him the ball and stand there, what's he supposed to do?

I watched that game (referencing Carmelo's 45-point explosion against the Hawks in last Sunday's 4 OT thriller). He made five shots in a row that nobody can make. Nobody. Five shots. In a row. To get them into overtime. And the thing is, Carmelo gets no calls. He's so strong, the refs just kind of let it go."
Boeheim brings up a valid sticking point every Carmelo advocate brings up. Is his defense average to atrocious 90-percent of the time? Absolutely. Offensively he is a savant.
There is no other way someone supplied with such drek can continue to pour in 20-plus points a night. Only a handful of guys can pour it in like him on a nightly basis. And in case everyone forgot scoring 20 to 25 points every night in the NBA is not easy.
The Knicks have failed to supply Carmelo with the type of help LeBron, Chris Paul, and Dwyane Wade have had although most of that has to do with Carmelo's impatience in coming to New York. Had he waited out the lockout and signed the Knicks in the offseason of 2011 the nucleus of Amar'e Stoudemire, Wilson Chandler, Danilo Gallinari and Carmelo would have certainly been good enough to make the playoffs every year.
If Carmelo is indeed ready to go he has done a phenomenal job at playing coy. When repeatedly asked about waiving his no-trade clause his response has been the same.
"I hear the new report every day. Every day is a new team. 'Melo said this, Melo said that.' Melo hasn't said anything yet. That's what I will say. Melo hasn't said anything yet."
The only thing Carmelo has said has been through cryptic Instagram posts that suggest he is not willing to leave. While jumping the sunken ship of the Knicks for golden pastures in Cleveland or sunny skies of LA sounds enticing, Carmelo has said that his decision to stay is not strictly basketball driven.
"That's more about what I care about, my family. My son being comfortable in New York at an age now where he's really getting an opportunity to understand being in New York and having a home there and having friends there. My wife working there and having her opportunities there. I think about that more so than my decision for my career.

At the end of the day, it will come down to my decision. But I think more about my decision and what they're going to have to go through if anything would happen."
With all things considered it looks like Carmelo wants to stay. The Cavs are the remaining team in talks with the Knicks and plans for a "Big 4" of their own may be enticing to Carmelo especially with LeBron being in the mix. Joining the ever-growing arms race between the Cavs and Warriors would certainly add excitement to the inevitable finals rubber match. It would allow Olympic Melo–the best version of Carmelo–to make a cameo. All of that sounds good in theory. In reality? Carmelo Anthony will be in New York long after Phil Jackson skips town.