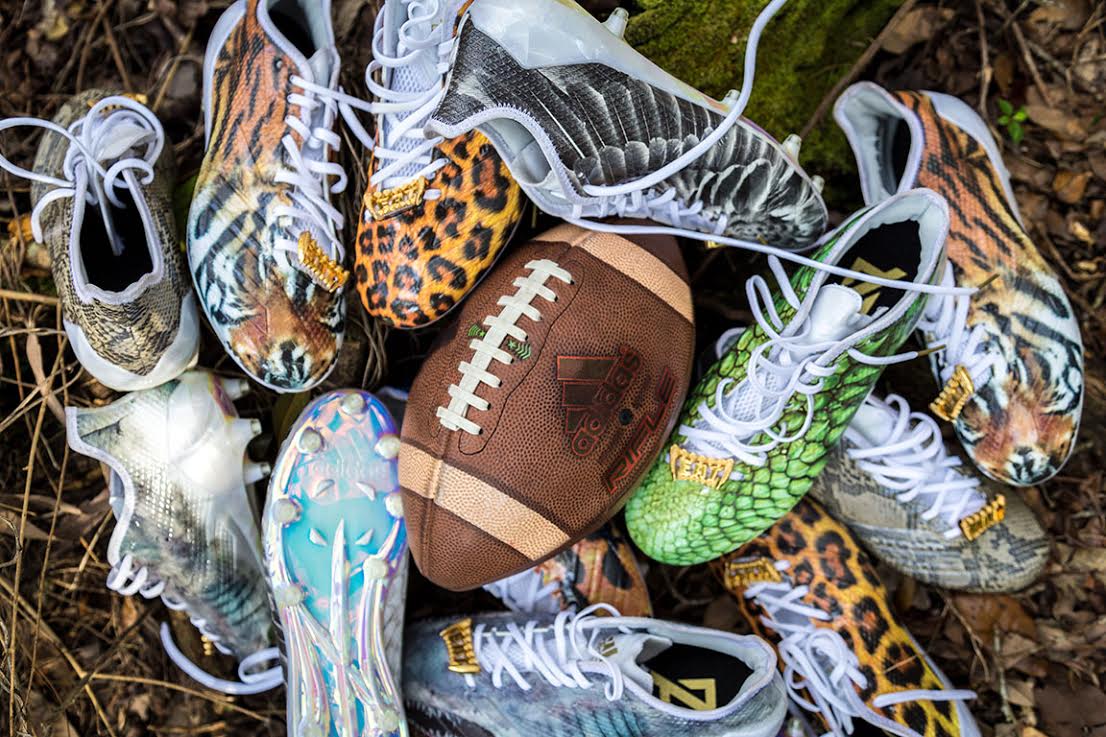 Brought to you by our friends at adidas.
adidas recently unveiled the 2017 Uncaged Collection, featuring the adizero 5-Star 6.0 and FREAK x KEVLAR® football cleats. The new collection features a Cheetah, Dragon, Falcon, Lion, Mutant, Shark, Snake and Tiger.
Designed for the elite player, this new Uncaged collection represents the traits and characteristics of a variety of unique and distinct animals so that players can uncage their inner personas and on-field mindsets as they hit the gridiron.
Pushing the boundaries of manufacturing techniques, adidas designers created high-definition, digitally printed graphics that bring these animals to life like never before.
Each cleat is highlighted with "EAT" lace jewels for game changing playmakers to add to the intimidation factor on the field.
The Uncaged adizero 5-Star 6.0 (Cheetah, Dragon, Lion, Falcon, Mutant, Shark, Snake, Tiger)
Designed for speed and built for playmakers, the adizero is lighter than any competitor cleat. The Uncaged adizero 5-Star 6.0 is fabricated from a lightweight, flexible a SPRINTSKIN for added durability. The new lightweight single-construction SPRINTFRAME plate features an external heel counter and strategically placed SPRINTSTUDS, along with a forefoot rotational traction zone for the optimum blend of speed and traction.
The Uncaged FREAK x KEVLAR® (Dragon, Lion, Shark)
Faster than the competition and engineered for the most intimidating players on the field. With a unique silhouette designed to provide mid-cut support with a low-cut feel, the Uncaged FREAK x KEVLAR® is constructed from a lightweight, flexible SPRINTSKIN and features KEVLAR® woven into the upper for added durability. An all-new RAZORFRAME, features strategically placed SPRINTSTUDS and a new torsion system with forefoot carbonfiber for peak performance and multi-directional strength and traction.
The 2017 Uncaged adizero 5-Star 6.0 cleats are now available for $120 each and the Uncaged FREAK x KEVLAR® are now available for $130 each at adidas.com