Hey friends, welcome to "Sonny Says …" my brand new mailbag column here at Hardwood and Hollywood. I've assigned some of my friends, family and acquaintances to throw some Sports and Pop Culture questions my way for me to answer every once in a while, and between today and next Friday, I'll be answering the first batch of questions in a two-part "Sonny Says …" premiere! Let's get to it!
Collin – "Who was more fun to watch play, Stephen Curry last season or Russell Westbrook this season?" 
This is the question that inspired the "Sonny Says …" series, so if you learn to fall in love with this column you have my friend Collin to thank. If you hate it, or if you have been annoyed by my constant begging for questions via Twitter and/or Facebook, direct all of your venom his way. Thank you. 
I have no personal biases against either player. In fact, I would probably go as far as saying that aside from my love LeBron James, Curry and Westbrook are currently and have been my two favorite NBA superstars for the last half decade, and their respective seasons in question, 15-16 Curry and 16-17 Westbrook, are both on the short list of the most fun individual seasons any player has had in my lifetime as a a serious NBA fan.
The first thing I did was decide that ignoring any sort of individual statistical argument that anyone could make for either player having a "better" season than the other would help to prevent a cloudy judgment. This after all is an evaluation of the entertainment value of each of the two players, and not their MVP credentials. That means Westbrook's triple double chase and Curry's obliteration of his own single-season three-point shooting records are irrelevant … at least those numbers are. Their style of play and how that style lent/lends itself to the pursuit of those milestones is what I'm looking at.
If we're simply taking into consideration the aesthetics of the way each of the two played in those respective seasons, all this boils down to is whether one prefers to watch a destructive force of nature or a dazzling magician on the basketball court.
As you may or may not know, I've twice compared Westbrook to Tony Montana in columns, and I steadfastly believe that there hasn't ever been a more accurate comparison between an NBA player and a fictional movie character. Every night Russ teaches a master class in how to excel in the NBA through sheer desire, force of personality, a nasty competitive streak and a never-failing motor (that sumbitch doesn't sputter or stall or malfunction in any way). He willingly puts his own well-being on the line every game, completely content with taking numerous bullets as long as he's mowing down the opposition in the process.
The way Russ does everything scares the hell out of me; it's brutal and violent, even the parts that shouldn't be. When Russ drives into a thousand defenders at warp speed and then whips a perfectly placed bullet pass to an open shooter in the corner, it makes me wince because I can't imagine moving so fast and fearlessly on a basketball floor. When Russ reverse bungee-jumps into a crowd and pulls down a rebound over big bodies and long arms, and then proceeds to sprint-dribble up the court until he stops on an absolute dime and drills a mid-range transition jumper, I'm afraid for his ankles and legs and knees and every muscle and bone and piece of his body that is impacted when he runs and jumps and slams on the breaks so abruptly. But this whole experience is like a roller coaster … you love the thrill of watching Russell Westbrook.
BUT, as much as I love watching Russell Westbrook, his season doesn't rival Steph's in terms of pure entertainment value. And here's how I know this; just one year and two weeks ago, firmly in the moment, I wrote the following two things about Curry:
"You know how everyone talks about the buzz in the arena when you're watching Curry warm up? That's a real thing. As soon as the Warriors came out of the tunnel for warm-ups before the game my girlfriend immediately asked me 'Where's Curry?' She's not a Curry fan, nor is she a basketball fan like I am, but because of me she's seen enough of Curry and heard enough about him to know that he's can't miss at all times. And once the game started it was no different. Whether you've made the commitment to do so or not, your eyes are glued to Curry the entire time he's on the floor because watching him is what it must be like to take in a Picasso painting. It's like watching a performance of some sort at the highest possible level of mastery. It's as if he was put on earth to do this one particular thing; nobody more skilled, more confident in one self or more equipped to play the game of basketball than Stephen Curry was."
"An individual who is quite possibly the most entertaining basketball player of our generation; an offensive savant who makes teammates better and puts the fear of God into opposing defenses. A certified late-game killer who doubles as the most underrated passer in the league, triples as the league's best ball-handler and quadruples as the best shooter who has ever stepped on a professional basketball court." 
It's official: 2015-16 Stephen Curry was more fun than 2016-17 Russell Westbrook.
Tyler – "How does one score a date with a celebrity? Specifically Emma Watson."
I know this is the first edition of "Sonny Says …" and it still isn't totally clear how this thing works, but I'm not sure how it got mistaken for a dating column, but evidently I bear a strong resemblance to Hitch, and now I need to concoct a stratagem for my dear friend Tyler to woo 26-year-old British actress whose movies have grossed something silly like a billion dollars at the box office over her career. Not an easy feat.
The first thing you need to do is do a ton of homework beforehand. Find out all of her likes and dislikes, interests, hobbies and passions, and then a few quirky little things about her that you could nonchalantly work into a conversation if and when you met her. So, in Emma Watson's case, after a five minute search online, you'd need to know that she's a feminist, a Universalist, very well-studied (a graduate of Brown University), filthy effing rich, and her boyfriend is some low key tech entrepreneur who goes by the name "Mack." Well shit, there's a boyfriend in the picture, and Mack is such a powerful name. I'm sure he smells great and has a very strong handshake.
Look, Tyler, I love ya pal, but unless Emma has a deep and totally inexplicable attraction for guys who can effortlessly pull off the "70's Porn Star Auditioning for a role as 'Well-Hung Train Hobo'" look, then I think you need to chalk this up as a loss. I'm sorry I couldn't do more to help you out.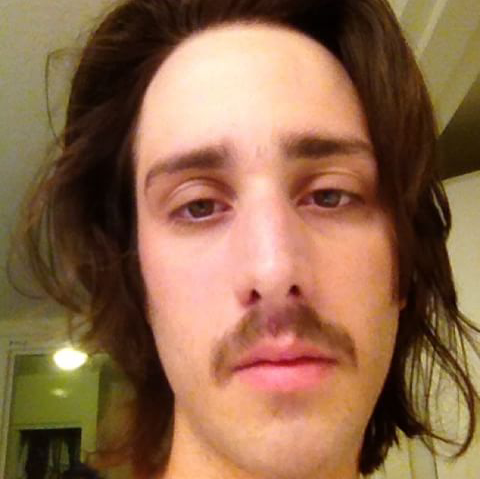 Jack – "Which team won the Carmelo trade?" 
We have to look at three separate, slightly more specific questions to be able to answer this question appropriately.
1: Which team has won more since the trade? 
Let's check out the tale of the tape: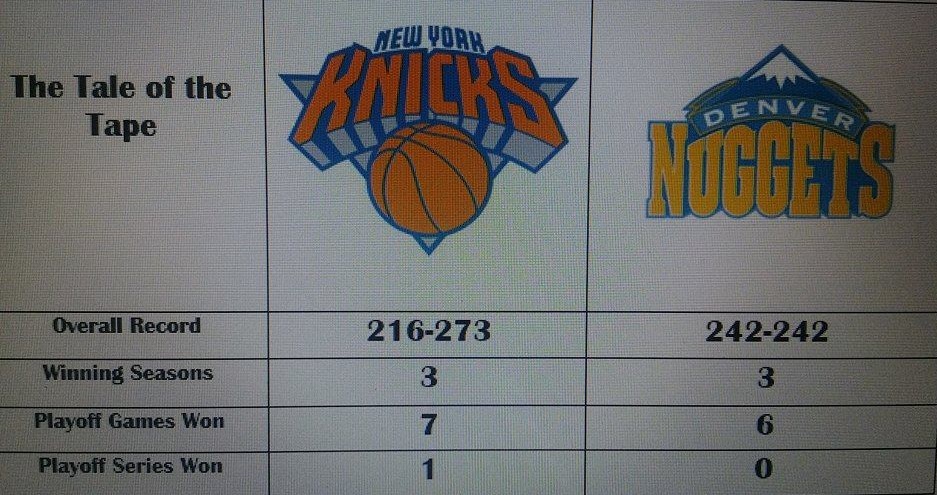 ADVANTAGE: Tie … sorry Knicks fans, just because y'all beat a Celtics team that was on their death bed in a Round 1 series in 2013, it doesn't give you a major leg up over the better-in-the-regular-season Nuggets. New York and Denver have both been residing in that horrible middle area of the standings where teams never have a truly legitimate chance to rebuild or improve, so no one deserves credit for "Winning More."
2: Which franchise is in better shape at this very moment? 
If you ignore the constant trade rumors surrounding Carmelo Anthony, the Charles Oakley/James Dolan encounter, the Derrick Rose situation, the general misuse of Kristaps Porzingis, Spike Lee continuing to dress like a jackass, Joakim Noah's abomination of a contract, and Phil Jackson's total ineptitude as an NBA Executive, the Knicks are actually in really solid shape.
ADVANTAGE: Nuggets … At least there is some semblance of stability in Denver now. We know they have a bonafide keeper (Nikola Jokic), some young assets (Jamal Murray, Emmanuel Mudiay, Gary Harris), some not quite as young assets (Wilson Chandler, Danilo Gallinari, Will Barton) and their best coach (Mike Malone) since George Karl was significantly less old and less grumpy than he is now.
3: Who are the non-Knicks and Nuggets winners and losers? 
Winner: Philadelphia 76ers – Philly ended up getting Dario Saric with a pick that New York traded to Denver in the Carmelo trade. That future pick was traded from Denver to Orlando in the Dwight Howard four-team deal. The Magic eventually made that pick, and traded Saric for Elfrid Payton, and because Joel Embiid is out for the rest of the year, that means Saric is the likely 2017 Rookie of the Year winner. That means, ipso facto, the Knicks traded away the eventual likely 2017 Rookie of Year for Carmelo Anthony too.
Winner: LaLa Anthony – If you don't think her presence has played a major part in Carmelo Anthony staying in New York, you don't understand the pull a woman can have on a man. I once had a girlfriend (now an ex-girlfriend) who encouraged me to wear tighter jeans. I hate tight jeans. I started wearing tighter jeans. And I guarantee you "Stay in New York City and make a hundred million dollars playing for the Knicks" is a far easier pitch to make than "You should wear tighter jeans."
Loser: Jeremy Lin – Never forget that in the eight mid-season games the Knicks played without Carmelo Anthony and with Jeremy Lin, they went 7-1 and Lin averaged 25 points, 4 rebounds and 10 assists per game. Then Carmelo came back and the Knicks lost eight of their next ten games. At least the memories will live on thanks to YouTube.
Winner: Mike D'Antoni – D'Antoni lasted less than 13 months as the Knicks Head Coach after the trade for Carmelo, and Melo's presence/reluctance to play D'Antoni Ball was a major reason why D'Antoni decided to resign. After a puzzling stop in Los Angeles as Head Coach of a Lakers team that was even more ill-equipped to play D'Antoni's style than the Knicks were, D'Antoni has been able to find basketball nirvana in Houston with a GM that believes in the style of ball D'Antoni preaches and a roster that perfectly fits his vision.
If the Melo trade doesn't go down in February 2011 it's unclear if D'Antoni sticks around in the Big Apple longer than he actually did (maybe that quirky Amar'e led team overachieves like it appeared they were bound to just prior to when they gutted their roster to get Carmelo), and then this Rockets job doesn't come to fruition, and that truly is a shame because the Seven Seconds or Less on Steroids Rockets team is a delight.
Loser: The New Jersey/Brooklyn Nets – Yes, the Nets are a loser for not being able to pull off a deal for Carmelo Anthony in early 2011. Remember, the proposed Melo trade was a three-teamer between Denver, New Jersey and Detroit that would have sent Carmelo Anthony, Chauncey Billups and Richard Hamilton to New Jersey, and all the Nets would have had to give up was Devin Harris, Derrick Favors, two future 1st Round Picks and some spare parts to get the salaries right. Does that make the Nets instant title contenders? No, probably not. Would they likely have evolved into title contenders in the near future? There's a possibility I suppose, but certainly no guarantee of that. But here's the flip side:
Between February 2011 and July 2013, the Nets traded 13 players and their seven 1st round picks for Deron Williams, Joe Johnson, Paul Pierce and Kevin Garnett. From 2011 to 2014 the Nets won exactly 1 Playoff series. So yes, in a roundabout way the Nets lost in the Carmelo Anthony trade too.
Back to the original question: Which team won the Carmelo trade? The Nuggets won the Carmelo trade. They've won more games since the deal went down, they've proven to be the far more stable franchise, and here's the smoking gun, Carmelo was going to leave Denver when he became a free agent anyway. The Nuggets had to trade Carmelo or else they would have, as Sonny Corleone so eloquently put it, ended up coming out of the metaphorical toilet with just their dick in their hand.
Luca – "Do you think the Pelicans can win a playoff series in years to come with their current roster? As good as Anthony Davis and DeMarcus Cousins are, I'm very unimpressed with their guards and believe in the NBA today you need great guards in order to be successful." 
Not only do I not think the Pelicans will win a Playoff series in the years to come with their current roster, I'll do you one better … I don't think we'll see this version of the Pelicans beyond the Summer of 2018. There are big, obvious problems with the roster, most notably a glaring lack of shot creators on the perimeter and minimal depth at any position, but the biggest one is the one that the Pelicans ignored/took a chance on/prayed might not really be a problem less than a month ago — Boogie Cousins might be a dude who is just really, really hard to deal with and build a team around and win with.
There really isn't any historical precedent for a guy as productive as Cousins to continuously play on teams that don't win and appear to be so dysfunctional for so long, and that's worrisome. We do need to remember: A) The Kings are so dysfunctional that even the Knicks are like, "Damn, those guys out there don't have a Goddamn clue what they're doing," and B) Cousins and Davis haven't even played ten games together.
There's definitely a scenario where the Pelicans, with somewhere between $15 and $18 million in Cap Space this Summer, can slightly re-tool their roster, find a few more shooters and perimeter defenders and a Point Guard as capable as Jrue Holiday (if they don't splurge for Jrue Holiday, that is), and make the Boogie/Brow partnership work after a full training camp, and a full pre-season, and more than just a handful of games as teammates together. They could own the glass, control the paint, dictate the pace of their games and make the Playoffs. But even then, it's hard to visualize the Pels cracking that top four and entering the 1st Round of the Playoffs as a favorite in a series.
The other scenario: The behind-the-scenes situation in New Orleans has already begun to go south, and it continues to sour over the next month or so, and the Pelicans decide to very quietly and cautiously shop Cousins over the Summer hoping that they could get something, anything, for a potentially volatile dude who might leave town the following Summer anyway.
Pauley – "How bad do you think the 2001 Lakers would beat the 1996 Bulls in a 7 game series?" 
The better question would have been "How bad do you think Lavar Ball thinks he and his three sons could have beat either the 1996 Bulls or the 2001 Lakers in a 7 game series," and the answer to that would probably be "By a thousand points every game, and buy this stupid Big Baller Brand hat for $150 while you're at it!"
Onto the actual question … I would probably be risking a large portion of my readership if I did anything besides bow down in front of a pair of Air Jordan's and tell you all about how THERE IS NO WAY MICHAEL JORDAN WOULD EVER LOSE A SEVEN GAME SERIES TO ANYONE! HE IS A GOD AMONG MEN! DON'T YOU EVER PUT LEBRON JAMES, KOBE BRYANT, OR JESUS CHRIST HIMSELF IN THE SAME SENTENCE AS MICHAEL JORDAN! EVER!
Here's the thing: I'm not trying to appease anybody, and I'm certainly not going to take the easy way out while answering any of these questions. So for the last week I've been looking at both teams and evaluating all angles of a potential/hypothetical match-up between the two. Here are the things that stood out to me in the midst of my soul-searching … the points that seemed relevant to determining an eventual winner:
-I have to be honest, this whole thing scared me because Phil Jackson and Ron Harper are involved with both teams, and that makes me think we should pretend neither exists in this match-up in order to avoid some sort of catastrophic universal black hole situation that might happen if at some point in the game 01 Ron Harper iso's against 96 Ron Harper. Then I remembered this is all pretend and I stopped worrying.
-One of the first things that I thought about was how appropriate it is that these two teams would face each other in a hypothetical matchup like this, because we would get the answers to the most common critique (or question) about both the Lakers and Bulls dynasties: What would have happened if the Shaq/Kobe Lakers had a legitimate title contender waiting for them in the NBA Finals, and what would have happened if the Bulls played a dominant Center in any of their six Finals appearances?
Because here is the reality of those situations: the early 00's Lakers faced their toughest opposition on the way to the Finals. Once they got there, they played the mildly frisky Pacers, Allen Iverson, and a woefully overmatched New Jersey Nets squad that went to battle with Todd MacCulloch and Jason Collins on Shaq duty. Meanwhile, the Bulls, always lacking a great, or even really good Center, lucked out by facing young Vlade Divac, Kevin Duckworth, Mark West, Ervin Johnson, and the immortal Greg Ostertag and his Fred Flintstone tattoo twice in their six NBA Finals wins. They managed to evade David Robinson and Hakeem Olajuwon all throughout the 90's, and MJ retired two years before Shaq, Kobe and the Lakers broke through.
-Related to that previous point: Luc Longley and Bill Wennington are the kinds of overmatched white dudes that inspires Shaq to yell "BBQ Chicken" every time a big guy has his way with an overmatched defender. If you don't think Shaq would have averaged at least 30 points per game in a series against the 96 Bulls, you're kidding yourself. Shaq averaged 30 points and 15 boards in the final two rounds of the 01 Playoffs, and that was going against David Robinson, Tim Duncan and Dikembe Mutombo, a trio that boasts 29 All-Defensive Team appearances throughout their careers. Longley and Wellington have as many as I do. Rodman was a menace and a hell of a defender, but there is not a remote shot in hell the Bulls could have relied on Rodman to be a Shaq stopper.
-Here's where the Lakers could have ran into problems: Kobe, coming into his own in the 2001 Playoffs (29-7-6 throughout the postseason) and establishing himself as the co-alpha-dog in LA, didn't have to deal with rabid dogs on the perimeter like MJ and Pippen. Those two and Rodman all made 1st Team All-Defense in 1996, the only time in league history that something of the sort has happened. The fact that some of the Kobe burden wouldn't have had to fall solely on the shoulders of MJ would be huge.
-On the flip side though, MJ never faced a foe on the perimeter, someone to go mano a mano with like Kobe. In 1991 Magic Johnson was in his final NBA season and playing without James Worthy and Byron Scott by mid-way through Game 4 of the series. Clyde Drexler was psychologically broken by MJ's three-point barrage and ensuing shrug in Game 1 of the 1992 Finals. Gary Payton wasn't quite in that class in the 1996 Finals, though he did give Jordan a bit of trouble once George Karl switched GP onto him in Game 4. Kobe would have came into every game looking at MJ and saying to himself "I'm better than that Mother Fucker," and some of those games he might not have been wrong.
And here's the key: even though there was regular season friction between Shaq and Kobe (mainly because Shaq was out of shape and Kobe went on a tear without Shaq in the lineup, and then when Shaq came back Kobe was hesitant to hand back the keys to the car), there was no tension between the two in their 15-1 Playoff run. It was, without any serious modern rival, the best one-two postseason punch and co-alpha-dog performance on a Championship team ever).
-So now that I've spent the last 700 or so words doing nothing but making my decision more difficult than it was before, I should take steps towards a decision because you guys (whoever is left) have probably come close to reaching your capacity for words to read in one sitting. Since the Bulls won 72 games in 95-96 and the Lakers only won 56 in 00-01, the Bulls would get home court advantage in a seven-game series (which we'll say is played under the 2-3-2 format since that was how shit worked until the 2014 NBA Finals).
Even though Shaq would be a handful and mini-fro'd Kobe was in the first bit of his first prime, this was MJ and Pippen at their absolute apex with Rodman playing inspired ball and a nice cast of role players that I would give a very narrow edge over LA's. It would be a coin flip series, and if Game 7 were in Los Angeles I might have made a different pick, but for now, since I can't risk losing my readership just yet …
Chicago 4, Los Angeles 3