Less than a week ago I asked and answered 13 Questions that I considered somewhere between very important and at least a little important in relation to the 2017 NBA Playoffs. 13 is an odd number, and a number that some people consider to be unlucky, so I felt compelled to ask myself more questions. Now, combining my 11 questions today with the 13 questions from last week, we have 24 questions. I feel a whole lot better now. Let's get to it.
What's the next step in the evolution of Giannis Antetokounmpo, and is there any chance we start to see it materialize in the Bucks/Raptors series? 
I'm thinking it's somewhere along the lines of MJ realizing near the end of the game against the Monstars that he was in Looney Toon Land and could basically do whatever he wanted with his body, and Eleven in Stranger Things taking advantage of her psychokinetic powers. Is it still in style to make Stranger Things references? I realize I'm super late to the party, but I'm almost finished up with the first season and I'm totally in on it.
All jokes aside, the next step in Giannis's evolution from Greek Freak to Greek God is the development of a consistent and confident jumper. The Raptors are daring him to take it … regardless of who is defending him, the Raps are sagging off him when he has the ball on the wing, going way under screens when he's handling the ball in pick and roll scenarios, and doing everything short of screaming "Please have mercy on us and settle for an uncontested jumper."
He doesn't have it yet. It reminds me of young LeBron to some degree. LeBron didn't have the confidence in his jumper, or the mechanics to properly knock it down on a consistent enough basis that defenses could no longer blatantly dare/allow him to shoot jumpers without contest. Even if it isn't a three-pointer right away, if Giannis can get to the point where he can come off a screen and step into those mid-range or long two's with some confidence it's better than nothing. At least it will keep defenses on their toes a little more.
If it sounds like I'm picking nits, it's because I am. I could spend thousands of words gushing about Giannis, his potential, and the potential of the Milwaukee Bucks (and I might just have to do that if the Bucks eventually upset the Raptors). Giannis is so far ahead of most guys at age twenty-two it's just ridiculous. He sees the floor and passes the ball so much better than someone of his size, position and basketball upbringing should. He possesses otherworldly athleticism and the fluidity with which he utilizes his athleticism is breathtaking. And I must say, when Giannis hit that straight-away three to tie the game at 100 apiece, I was prepared for him to do literally anything in the final two minutes of the game.
It turns out, Giannis is still human … for now.
How worried should Canadians be about the Raptors? 
If we're looking at the big picture, Canada still has Clifton Hill, half of Niagara Falls, sharply-dressed Mounties, four teams still alive in the Stanley Cup Playoffs, Steve Nash, Tim Horton's, and a Prime Minister who is good looking enough that he can probably get any girl he wants without having to grab them by the pussy.
Canada will be just fine even if their lone NBA team gets bounced in the 1st Round, and I'm skeptical that they can get out of the 1st Round. The Bucks are a legitimate Round 1 foe that are capable of making sure the Raptors are, ahem, extinct before the month of April ends. Where's my rimshot?
Game 2 against Milwaukee was only the fourth time in the last 33 Raptors Playoff games where Kyle Lowry and DeMar DeRozan each shot at least 50 percent from the field and scored at least 20 points. That's a serious problem if you're a team that is trying to convince yourselves and your fan base that you're an honest to God NBA Title contender.
What's the outlook on Rudy Gobert knee injury? 
I'm not a doctor, but luckily my best friend's nickname is "The Doctor," so I turned to him. This is what he had to say.
You know, I'm not a doctor either, but if anyone can ever make the claim they pretend to be, it's me. In fact, I've claimed to be a doctor for a lot longer than some people have actually been doctors so I'd like to think that holds some kind of weight. Additionally, I've suffered a multitude of sports injuries that are at lease quasi-similar to the hyper-extension/ contusion suffered by Rudy Gobert.  
Most notably in terms of similarity, I have broken my ankle (full fracture, not some little bitch tweak), partially torn my meniscus, and experienced debilitating plantar fasciitis. I have also had my wisdom teeth removed and once cut my finger really badly when trying to flip a knife and catch it on the handle. So again, I definitely feel qualified to speak on matters regarding this. 
I did some quick research on hyper-extended knees, and the injury of mine it seems to most closely relate to is plantar fasciitis. In both injuries, nothing is structurally wrong with your bones and the injury is contained to the muscles/ ligaments in the impacted area. For someone who has never experienced an over stretched, inflamed, or otherwise "tweaked" muscle/ ligament, the injury doesn't sound overly serious but they can be exceptionally painful. 
During my time battling severe plantar fasciitis, I was limited to only playing pick-up basketball 1 day per week (my normal schedule was about 3 days per week), and the day after I would walk with a noticeable limp around my office. And if you've ever worked in an office setting, if you want to play 20 questions with every co-worker you have, try walking around your office in khakis with a blatant limp and see how many people come start asking you about it. 
Anyway, the point is I was limited to one day of activity per week, and even that activity was painful – Very painful as far as adult league basketball is concerned. But, I made it work. The other thing to consider is I didn't nurse my injury to the best of my ability. I took rehab very lightly and rarely took any sort of precautionary measures to protect myself. In retrospect, that was dumb and probably ill-advised in the eyes of most true medical professionals. 
Typically, pro athletes have a host of well-educated medical professionals surrounding them so I would tend to believe Gobert is getting some pretty strong advice in regards to rehab and how to best tend to his injury. Additionally, if I were a gambling man I would bet he has access to some pretty strong prescription medication that a guy like me just can't easily get his hands on. 
So, with all that being said, I do think that Gobert can play. It's the playoffs, he's a competitor, and there's no doubt in my mind if he wanted to suit up for Game 4 or 5, he could go out there and impact the game. The right mix of rehab, rest, medication, and braces/ tape make that very possible in my opinion. However, as mentioned, I would expect him to be very sore after that and the risk of re-injury certainly increases. 
What would it mean for France if Gobert did gut through this knee injury and play in this series?  
It would almost make up for the time Tony Parker's head caused Steve Nash to nearly bleed out from the bridge of his nose. Parker wailed on the ground looking like a total French pansy. Nash brushed it off, continued playing and was only removed from the game because the bandages on his nose kept coming off because it was too bloody.
The morals of this story are that French dudes are typically soft and Steve Nash is a certified badass.
Has Gordon Hayward's hair moved at all during the first two games of the Utah/Los Angeles series? 
Nope. My dude is hooked up with some maximum hold hair gel. His hair has looked uncomfortably in place for 96 straight minutes of game action.
Where does Kendrick Lamar's "HUMBLE" rank among NBA on ABC/ESPN Playoff themes? 
Fortunately for y'all, I'm the expert on NBA on ABC/ESPN Playoff themes. I wrote about this very topic two years ago, and it just so happens that the choices from 2017 and 2016 ("Champion" by The Roots) are in some order the best and second best themes ever chosen for the Playoffs in the 21st Century. HUMBLE is the perfect selection for many reasons, all of which you can find if you check out the criteria right here, and that criteria doesn't even consider the fact that Kendrick Lamar is probably the most relevant and skilled rapper alive. He's not Pitbull, he's not the Pussycat Dolls, and he's not a band that peaked in thirty years ago. That counts for something.
What are the chances that David Fizdale's "Take That For Data" presser turns this series around and leads to the Grizzlies first NBA Finals appearance? 
Super duper unlikely, but at least Grizzlies fans can get an awesome shirt out of the deal.
How unfair is it that the Grizzlies don't have Tony Allen to defend Kawhi Leonard? 
Almost as unfair as it is that Rudy Gobert got hurt 17 seconds into his first Playoff game, but remember, Dr. Stucko says Gobert should be back by the end of the series. The Grindfather won't be returning in Round 1 and that's awfully problematic for the Grizzlies. Memphis has no answer for Kawhi Leonard; there is no single player on the Grizzlies active roster who can take on the task  of defending Kawhi's brilliant mid-post game and his developing off-the-dribble offensive attack.
The bigger problem is the same problem that has prevented Memphis from making more than one postseason run beyond the 2nd Round; they just don't have nearly enough offense to hang around with a high quality team. And look, I do sympathize with David Fizdale … the Grizzlies aren't a team that has ever been helped by the Officials in a way that teams with a traditional superstar are. Kawhi Leonard has taken only four fewer free throws than the Grizzlies have as a team through the first two games in San Antonio. However, we can't just ignore that the Grizzlies are a team that, in their entire recent run as a Western Conference Playoff regular, has a very hard time scoring from the field. It's a team with very few playmakers and shot creators.
If you look at their last eight postseason series, dating back to the 1st Round in 2013 and extending through the first two games of their 1st Round series against San Antonio this year, the Grizzlies have shot 42 percent or better from the field in only three series. They've shot under 40 percent just as many times. They've made better than one-third of their three's in only two of their last eight postseason series. That's just not going to get the job done.
Why didn't more people sniff out the possibility of a Chicago over Boston upset? 
Everybody was thrown off Chicago's scent when they traded Taj Gibson (one of their best offensive rebounders), shopped Jimmy Butler (or at least sniffed around at what they might be able to get for him over the Summer) and because they looked like a collective mess for chunks of the year that were abnormally large for a Playoff team. It turns out it may have been nothing more than a season-long con-job that would make James "Sawyer" Ford proud. All of the sudden, Jimmy Butler is the best player in the series, Dwyane Wade is rejuvenated, Rajon Rondo is having flashbacks to 2010, and the oft-criticized Fred Hoiberg has outcoached everyone's favorite coaching prodigy, Brad Stevens.
To a degree, I saw this coming. I wrote last week that the Bulls were a match-up that would make the Celts sweat. However, I wasn't expecting perspiration like this: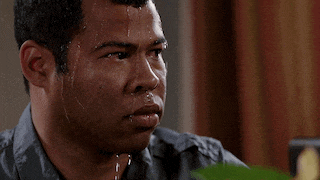 The Celts head to Chicago with their backs against the wall as they face an 0-2 deficit and history suggesting they're done for. If Boston comes back to win this series it will because of the will and singular ability of Isaiah Thomas to take over a game, the necessary adjustments made by Brad Stevens and a monumental choke job by a Bulls squad that appears to be peaking at the best possible time.
Should the Golden State Warriors be playing Kevin Durant? 
Not until they need to, and I say this with no disrespect to the Trailblazers, but I'm pretty confident the Warriors don't need to play Durant against Portland, who is already short-handed, playing without Jusuf Nurkic. KD was able to shake off the rust pretty quickly when he came back after missing the month of March due to a knee injury, and his presence changes Golden State's ceiling in a major way … without Durant the Warriors are a title contender, yes, but one with flaws, one that is beatable in a seven game series. With Durant the Warriors have four of the twenty five best players in the NBA, a claim that no other team can boast.
So if Durant is at all ailing, aching or hurting, the Warriors should be overly cautious while they can afford to be. Realistically, they should have this luxury until the Western Conference Finals. It's smart that they sat him in Game 2 with a strained left calf. Better now than later.
Does anyone actually still think Oklahoma City's supporting cast is as good as Houston's? 
I never understood how this was ever a thing people bought into, but there's no rational way this position can be defended after last night. James Harden got 56 points of help from Eric Gordon, Lou Williams and Pat Beverley, who shot 22 for 37 from the field and hit eight three-pointers. Russell Westbrook had to watch Victor Oladipo, Andre Roberson and Jerami Grant clank jumpers down the stretch, and that was after the Thunder blew a 12 point lead late in the 3rd quarter with Russ on the bench for only 3 minutes.
Can you really blame Russ for shooting 43 times? Yes, that's a huge number, and no, there isn't any much of a historical precedent for winning deep into the Playoffs if you have that kind of imbalance offensively, but the Thunder aren't trotting out a ton of lights out shooters or reliable scorers other than Westbrook. Aren't the Thunder better off hoping Russ catches a hot streak than they are watching Roberson shot put a bunch of corner threes in the direction of the rim? And does anyone really think Russ is so selfish that he wouldn't fully embrace having the arsenal of weapons James Harden has? I give Russ a lot of credit for trusting the non-shooters he's saddled with as much as he does. He could have had eight more assists if teammates just made open shots last night, and the Thunder could have evened the series if their offense didn't die a fiery death when Westbrook was on the bench.