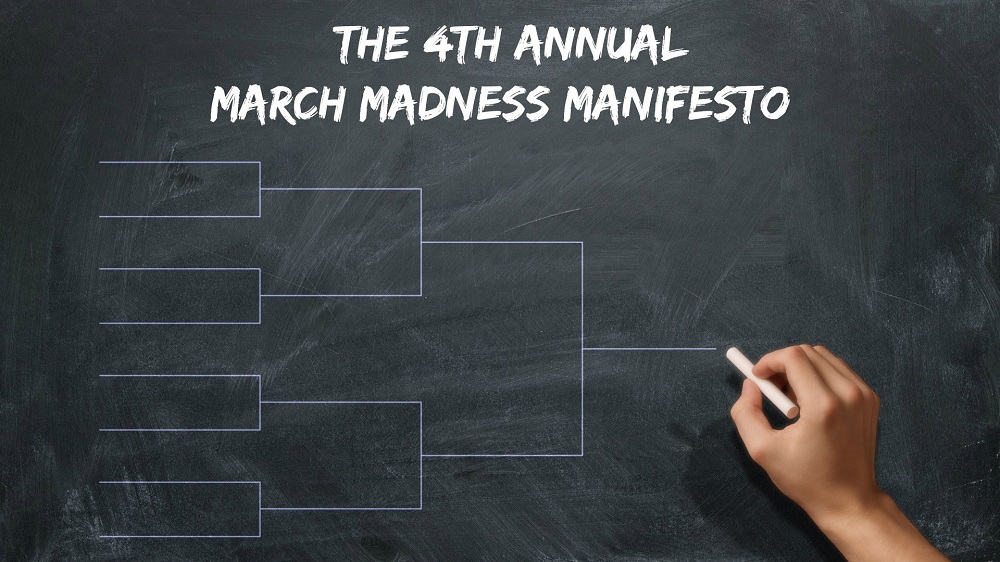 It's fair to say that the biggest, and by far the most damning storyline of the 2017-18 College Basketball season has been the FBI's thorough investigation into all of the remarkably shady and illegal shit that happens behind the scenes at the majority of the most prestigious NCAA basketball programs. I hate to sound too much like Bill Hader's recurring SNL character Stefon, but this scandal has everything … Player suspensions, coach firings, sleazy agents, under the table payments, stripped National Titles, stripper parties. Seriously, this is the sort of scandal that only the deplorable individuals who have high ranking positions in the United States government the National Collegiate Athletic Association could be responsible for.
As excited as I am for the games to officially begin on Thursday afternoon, it's impossible not to wonder how many teams will be forced to vacate the wins they'll accumulate over the next three weeks. It's equally hard to ignore the suspicion that some of the teams in the field of 68 will eventually be serving either NCAA-granted or self-imposed tournament bans because of their wrongdoings. And hey, speaking of self-imposed tournament bands, the March Madness Manifesto is back and ready to be updated after a self-imposed one year ban prevented me from doing so last year. The reason for my self-imposed ban: It was nothing nefarious or illegal (as far as you know), I just sucked so badly filling out my bracket in 2016 that I didn't think I deserved to update the Manifesto for the 4th time. And let me tell you, it's a good thing I took a one year break because last year I didn't fare so much better. I won't get too much into the details, but I will say that none of the four teams I advanced to the Final Four advanced to the Final Four in real life.
Now after hearing this, I'm sure you're thinking to yourself, "Fuck this guy and his shitty advice," but hold up for just a second. I've never claimed to be a clairvoyant, nor do I call myself an expert (though I did finish only one point behind ESPN's Joe Lunardi in the 2018 Bracket Matrix, the biggest Bracketology competition on the internet) … we each have to acknowledge that the NCAA Tournament is more unpredictable than any other postseason you could try to navigate through. By following my Elite Eight rules, you should do well picking tourney games most years. I'm just hoping that after three years of this thing not working, this is the year it finally works. Let's get to it!
Rule #1: Don't be Stupid and Pick a 16-Seed Over a 1-Seed in the 1st Round
Readers, I know it's awfully tempting to pick a 16-seed to defeat a 1-seed. You want to be one of the few individuals who are on the right side of history when NCAA Tournament history is made, and I do indeed believe that at some point in my lifetime a 16-seed will become the human embodiment of Cinderella. I truly do. But as always, I'm inclined to advise against this stupid bold tactic, and even more so, if you do have a hunch that a 1-seed is about to go down, don't go around telling all of your friends about it. Just Tweet it … I'm quite confident that this is what Twitter was ultimately built for. You know what happens when you spend the four days leading up to the tournament telling all of your friends about how Pennsylvania is going to beat Kansas this year? Those friends no longer want to be your friend by the time the Jayhawks have beaten those upset-minded Quakers by 23 points.
Rule #2: Don't spend much time stressing over 8/9 match-ups
Your time would be better spent elsewhere. 8 seeds have won 51 percent of their games against 9 seeds since 1985, and over the last fifteen tournaments, 1 seeds have advanced past 8/9 seeds 87 percent of the time. Translation: unless you feel really confident that a 1 seed isn't going to make it beyond the 1st weekend of the tournament, just flip a coin on the 8/9 match-ups if you're conflicted. If a coin flip can determine which team gets to make the choice of kicking or receiving the ball first in an NFL Game, it is certainly qualified to pick a few games in your silly bracket.
Rule #3: Don't spend much time stressing over any match-up unless you love filling out the bracket
I can't emphasize it enough that there are about 25 people every year who fill out a legitimately great bracket, and everyone else's bracket ends up a pathetic mess by the time the first day of the tournament is over. Just do the math … you and I likely won't be one of those 25 people, so unless you're a college hoops nerd or unless you get off on rigorously studying every single match-up we could possibly see during March Madness, don't let those sheets of paper ruin a spectacular three weeks. However, if you do enjoy the process of doing the research and filling in your bracket …
Rule #4: Do Research on your Cinderella Picks 
Remember in the actual story of Cinderella, Prince Charming proclaims that every maiden in the kingdom should return to his palace to try on the glass slipper that Cinderella lost to see if they were a perfect fit? He didn't just settle for the first attractive girl he saw after the Ball and decide that she was going to be his wife, and surely he could've, because all of the ladies in the town were smitten by him … or they were gold diggers. Nah, he took his time and put in the effort to try to find his perfect match, because after a romantic night of dancing, he knew he was in love with only one girl.
You should be putting in the same amount of time to find your tournament Cinderella. When you're glancing through the resumes of all possible Cinderella schools, something that you read should jump out at you if you're going to pencil in that upset, and I don't just mean a challenging schedule or a Senior Point Guard. Is this team really good offensively or defensively? Do they have a fantastic turnover rate? Is their rotation loaded with experienced players? Does their coach have a history of overachieving? Is their opponent susceptible to an upset? Do they look beautiful in a dress? Did they come to the ball in a carriage that was once a pumpkin?
The collective college basketball fanbase loves picking upsets; but mismanaging your upset selections can burn your bracket to ashes early. It's important to remember these three notes when you're sorting through the make-or-break Cinderella candidates.
a. Don't Discriminate 
A fantastic rule to follow in all walks of life, and that doesn't exclude when you're filling out your NCAA Tournament bracket. Cinderella teams can come from any region of the country and from any of the 32 Division 1 conferences. The mid-major Cinderella is often the Cinderella du jour, but don't forget that the bracket busters don't exclusively reside in the lesser-known conferences. The 2016 Syracuse Orange and 2014 Connecticut Huskies would like to say hello.
b. Consider the Davidson Corollary 
One of only rules from the original March Madness Manifesto that has remained through all four editions. Here's what I said back in 2014:
"Back in 2008 when Davidson made a run to the Elite Eight (and damn they were close to shocking Kansas and making the Final Four), the blueprint wasn't as simple as 'We'll ride Stephen Curry's hot streak to as many wins as possible.' It was set in the regular season when Davidson played North Carolina, Duke, UCLA, and North Carolina State. Sure, they lost every one of those games, but not by a wide margin. The Wildcats proved that they could compete with the big boys and that confidence carried over to the NCAA Tournament. VCU and Butler followed this model in 2011, when they played a combined twelve games against Tournament teams in the regular season."
Simply, look for teams that were tested in the regular season when you're making Cinderella selections. If you have no clue what this team looks like against top tier skill, elite athleticism or high-caliber coaching, you shouldn't pick them to advance too far into the tournament. This is the biggest reason why I'm enamored by the Cinderella potential of the Texas Longhorns this year. Texas was challenged by Duke, Gonzaga, Michigan, Alabama and Butler in their non-conference schedule, and they had to withstand that brutal Big 12 gauntlet. In addition to the Davidson Corollary, Texas has three other desirable factors working in their favor that make their Cinderella candidacy feel awfully intriguing:
-Mo Bamba and his long ass arms will be an NBA lottery pick in three months.
-Head Coach Shaka Smart has a Final Four appearance under his belt.
-The Longhorns are playing for Andrew Jones, a sophomore Guard who was leading Texas in scoring when he was diagnosed with Leukemia only ten games into the season.
c. Remember the most important position in basketball 
The inner Point Guard in me feels obliged to remind you that the Point Guard is the most important position in all of basketball. Upset-minded teams need not a star Point Guard, but at least a veteran Point Guard who can successfully break a press, get a bucket when the opponent is on a 6-0 run, get the right guys the right shots at the right times, etc. This obviously shouldn't be taken as law or fact, but it's far from just speculation. Just consider who was running the show for some of the more notable and successful bracket busters over the last ten years:
2008 Davidson Wildcats Point Guard – Jason Richards, Senior
2011 VCU Rams Point Guard – Joey Rodriguez, Senior
2011 Butler Bulldogs Lead Guards – Shawn Vanzant and Shelvin Mack, Senior and Junior
2013 Wichita State Shockers – Malcolm Armstead, Senior
2014 Connecticut Huskies – Shabazz Napier, Senior
Each one of those guys are cut from a completely different sort of Point Guard cloth, but the one thing they all have in common was that they were each seasoned and comfortable under fire. Don't underestimate how important this is.
Rule #5: Don't be seduced by the NBA Prospects 
It's easy to imagine top college players in NBA uniforms, but a roster with lottery talent doesn't always suggest that tournament success is to come. Just remember, Kevin Durant (#2 overall pick in 2007) lost in Round 2 when he was at Texas. John Wall (#1) and DeMarcus Cousin's (#5) loaded Kentucky squad went down in the Elite Eight to a West Virginia team that lacked a single NBA difference maker. Blake Griffin (#1) failed to make the Final Four. Kyrie Irving (#1) was bounced in the 1st Round of the tournament, as was 2014 #2 overall pick Jabari Parker. Ben Simmons and Markelle Fultz (each #1 picks) didn't even compete in the NCAA Tournament.

Rule #6: The trends you hear about aren't always gospel 
I'm sure you're well aware of the storied history of the 12 over 5 upset, and I'd be willing to bet that over the last few days you've read somewhere about how 11 seeds have won 18 of their last 32 games against 6 seeds, or that a team seeded 7 or worse has made the Final Four each of the last five years. These nuggets are fine to consider, and they can be relied on if you're someone who is just filling a bracket out for fun, but for those who are more engaged in March Madness, I'd advise against filling out your bracket a certain way just because recent history indicates you should do so.
This particular tournament doesn't care that a team representing the Missouri Valley Conference has won at least one tournament game every year dating back to 2012, or that the South Regional has been dominated by 1 seeds over the last ten years, or that the Big Ten hasn't won a championship since 2000. There's very little rhyme or reason why anything happens from year to year in the NCAA Tournament. You really can only take it one year at a time and deal with the bracket you're dealt. You can't rely on mathematical trends, or even the history of the tournament when filling out your current bracket. It's a ridiculous mess every single year, and while some past tourney tidbits could provide a minor assist, none have proven to be the be-all end-all.
Rule #7: Take it one game at a time 
It's not necessary to pick each game with the National Championship in mind, nor should you even be focusing on who the prospective winner of a given match-up could possibly face in the next round.  Instead, base your pick for each game on who you believe has the edge in that one particular game. For example, I think the Kentucky Wildcats have a much better chance of winning the National Title than the Davidson Wildcats (UK's 1st Round opponent) do. However, I think Davidson is a match-up that's possibly problematic for Kentucky, so I'm taking a shot on Davidson. It doesn't really matter to me if Kentucky's title odds are better. I would have either team losing in the round of 32 to Arizona and DeAndre Ayton anyway.
Picking based on the likelihood of that team cutting down the nets is essentially an agreement to pick chalk all throughout your bracket, and 9 times out of 10 if you pick chalk you'll end up finishing in the 70th percentile. I don't know about you, but I'm not trying to be a 'C' student. I want to finish at the very tippy top of this thing or right near the bottom of this sumbitch. I'm going down like Tony Montana. Take some chances; it's the only way to give yourself a chance of doing really well in any bracket contest. And if you finish in the 10th percentile, oh well, it's not like your life depended on it. You won't end up face down in a "The World Is Yours" fountain.
Rule #8: Go with your gut 
A version of this rule previously existed that advised you to pick whoever you felt most comfortable with if you're life depended on the results of the tournament. I picked Michigan State to win the tournament that year and they lost in Round 1 of the Tournament. I died, and even in far-fetched imaginary NCAA Tournament scenarios, I don't particularly enjoy the thought of dying, even in a very dramatic Scarface sort of way.
I don't trust the Arizona Wildcats with my life. I don't even know if I could trust Arizona Head Coach Sean Miller to make a phone call without breaking an NCAA rule. But back in January I just had a gut feeling Arizona would be there in the end. I've felt the same way about Villanova, North Carolina and Michigan State for a good portion of the season (and I felt this way about Virginia too, but DeAndre Hunter's absence scares me).
My gut feeling says we're three weeks from one of the most awkward trophy ceremonies in Title Game history, and that means I have the Wildcats of Arizona over the Wildcats of Villanova. Congrats Arizona, you'll soon be 2018 National Champions. And even though the NCAA will eventually force you to take the championship banner down, you'll always have the memories of cutting down the nets in San Antonio and of finally making this March Madness Manifesto worth reading.